This recipe uses yellow noodles (lye/alkaline noodles) which is a type of fresh cooked noodles coated with oil to prevent sticking. This fresh noodles is commonly found in Southeast Asia dishes.
Generous amount of cooked chili paste is added to this spicy variant of stir-fry noodles, tasty with lots of heat. I use chicken fillets in this recipe, use other types of meat or seafood if you prefer.
Chinese Version: 不一样的辣炒面食谱-快捷实惠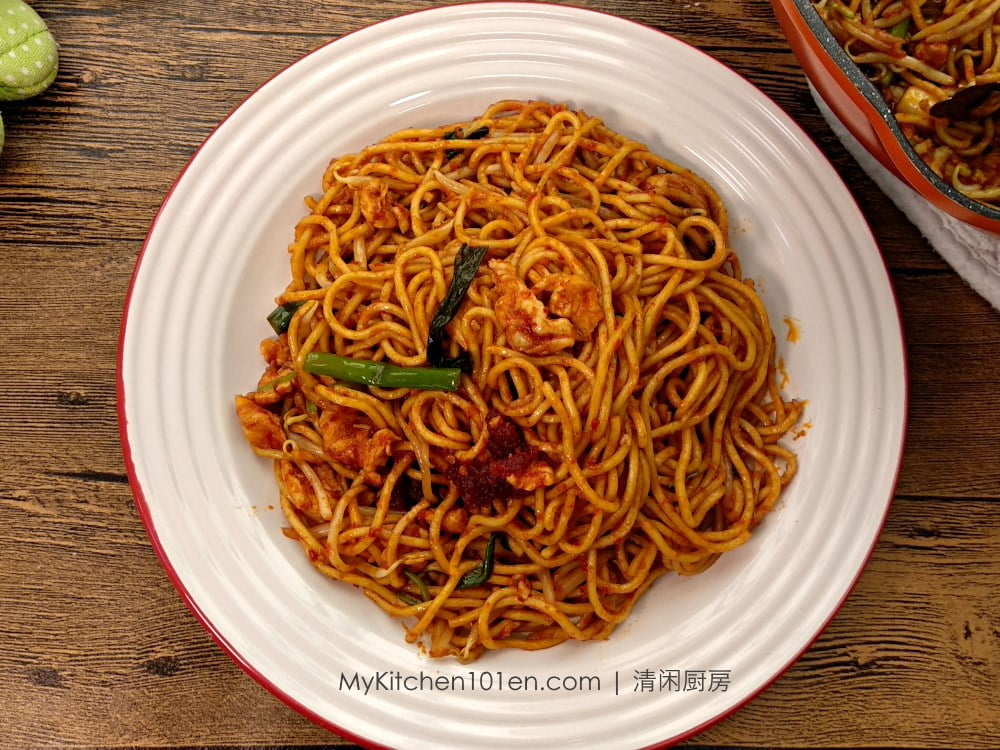 Spicy Stir-fry Noodle (Mee Goreng) | MyKitchen101en
Serving: 4-5
Ingredients:
450g Yellow noodles (Lye noodles)
350g bean sprouts
1 stalk leaf celery (Chinese celery)
2 stalks scallion
Ingredients for chili paste:
35g fresh red chilies (de-seed)
15g dried chilies (cut, soak, de-seed, drain)
1 onion (about 90g-100g)
20g shallot
10g garlic
10g dried shrimp (soak & drain)
75g oil
1 Tbsp. sugar (15g)
¾ tsp salt (5g)
Ingredients for marinated chicken:
5 chicken fillets (or 250g chicken meat, sliced)
¼ tsp salt
1 tsp cornstarch
2 tsp water
1 tsp oil
Ingredients for stir-fry sauce:
1 Tbsp. light soy sauce
½ tsp dark soy sauce
1 tsp sugar
1 tsp vinegar
1 Tbsp ketchup
* Tbsp. = tablespoon; tsp = teaspoon
Instructions:
1 Cut chicken fillets or meat into thin slices.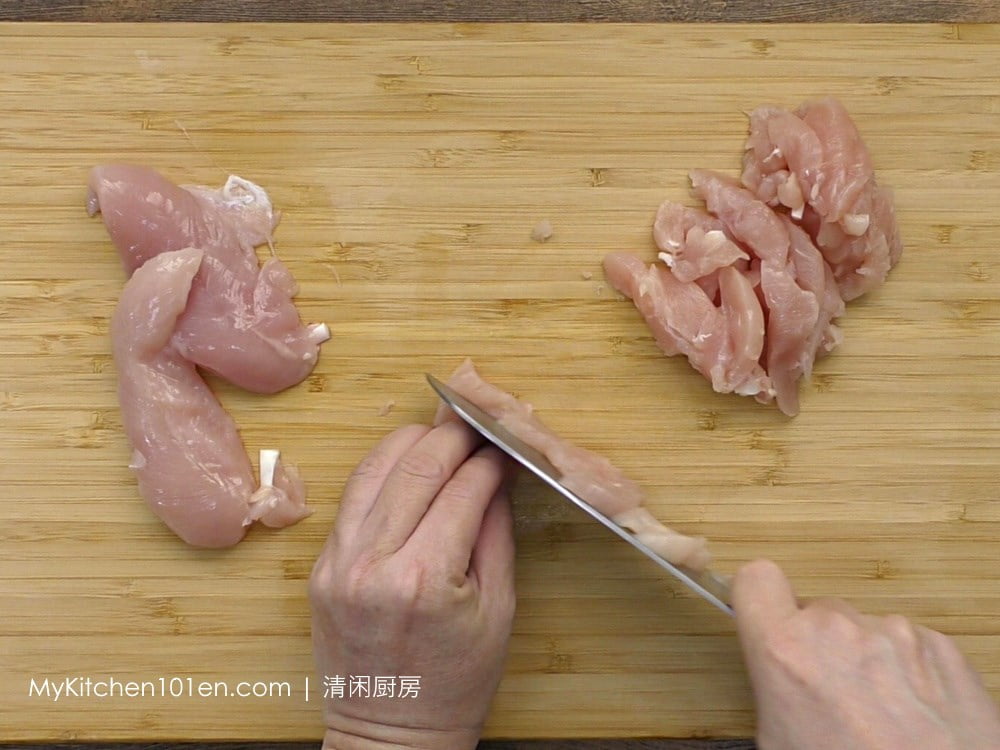 2 Marinate with ¼ tsp salt, 1 tsp cornstarch, 2 tsp water, 1 tsp oil, set aside.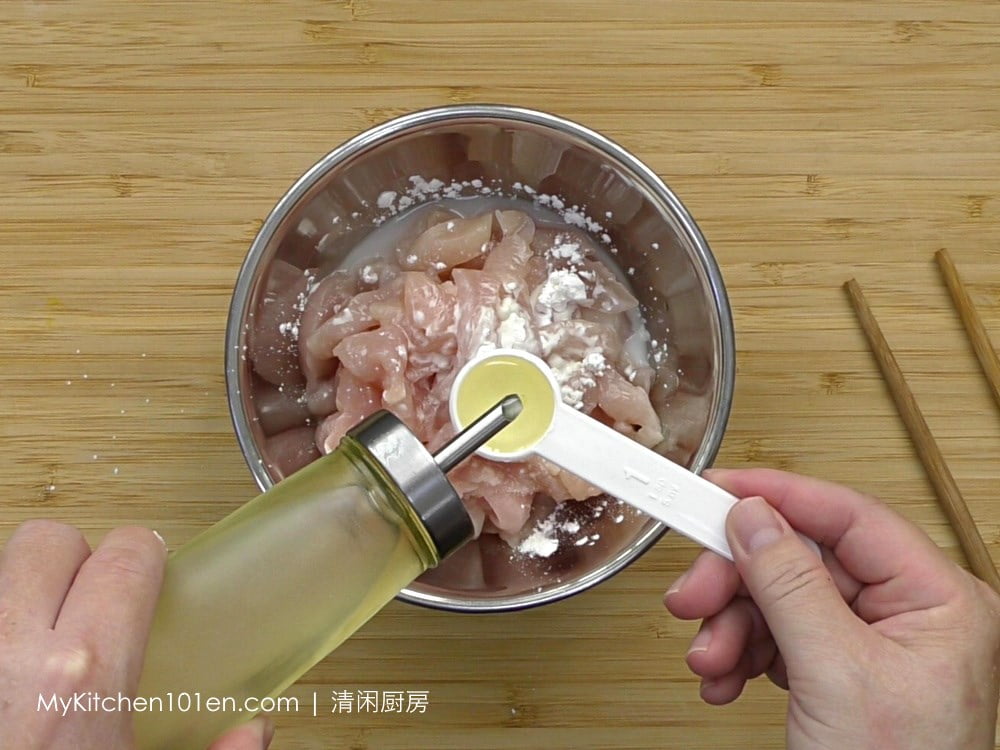 3 Wash and clean 350g bean sprout with running water, set aside. Note: I use the same portion size of bean sprouts to noodles.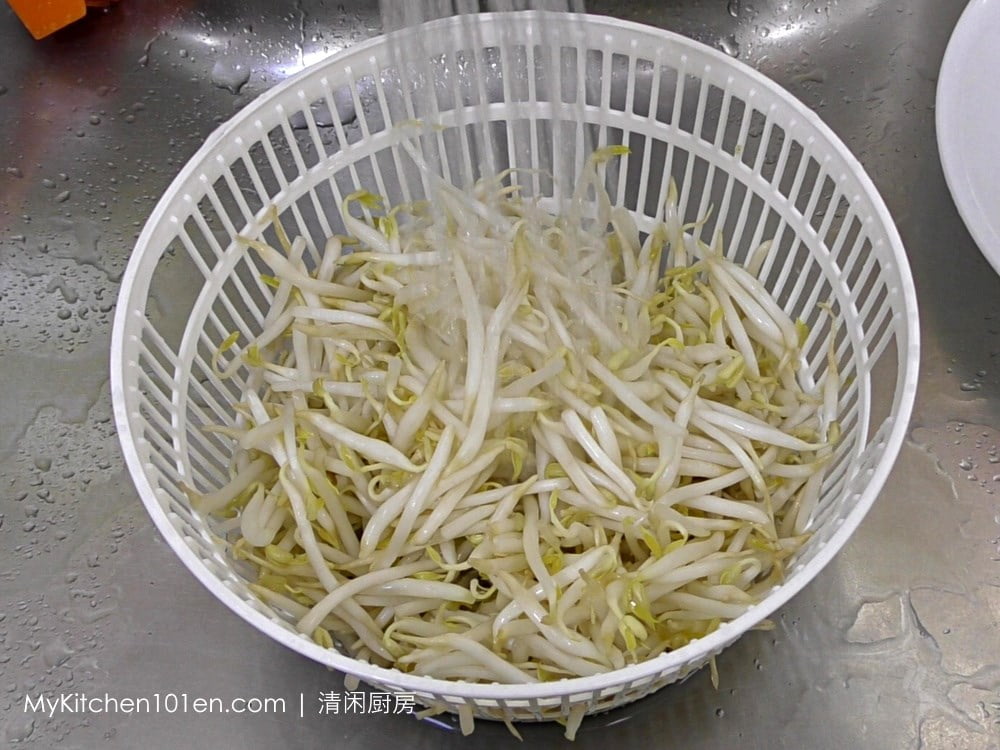 4 Cut 2 stalks of scallion and 1 stalk of leaf celery.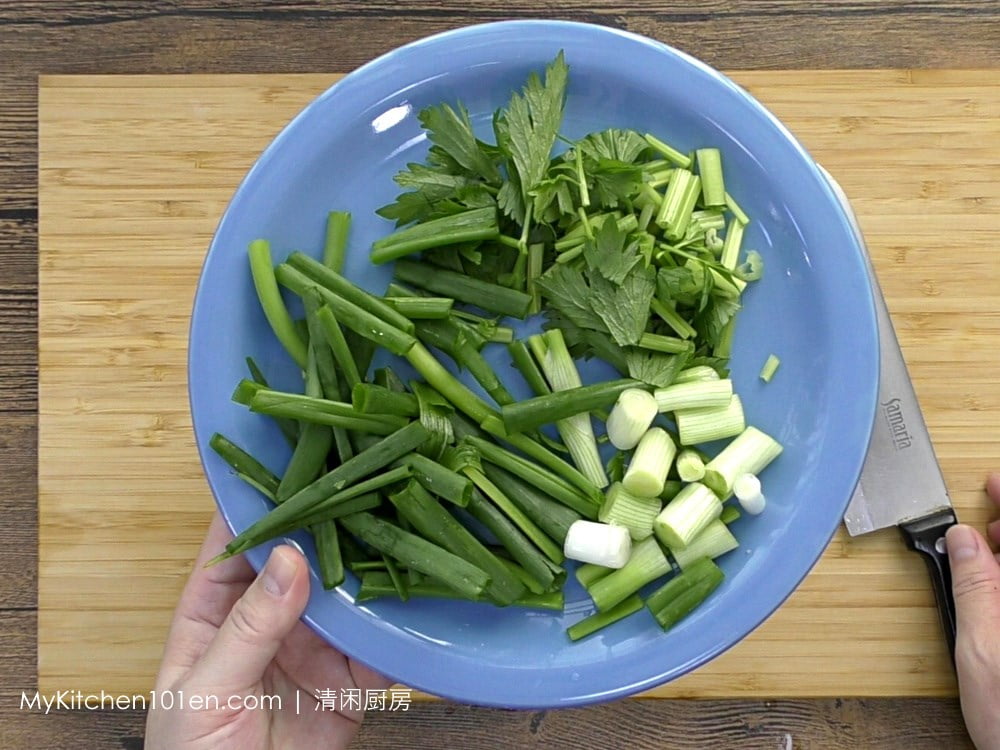 5 Wash and drain 450g yellow noodles with cool water.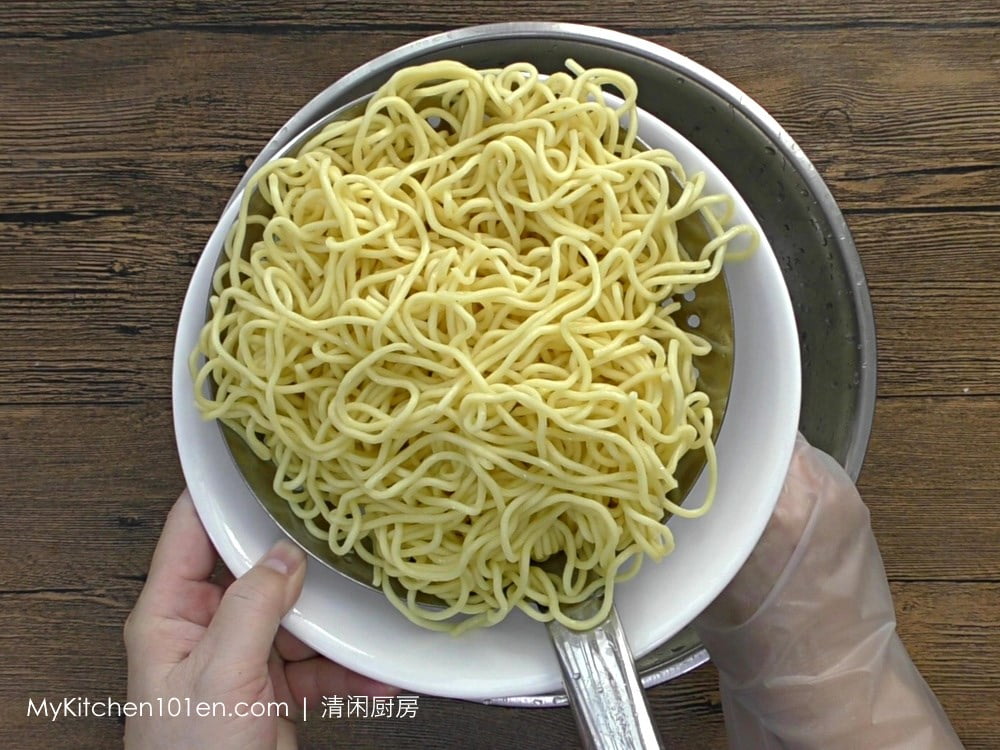 6 Mix 1 tablespoon light soy sauce, ½ teaspoon dark soy sauce, 1 teaspoon sugar, 1 teaspoon vinegar and 1 tablespoon ketchup, set aside the sauce for stir-frying.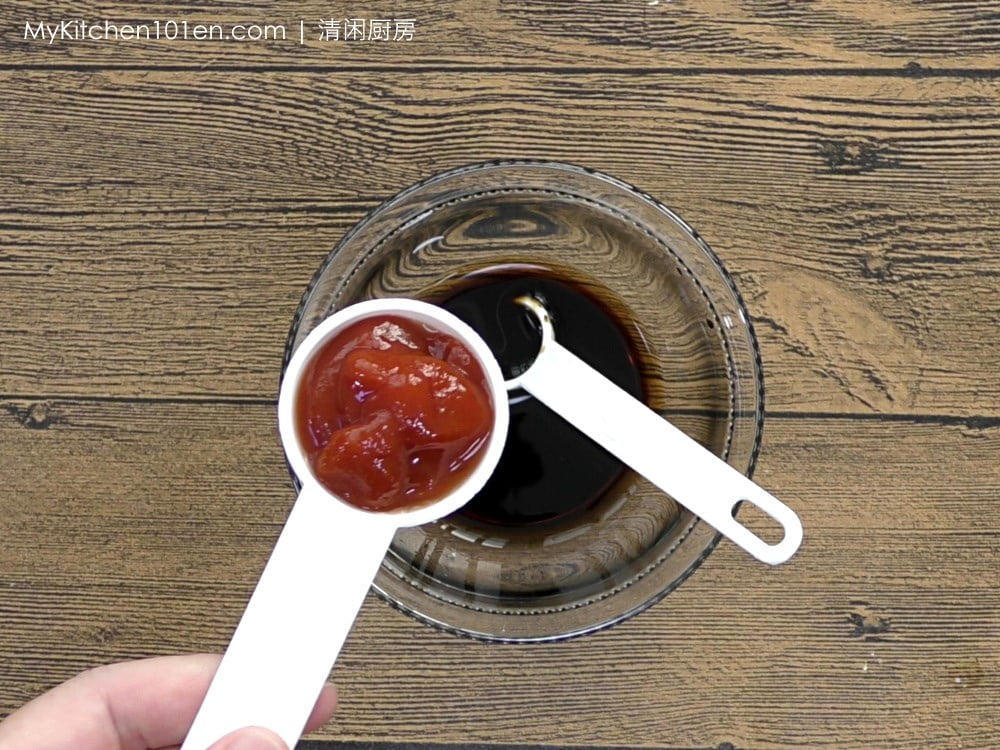 7 Chili paste: Add in fresh chili (de-seed), dried chili (de-seed), onion, shallots, garlic, dried shrimp (soaked) and cooking oil into food processor. Process until fine, oil helps with the blending process; add just enough to process all the ingredients. Stir with spatula in between blending when necessary.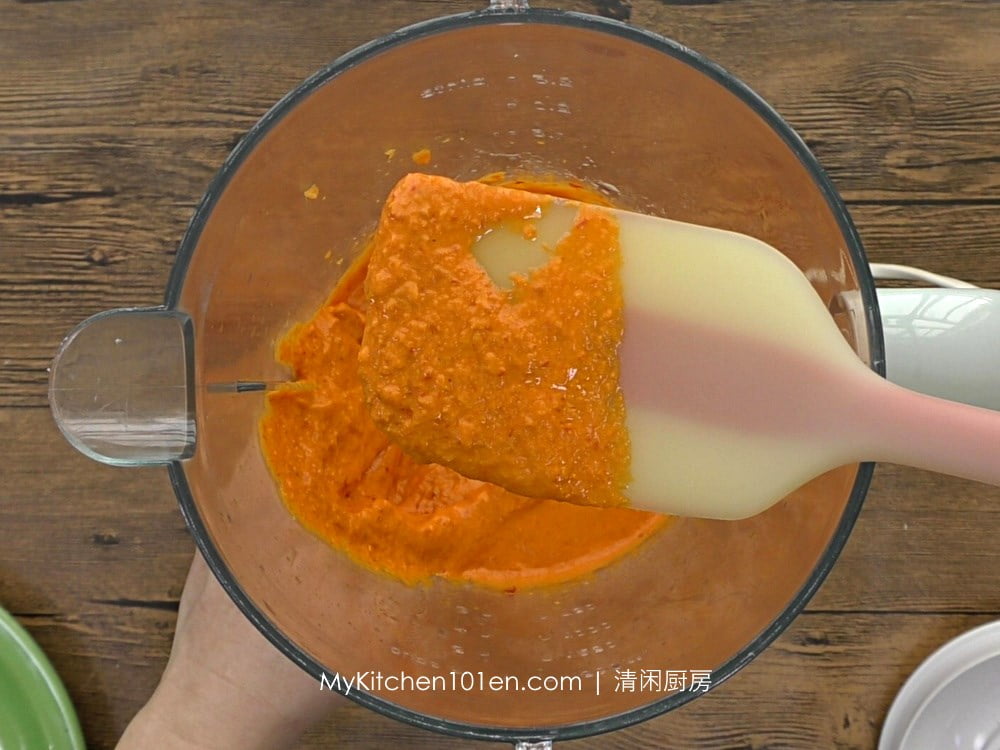 8 Add 1 tsp of oil, pour chili paste into cooking pan, bring to the boil. Reduce to medium or medium-low heat, cook for 8-10 minutes until fragrant, season with 1 tablespoon of sugar (15g) and ¾ teaspoon of salt (5g), mix to incorporate. Note: For less heat, reduce chili paste.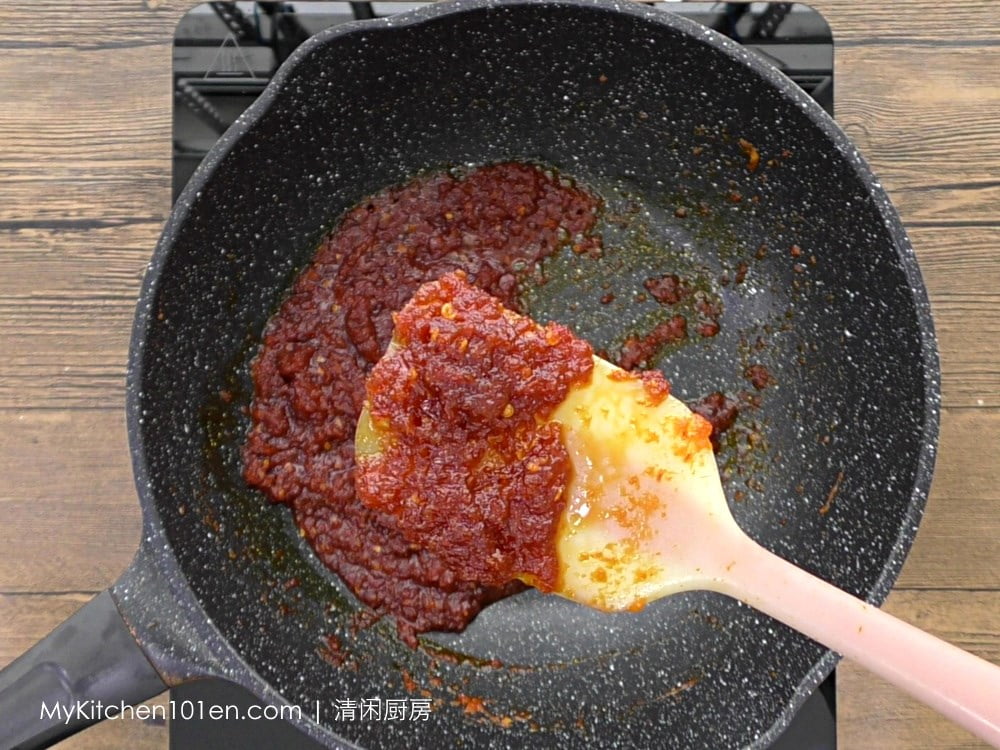 9 Add in chicken slices, stir-fry until the meat is almost done.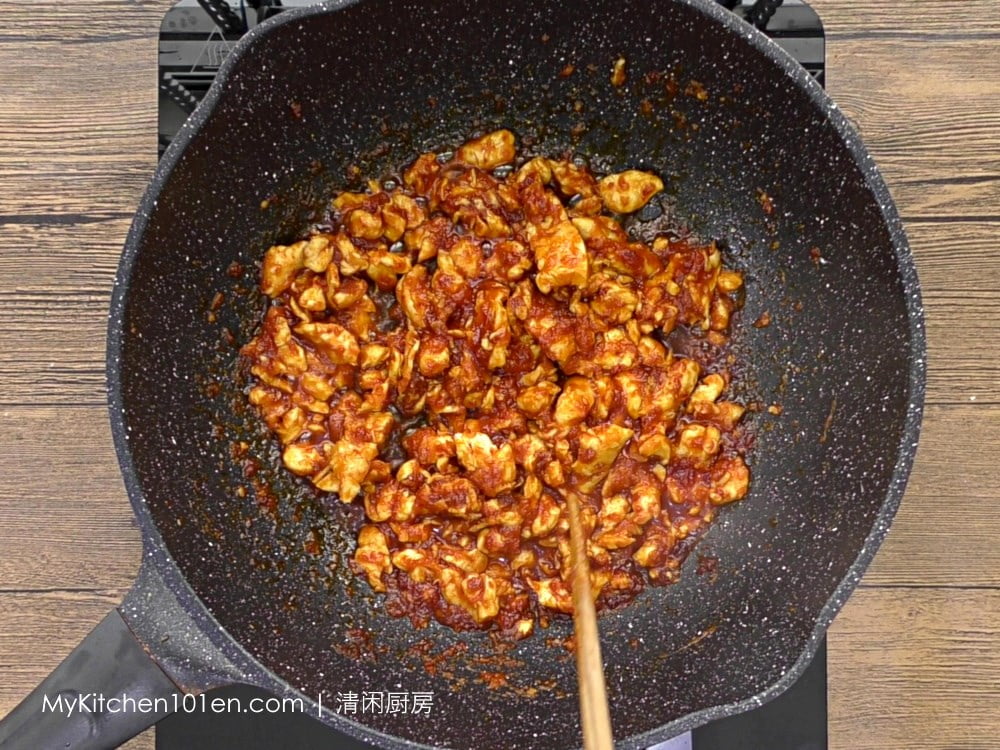 10 Pour in bean sprouts, leaf celery and scallions, mix slightly. Add in noodles, turn to high heat and stir fry for 2-3 minutes.
10.1 Mix slightly.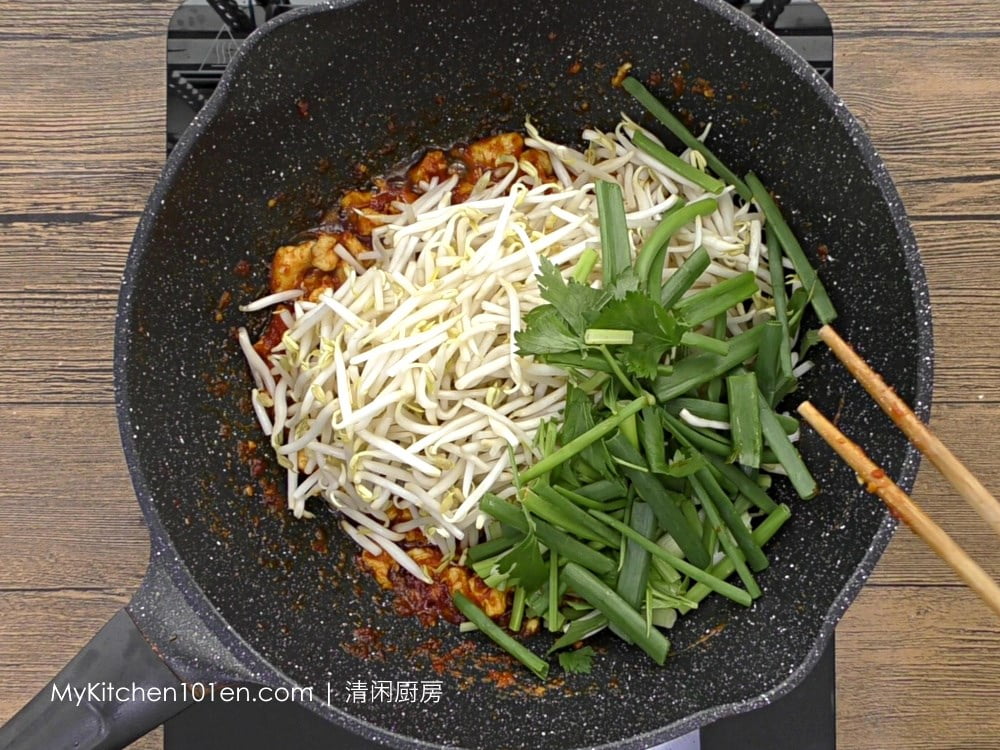 10.2 Stir fry for 2-3 minutes.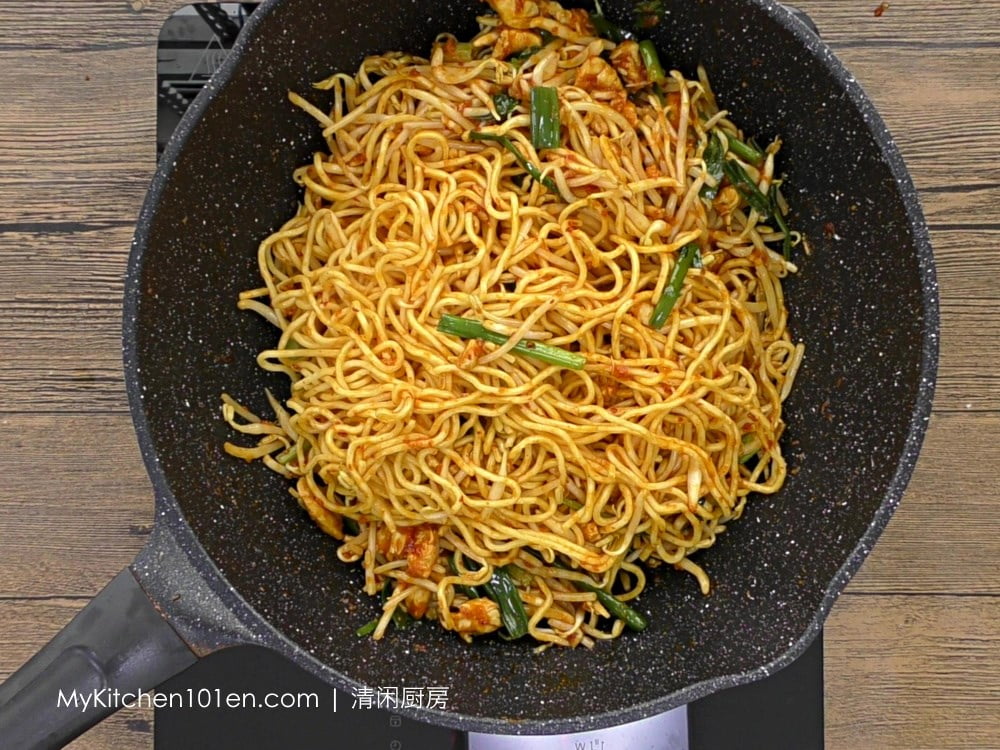 11 Add stir-fry sauce, swirl from the sides of the wok.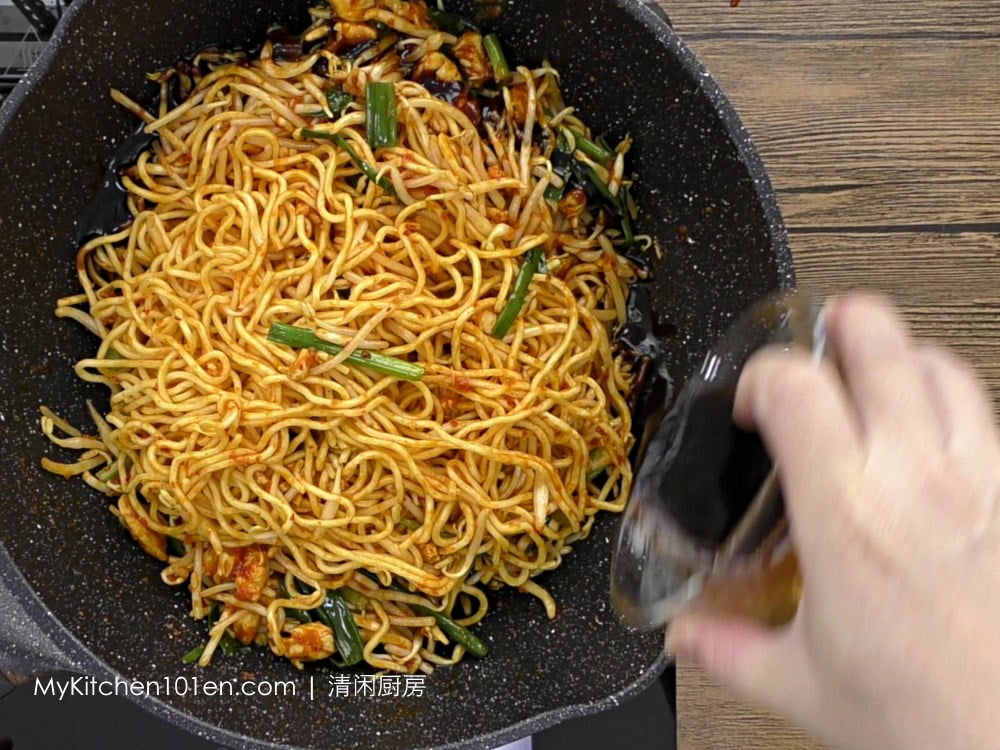 12 Serve hot & enjoy.