The texture of Japanese Cotton Sponge Cake is as soft as cotton, it has a high proportion of egg to the amount of flour. Since the proportion of flour is low, Cotton Sponge Cake shouldn't rise too high when baked, or it will collapse when out of oven, it should be baked at low heat with water bath.
CHINESE VERSION: 日式棉花海绵蛋糕-不收缩做法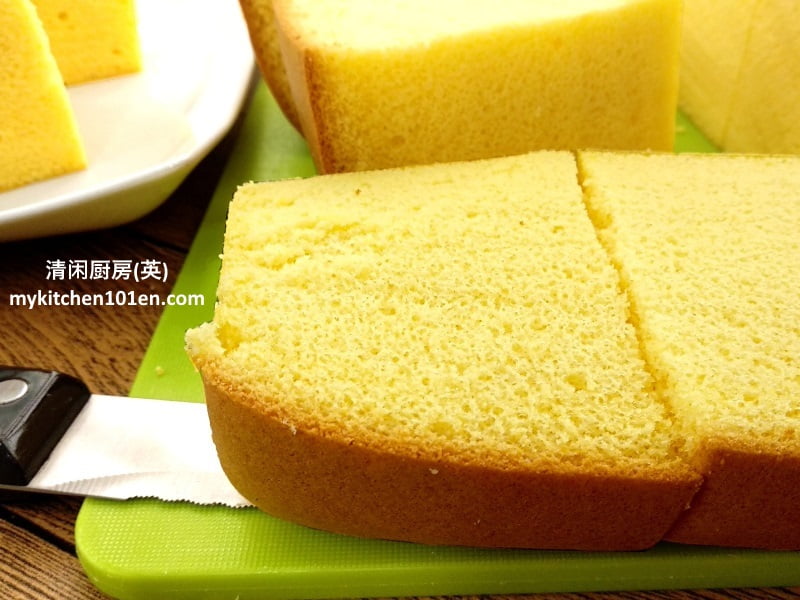 Japanese Cotton Sponge Cake-Minimum shrinkage | MyKitchen101en
Ingredients:
80 g (about 2.8 oz) butter (salted)
110 g (about 1/3 cup + 2 tbsps) evaporated milk
110 g (about 1 cup + 5 tsps) cake flour
1 egg (size: L)
7 egg yolks (size: L)
Ingredients for meringue:
7 egg whites (size: L)
1/3 tsp fine salt
1 tsp lemon juice
160 g (about 3/4 cup + 2 1/2 tsps) fine sugar
Directions:
1 Grease and line 8″/20-cm square baking pan with parchment paper. Fold a larger piece of aluminium foil into half to create 2 layers, top with 6-7 pieces of kitchen towels, wrap the bottom of the baking pan with the aluminium foil.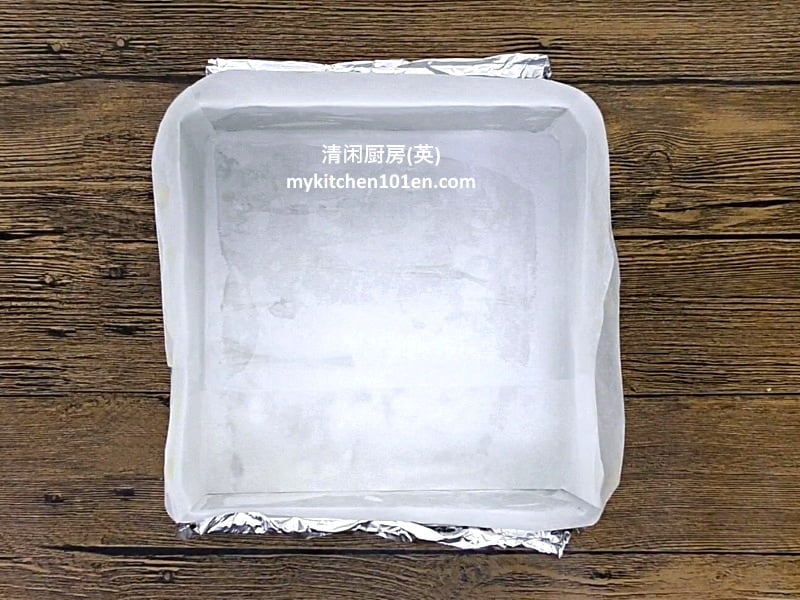 2 Preheat oven to 150°C/300°F.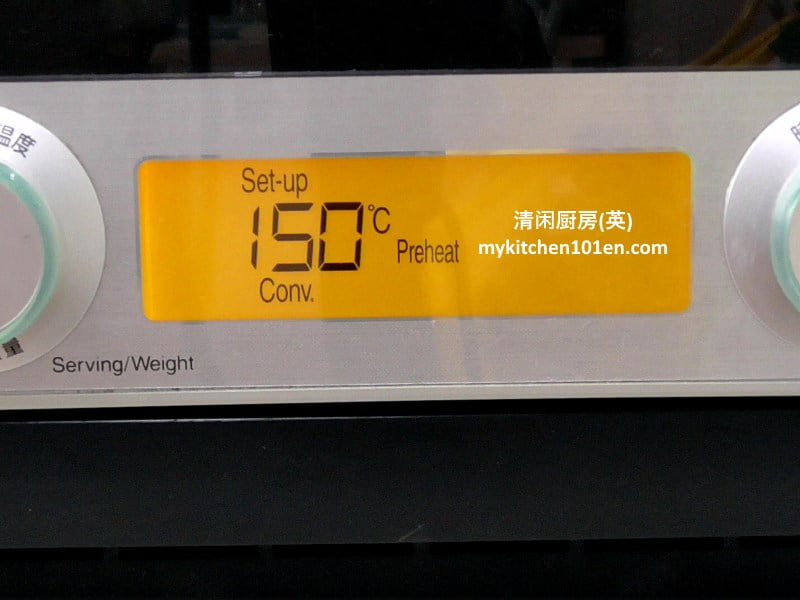 3 Combine butter and evaporated milk, heat up over medium-low heat until butter has melted.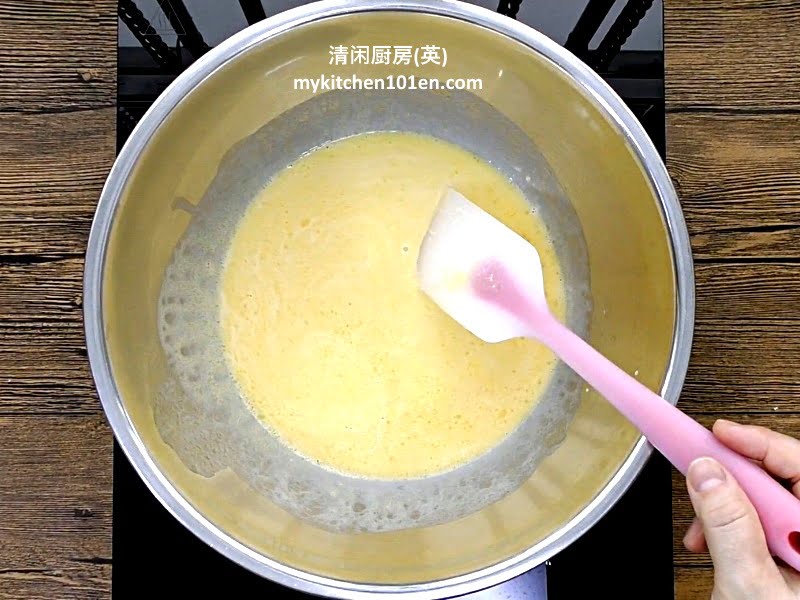 4 Sift in cake flour, mix until combined.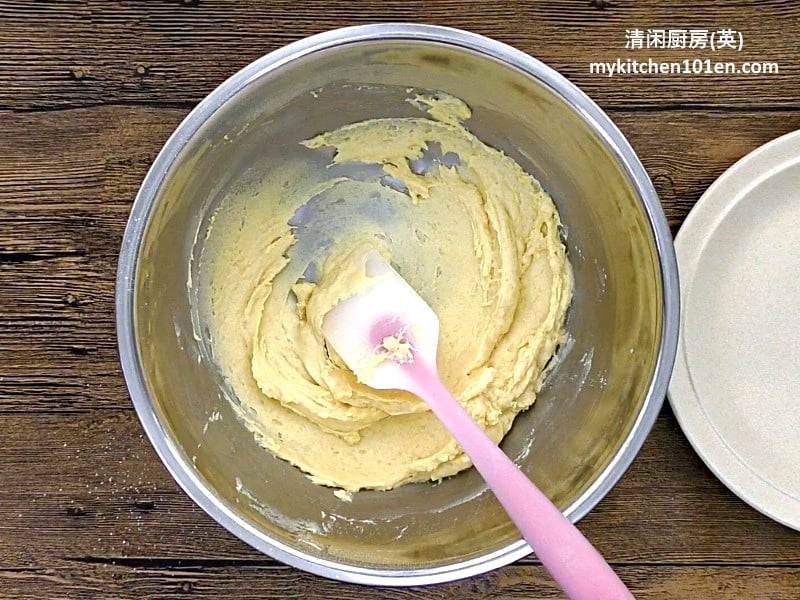 5 Combine 1 egg and 7 egg yolks, add to batter gradually, mix until smooth.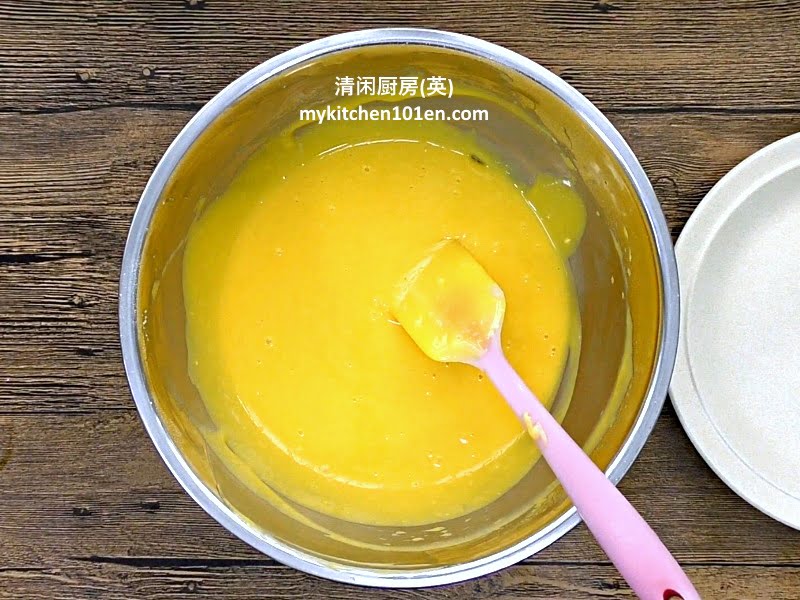 6 In a clean mixing bowl, whisk egg whites on low speed until foamy. Add in salt and lemon juice, whisk until small bubbles are formed. Add in sugar gradually, whisk on low speed until soft peak (meringue is shiny with arch shape). (Reminder: Egg whites and equipment used to beat egg whites must be grease-free, water-free and egg yolk-free. It is advisable to clean the egg shells and equipment with dishwasher detergent, then dry with a clean cloth. Use a clean small bowl to separate the egg yolk and egg white, if the egg yolk cracks, don't use that egg white.)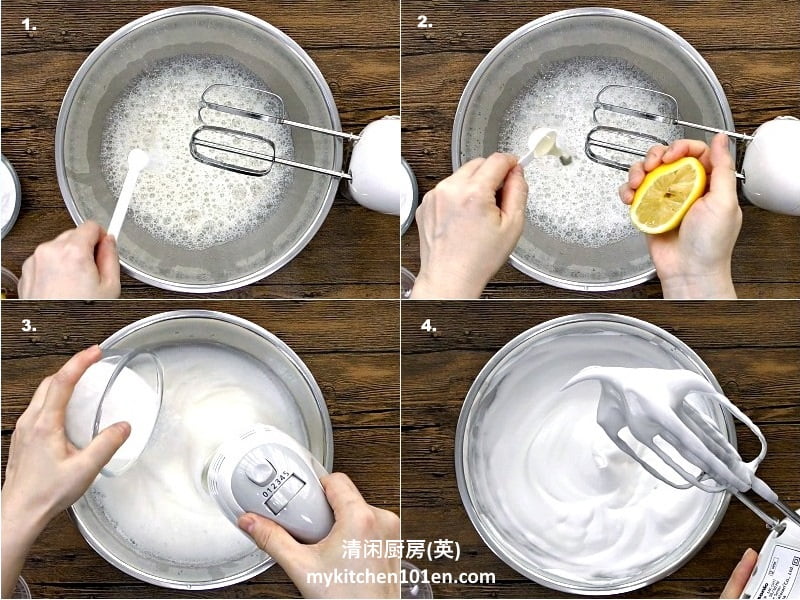 7 Add meringue to egg yolk batter in 3 batches, mix gently with hand whisk.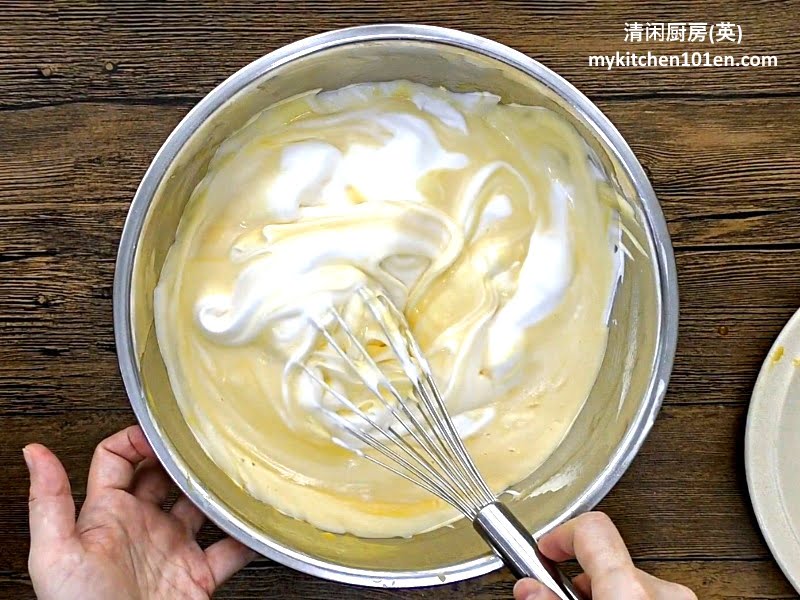 8 Fold gently until well mixed with spatula. Tap mixing bowl a few times on countertop to burst large bubbles. (Reminder: Do it quick but gentle to avoid deflating the meringue. Scrape the bottom of mixing bowl with spatula and fold over, repeat folding motion until just well mixed.)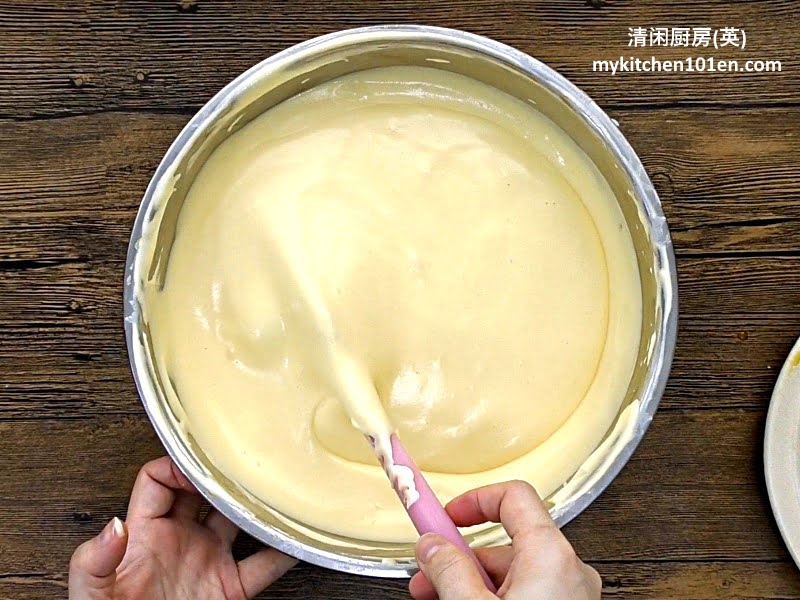 9 Pour the batter into lined baking pan, tap a few times to break large bubbles.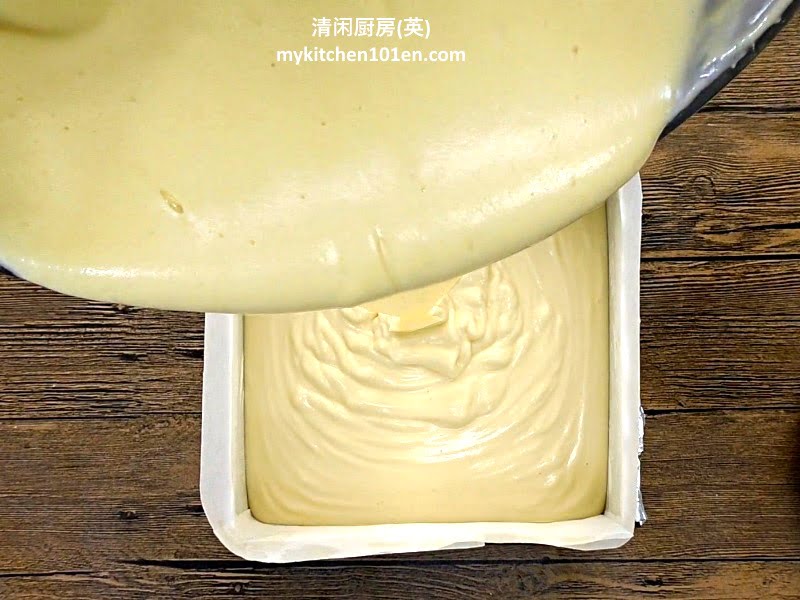 10 Put baking pan with batter into a larger pan, then fill the larger pan with plain water, about 1″ high, for water bath.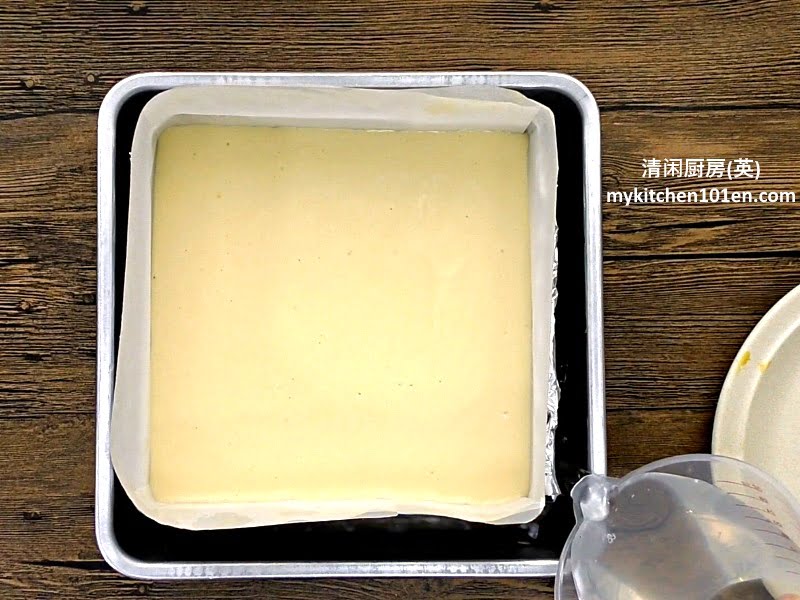 11 Bake at 150°C/300°F for 1 hour 50 minutes, until fully cooked.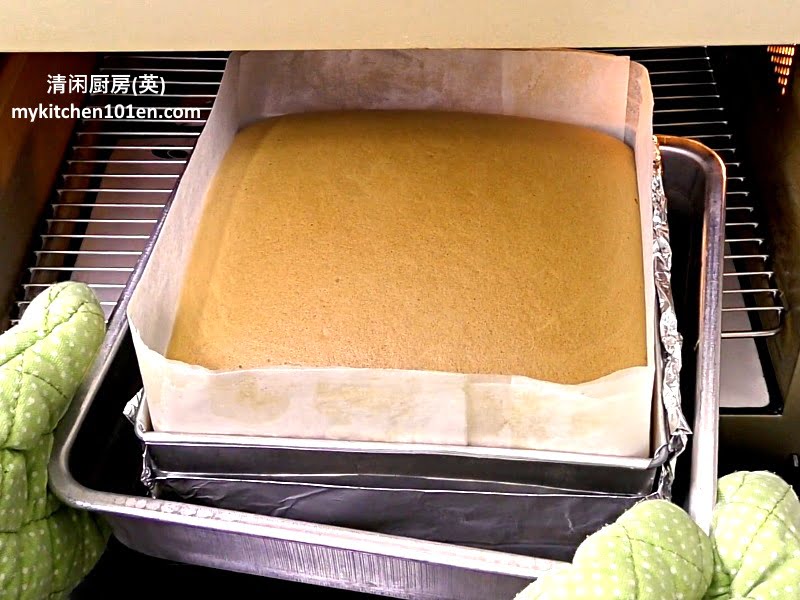 12 Drop the baking pan from 1 foot high onto countertop to minimise shrinkage.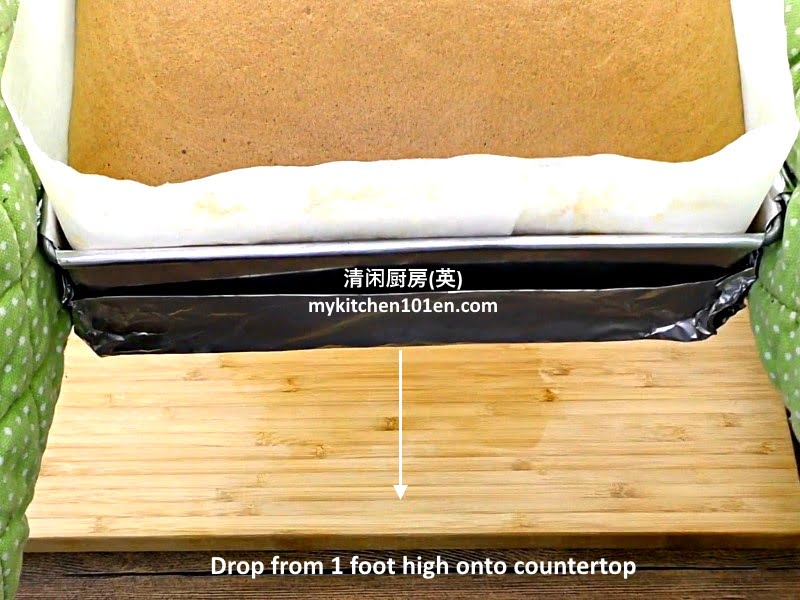 13 Unmould the cake and cool completely on wire rack (at least 6″ from countertop) .
14 Cut into pieces with serrated knife when completely cooled.