The steamed rice pudding (chwee kueh) in this recipe is made with white rice. The texture of rice pudding made with white rice is soft and slightly chewy, better than the one made using rice flour.
CHINESE VERSION: 菜脯碗仔糕/水糕 (白米版)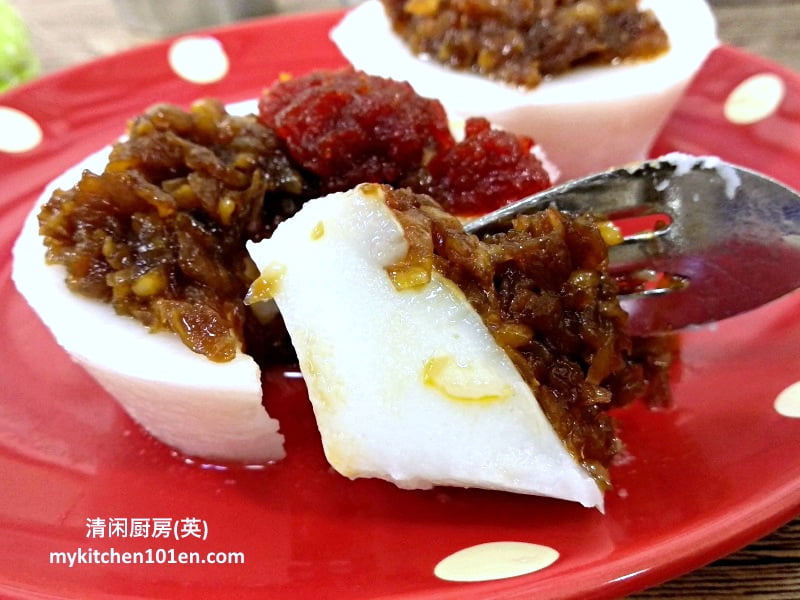 Steamed Rice Pudding (Chwee Kueh) with Chai Poh (White Rice Version) | MyKitchen101en
Yields: 10
Ingredients for rice pudding:
150 g white rice (keep refrigerated and soak overnight)
1/4 tsp fine salt
60 g + 130 g plain water
1/2 tbsp cooking oil
300 g hot boiling water
Ingredients for chai poh condiment:
3 1/2 tbsps cooking oil
30 g garlic (chopped)
60 g shallot (chopped)
100 g chopped chai poh/preserved radish (rinsed & drained)
1 1/2 tbsps fine sugar
1/2 tsp dark soy sauce
1/2 tsp cornstarch
2 tbsps water
Ingredients for sambal:
55 g shallot
20 g garlic
40 g red chili (seeded)
10 g dried chilies (seeded, rinsed & drained)
6 tbsps cooking oil
1/3 tsp fine salt
2 1/2 tsps fine sugar
Directions:
1 Lightly coat moulds (Volume: 80 ml) with cooking oil, then arrange in steamer rack.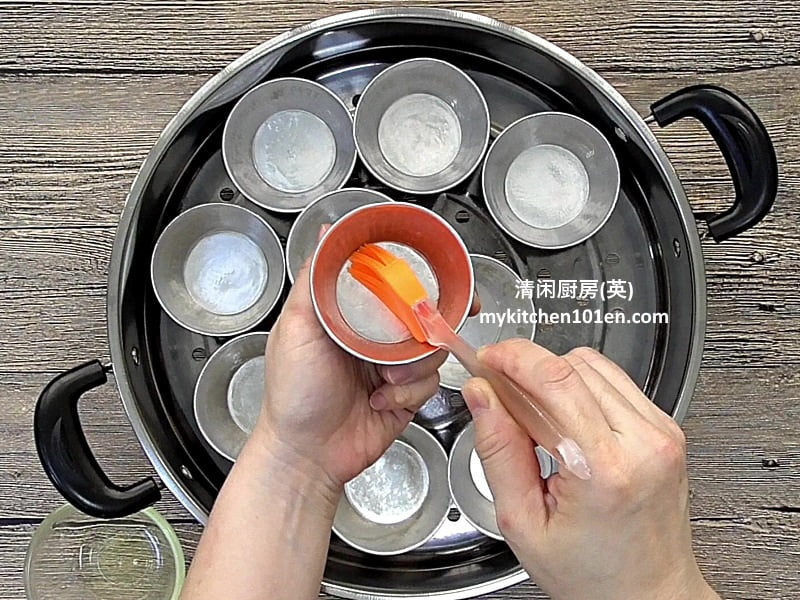 2 Drain soaked rice. Put soaked rice and salt into blender, add in 60 g of plain water, blend on high speed for about 3 minutes until smooth. Add in oil and 130 g of plain water, blend until well mixed.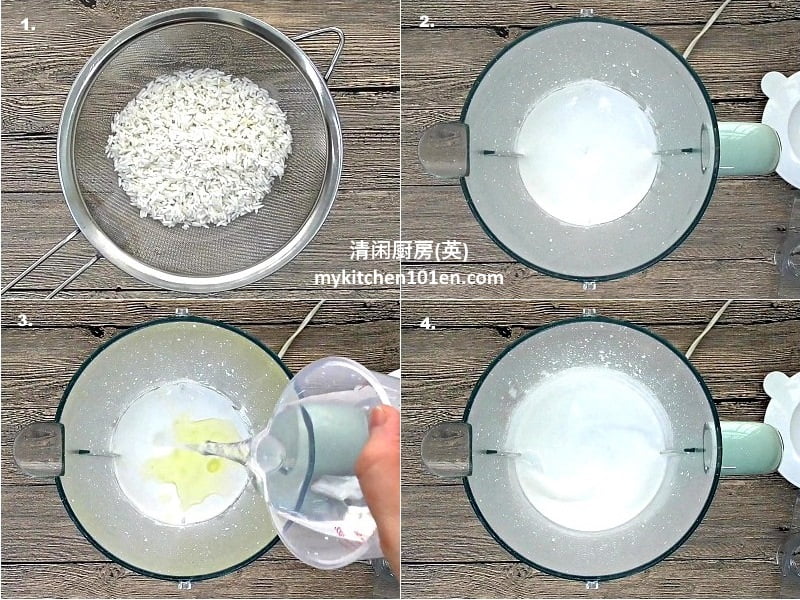 3 Strain mixture into stainless bowl, add in hot boiling water, mix well. Bring 1/2 large pot of water to boil, turn to low heat, sit stainless bowl in hot water, cook mixture for about 1 minute, until just slightly thickened (when gel-like substance appears).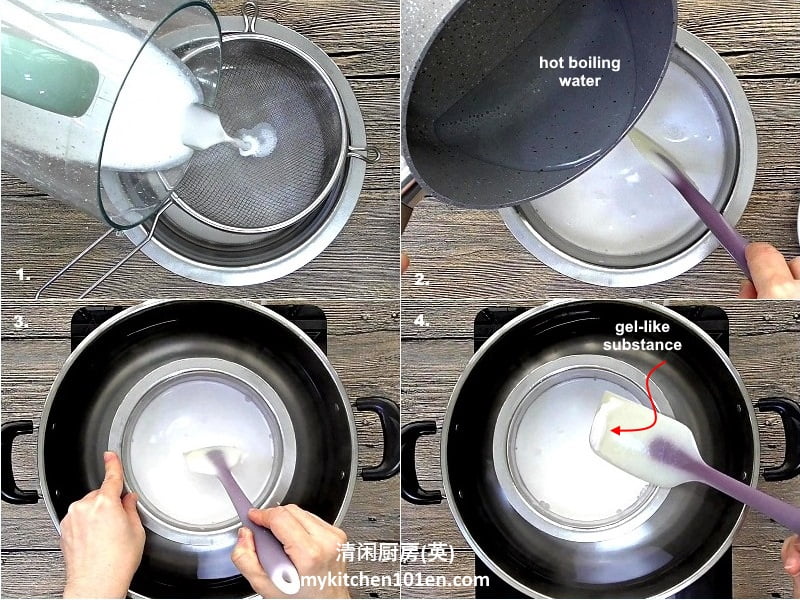 4 Transfer mixture to measuring cup. Put steamer rack with moulds on steamer, pour mixture into the moulds until 80% full.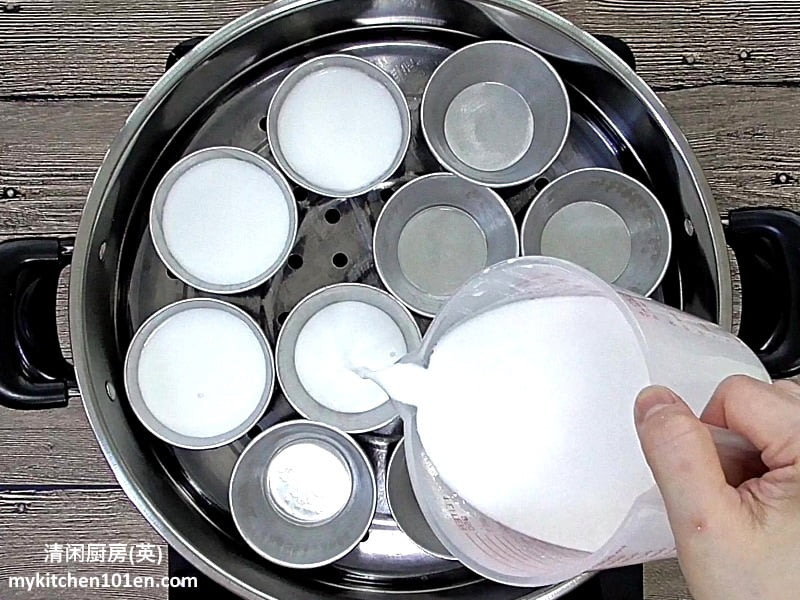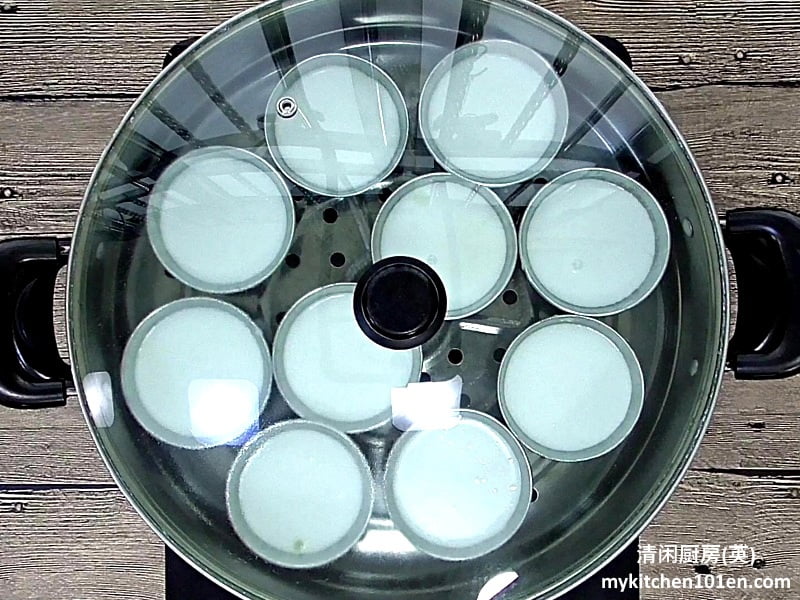 5 Steam over medium heat for 12 minutes. Set aside to cool completely before unmoulding.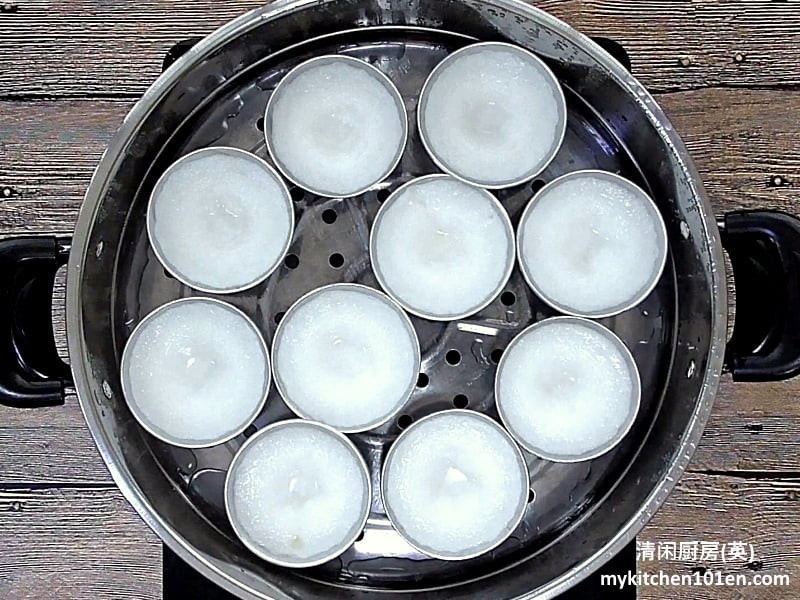 6 To unmould, run a plastic knife around the edge of the mould, then take out the rice pudding.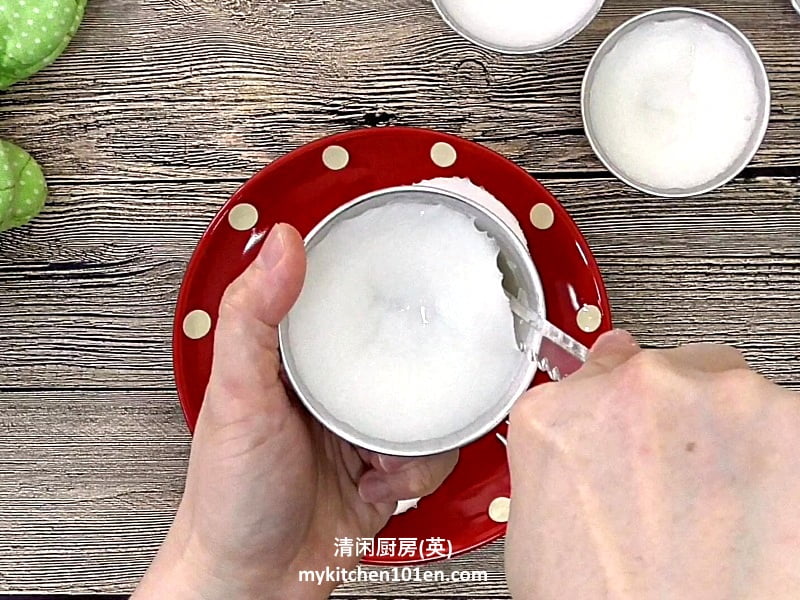 7 Serve the Steamed Rice Pudding (Chwee Kueh) with chai poh and sambal.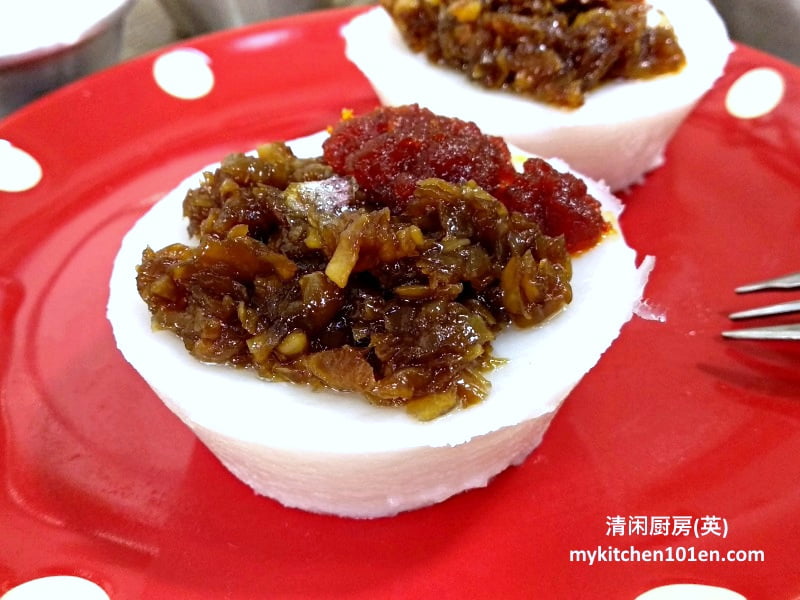 Directions for condiments:
1 For chai poh: Preheat cooking oil, add in chopped garlic and shallot, cook over medium heat until fragrant. Add in chai poh, cook until fragrant. Mix together sugar, dark soy sauce, cornstarch and water, add in, cook until the sauce has thickened.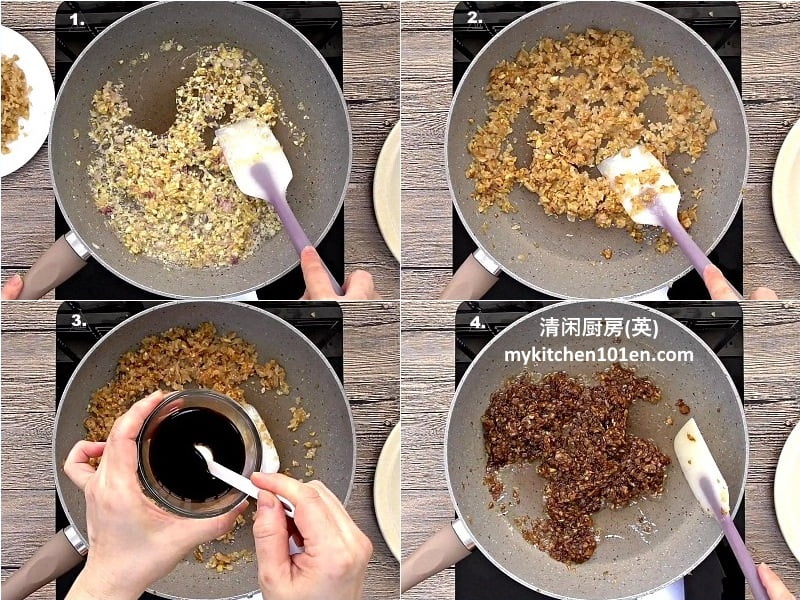 2 For sambal: Combine shallot, garlic, red chili, dried chili and oil in a blender, blend until smooth. Transfer chili paste to non-stick pan, bring to the boil over medium heat, then reduce to medium-low heat, cook until fragrant. Add in salt and sugar, mix well.