Put Chai Koh (Sweet Rice Pudding) made with white rice has a soft and slightly chewy texture. It tastes much better than the version made with rice flour. Besides having cooked red bean as its filling, the rice pudding itself is cooked with red bean soup too, thus this dessert has a rich red bean fragrance.
Other White Rice Version kuih recipes : Steamed Rice Pudding (Chwee Kueh), Kuih Bengkang/Bingka Beras/Baked Rice Kuih, Classic Chinese Rice Cake (Bai Tang Gao)
CHINESE VERSION: 红豆砵仔糕 (白米版)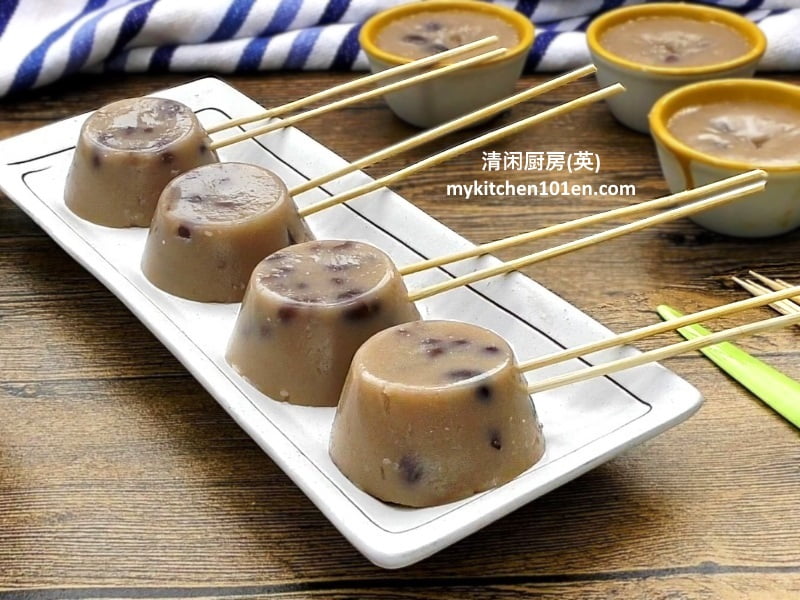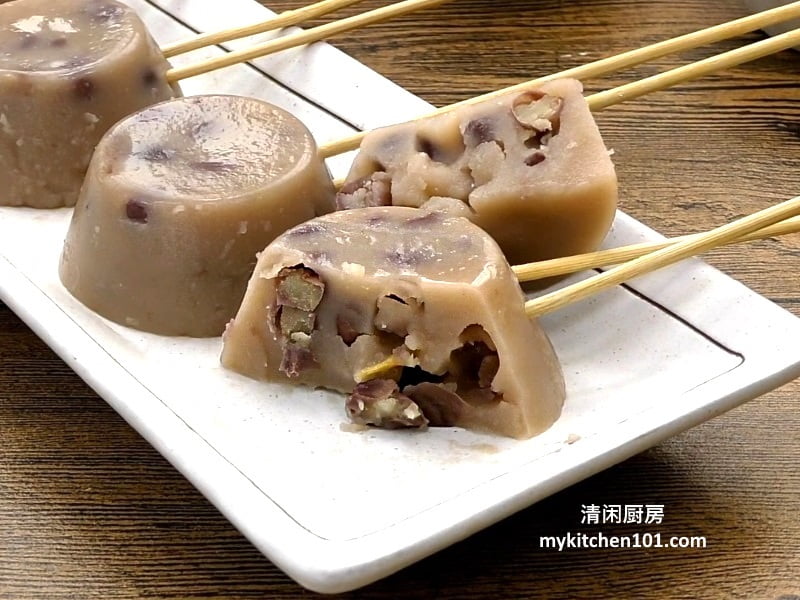 Red Bean Put Chai Koh (Sweet Rice Pudding-White Rice Version) | MyKitchen101en
Yields: 13
Ingredients for red bean filling:
50 g red bean (rinsed)
600 g plain water
1 tbsp light brown sugar
Ingredients for rice pudding:
100 g white rice (keep refrigerated and soak overnight)
40 g plain water
125 g + 200 g red bean soup
80 g light brown sugar
⅛ tsp fine salt
1 pc pandan leaf
Directions:
1 Red bean filling: Combine red bean and plain water in a sauce pot, bring to the boil, reduce to low heat, cook for about 45 minutes to 1 hour, until softened. Drain the cooked red bean, keep the red bean soup for cooking rice pudding. Add light brown sugar to cooked red bean, mix well.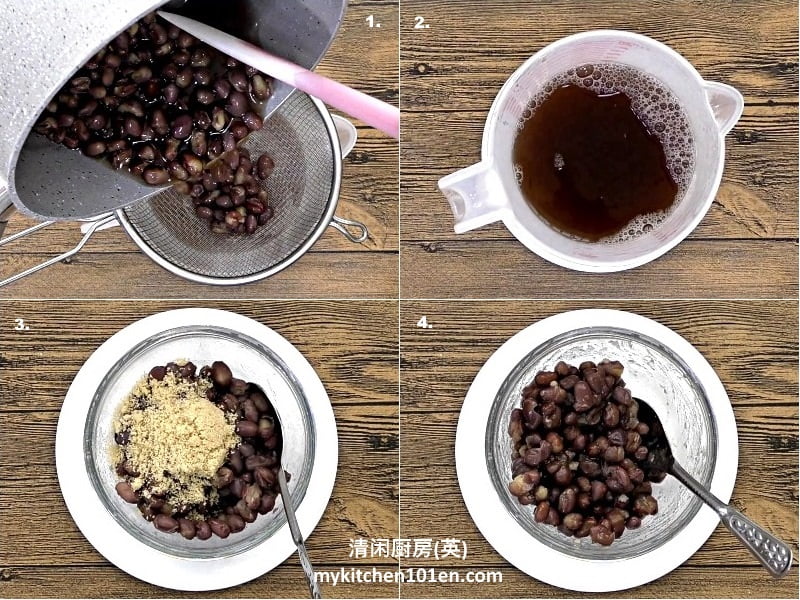 2 Lightly coat small porcelain cups (volume: 55 ml) with cooking oil, then arrange in steamer rack.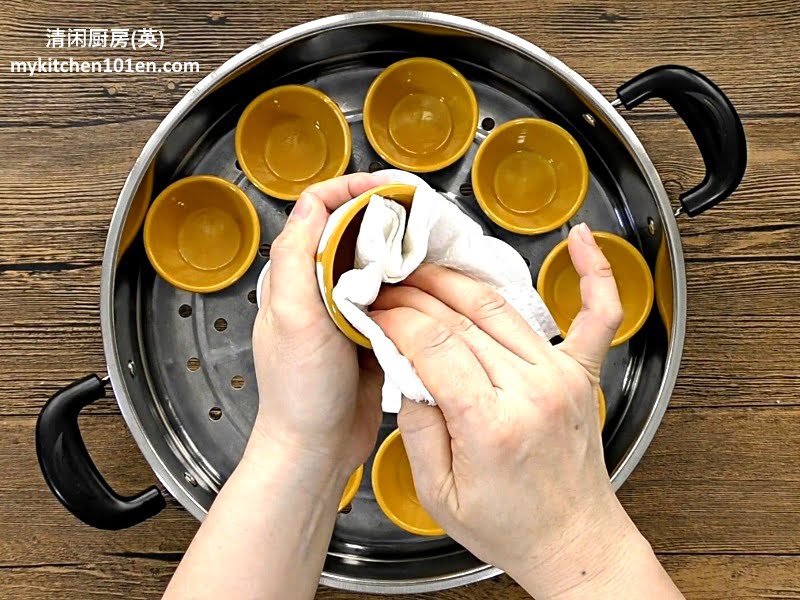 3 Put some red bean filling into each cup.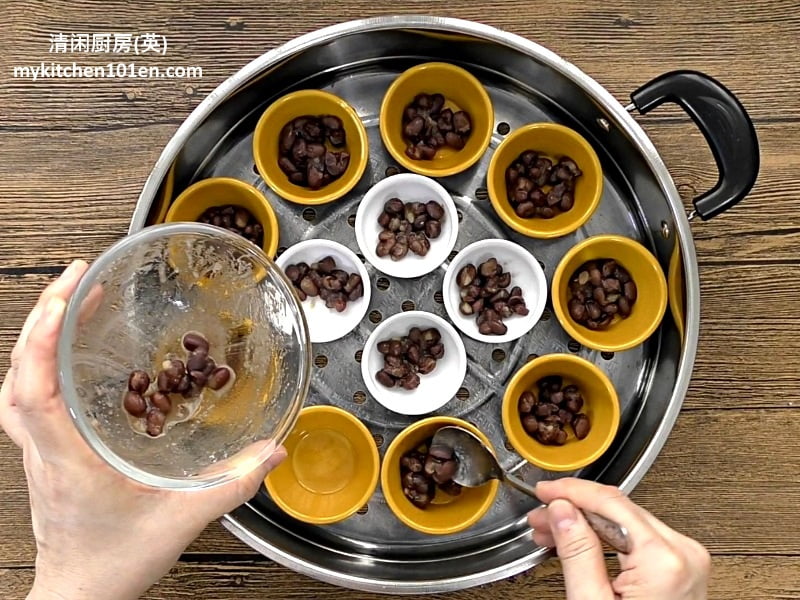 4 Drain soaked rice, put into blender, add in 40 g of plain water, blend on high speed for 1 minute. Stop and scrap the sides with spatula, then continue blending on high for another 2 minutes until smooth. Add in 125 g of red bean soup, blend until combined.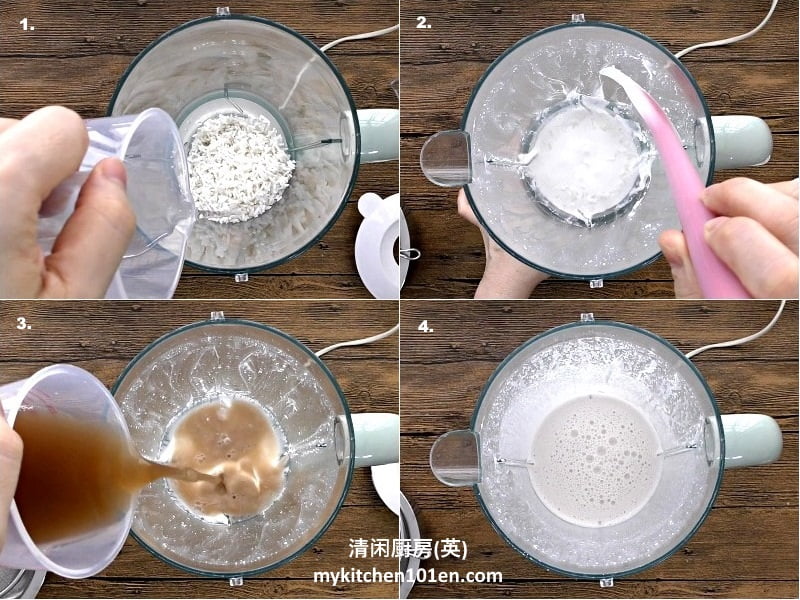 5 Strain mixture into stainless bowl. Combine another 200 g of red bean soup, light brown sugar, salt and pandan leaf, bring to the boil, cook until sugar has dissolved. Add to mixture, mix well.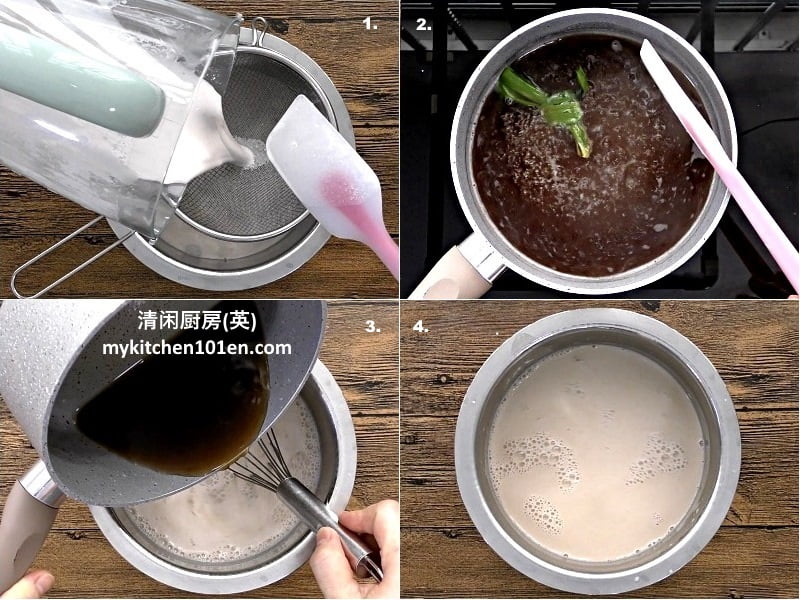 6 Bring ½ large pot of water to boil, turn to low heat, sit stainless bowl in hot water, cook mixture for about 45 seconds.
7 Transfer mixture to measuring cup. Put steamer rack with cups on steamer, pour in mixture until 90% full.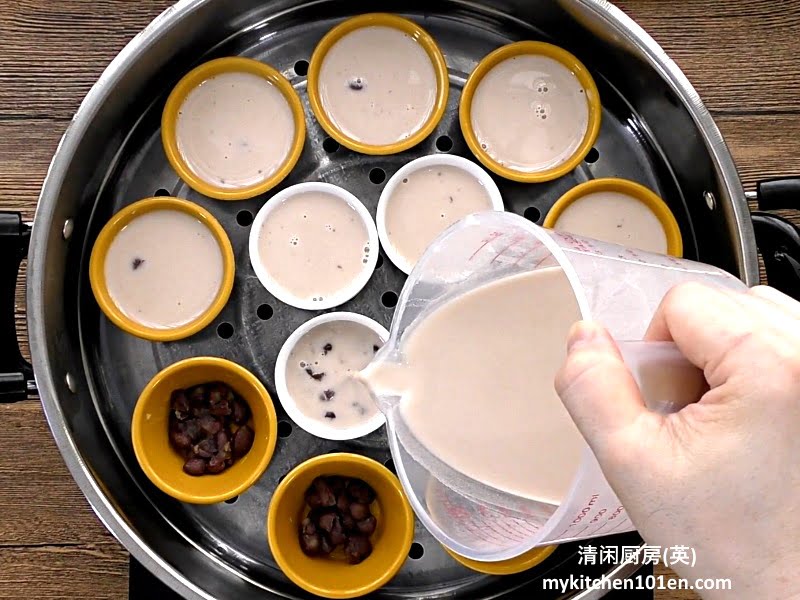 8 Steam over medium heat for 12 minutes.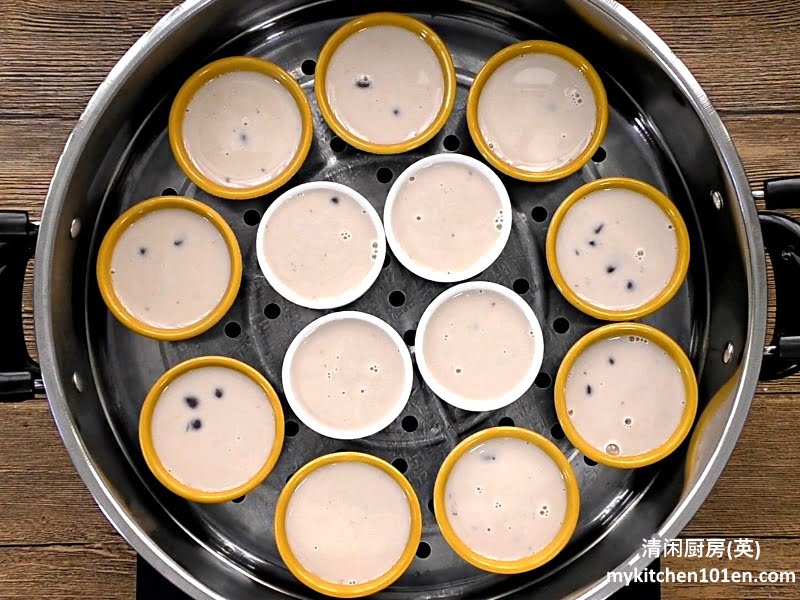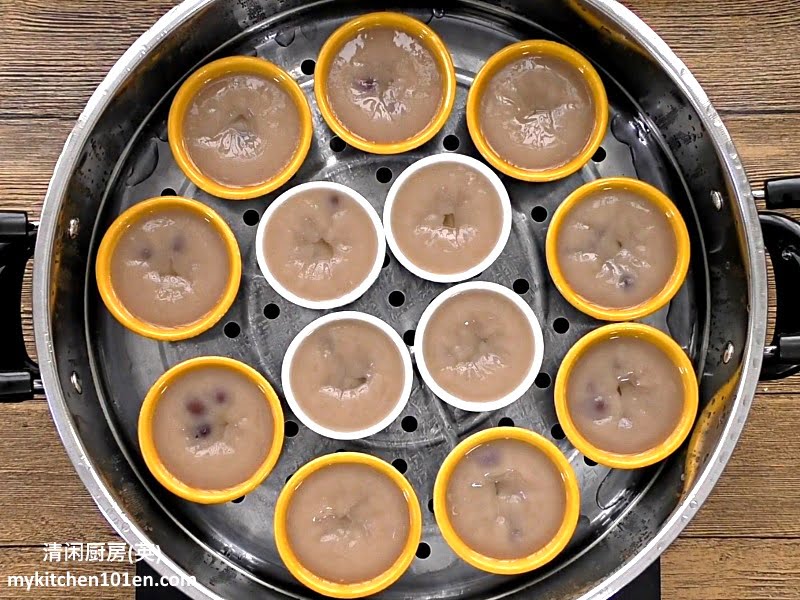 9 Dip cups in icy-cold water until completely cooled.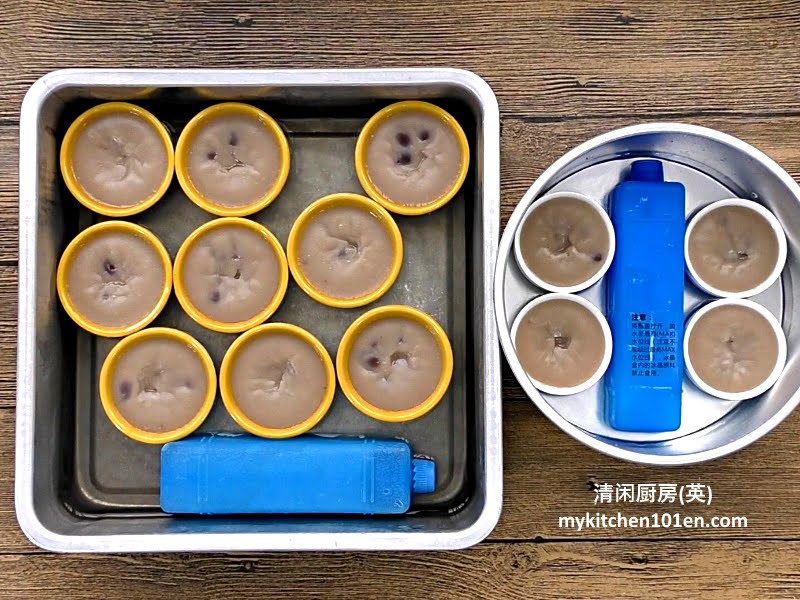 10 Run plastic knife around the edge of the cup and take the Put Chai Koh out.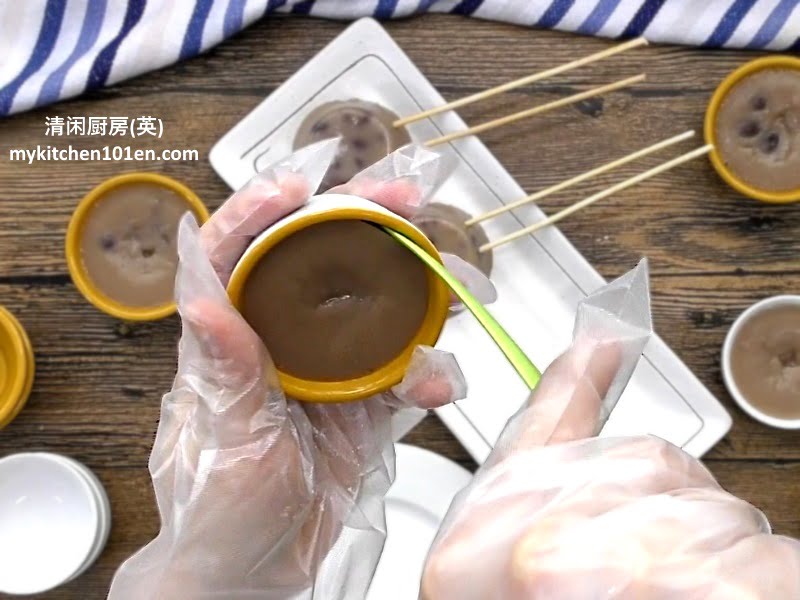 11 Insert 2 bamboo sticks into the Put Chai Koh. (Reminder: Put Chai Koh is more delicious if chilled for 1 hour before serving.)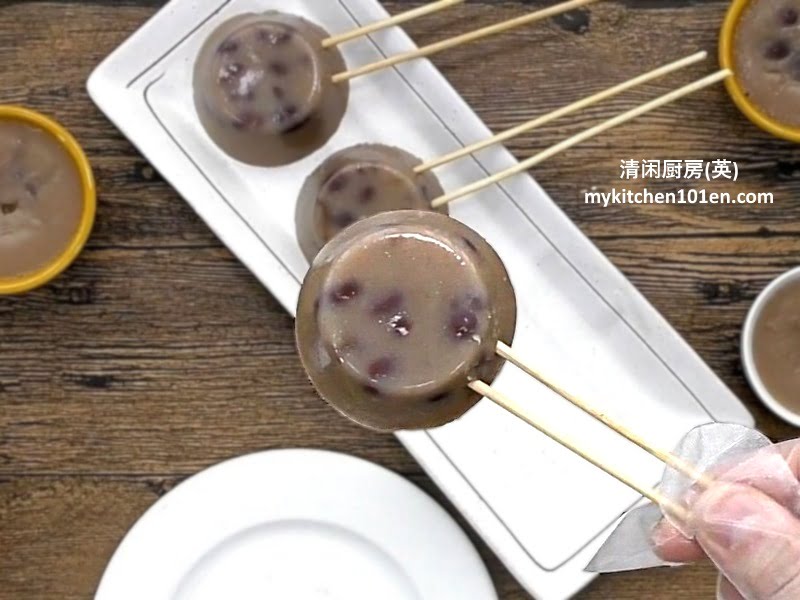 ---