Pretzel is a baked bread made from thin length of dough. It is twisted in certain way to form a distinctive shape resembles folded arms across the chess. Pretzels were originated from Europe in the Early Middle Ages.
The crusty and shiny surface of Pretzel comes from browning solution. In this recipe, I use baking soda solution, alkaline bath is necessary as it speed up the Maillard reaction which is browning of dough. Once start baking, Maillard reaction accelerate in alkaline environment and gives Pretzel their distinctive flavor and deep brown color.
Chinese Version: 蝴蝶面包(百味圈/PRETZEL) – 肉桂糖或原味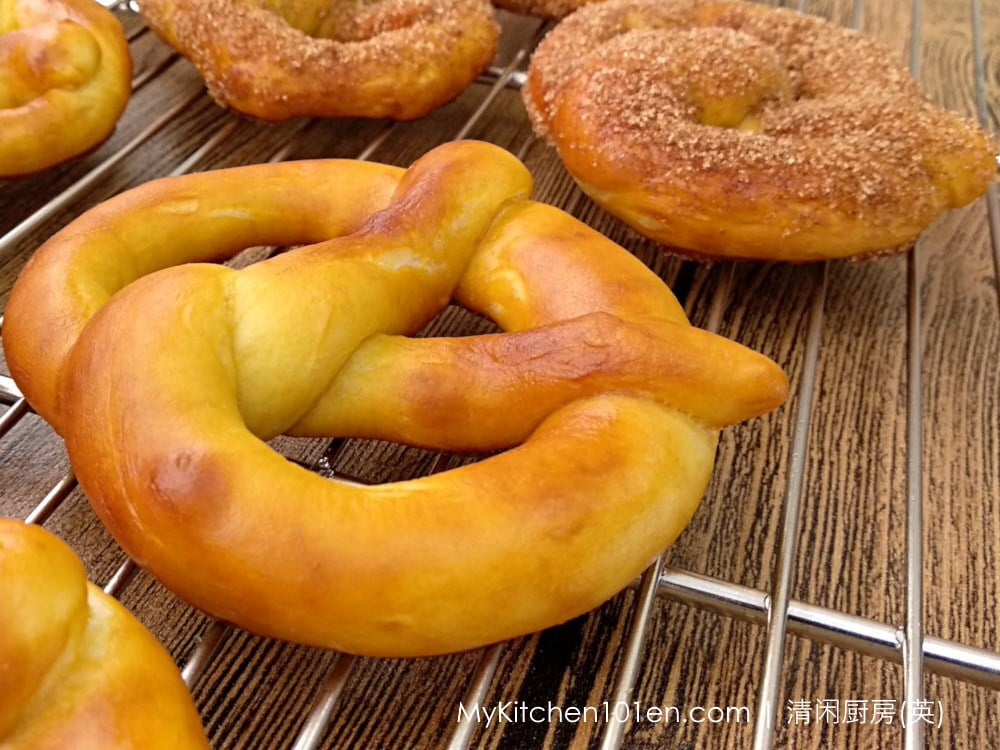 Cinnamon Sugar Soft Pretzel Recipe | MyKitchen101en
Ingredients: (Yield: 350g)
200g All-purpose flour
110g water
20g fine sugar
¼ tsp salt
¼ tsp Instant yeast
20g Butter
Crust Browning (Baking soda solution):
250g Hot water (70°C)
25g Baking soda
Cinnamon Sugar Coating:
½ Tbsp Butter (melted)
25g Brown sugar
¼ tsp Ground Cinnamon
Instructions:
1 Add ¼ teaspoon instant yeast, 110g water, 20g sugar and ¼ teaspoon salt, stir until all yeast completely dissolved.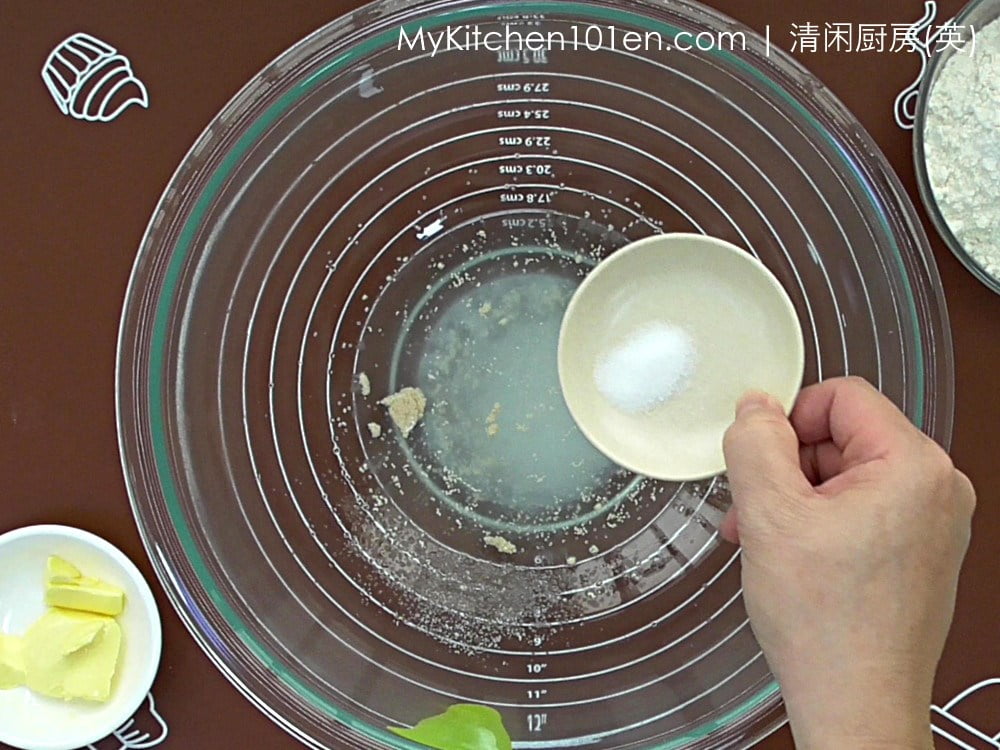 2 Add 200g all-purpose flour and knead to form dough, mix with room temperature butter (20g), and continue to knead until smooth and elastic dough is formed (4-5 minutes).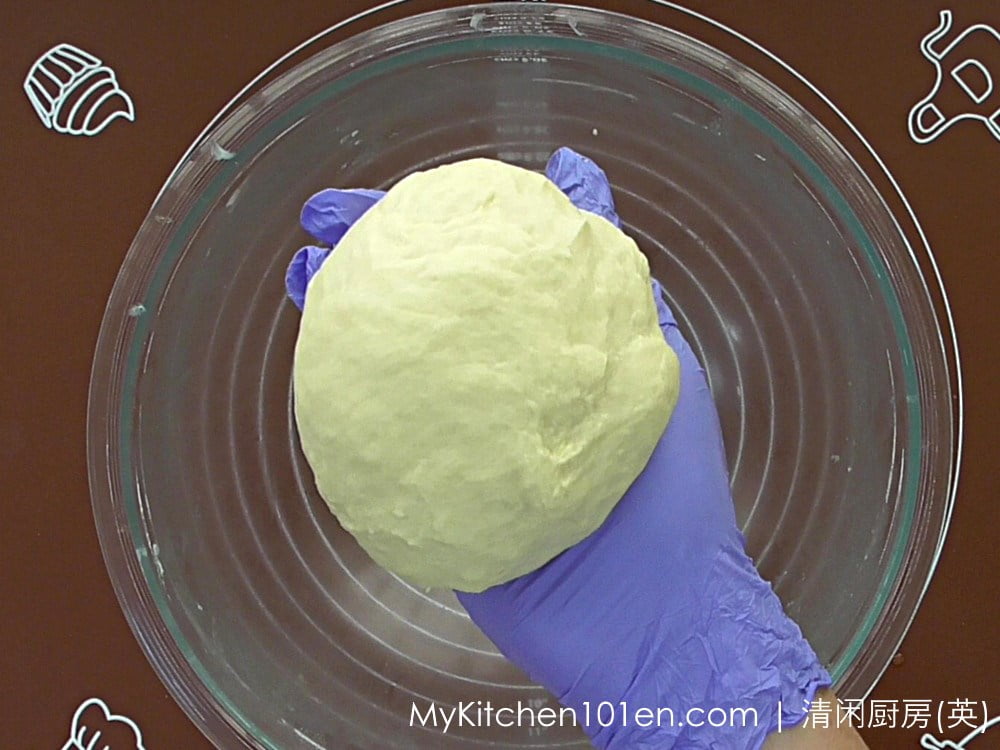 3 Cover with cling wrap, set aside at warm place to proof for 60 minutes.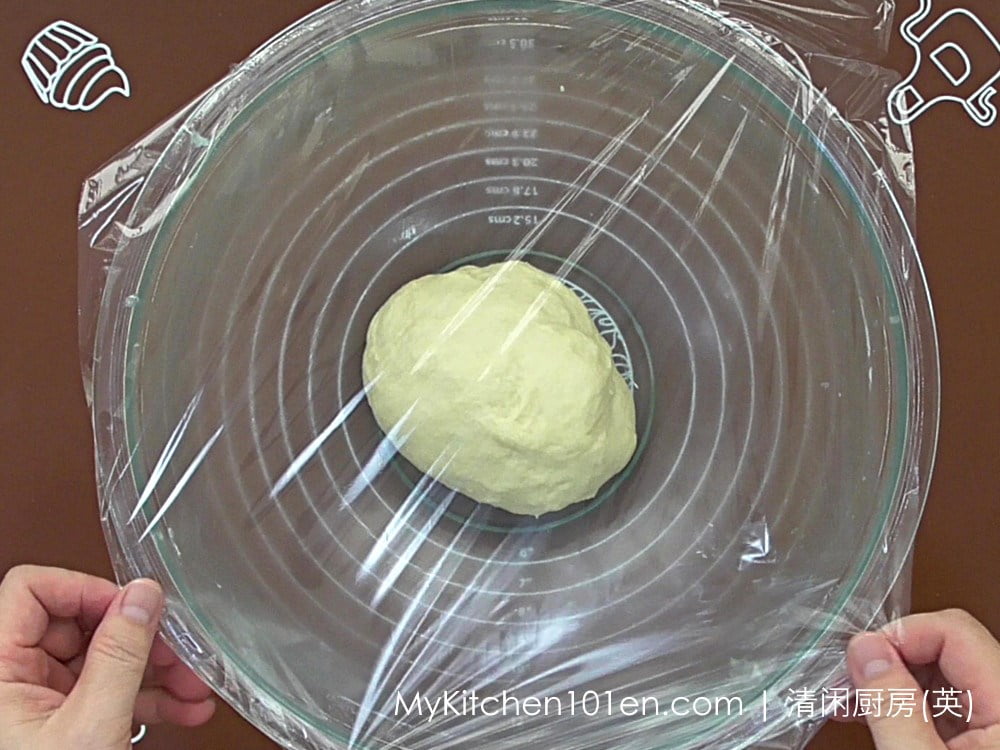 4 Mix 25g light brown sugar with ¼ teaspoon of ground cinnamon for Pretzel coating.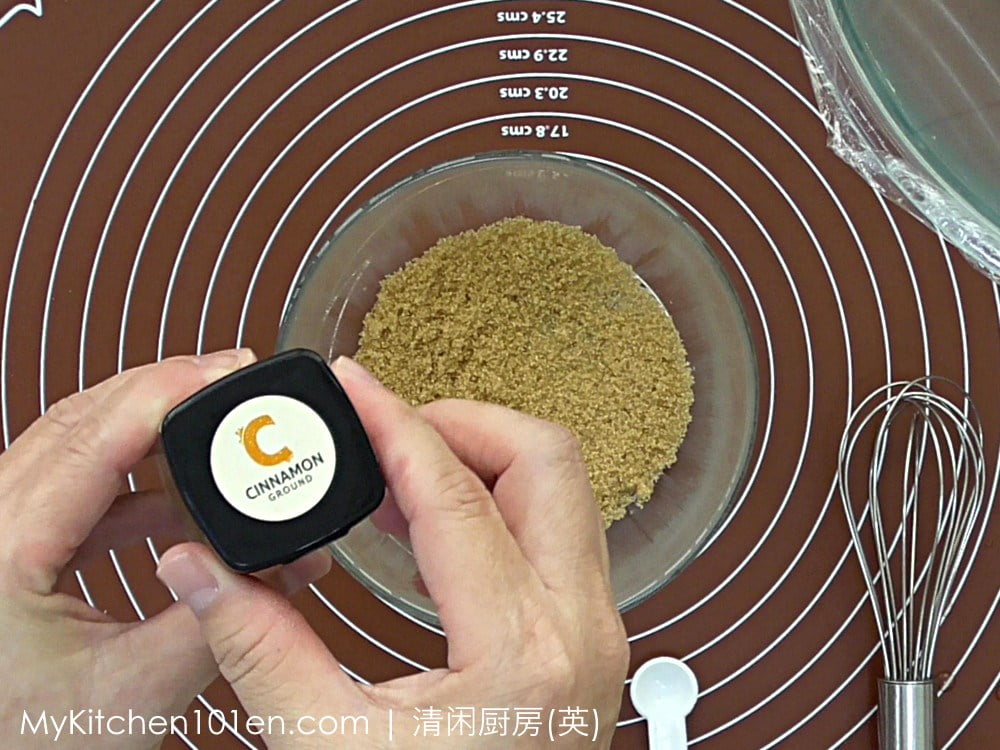 5 Prepare baking soda solution for crust browning. Mix 25g baking soda with 250ml hot water (about 70°C).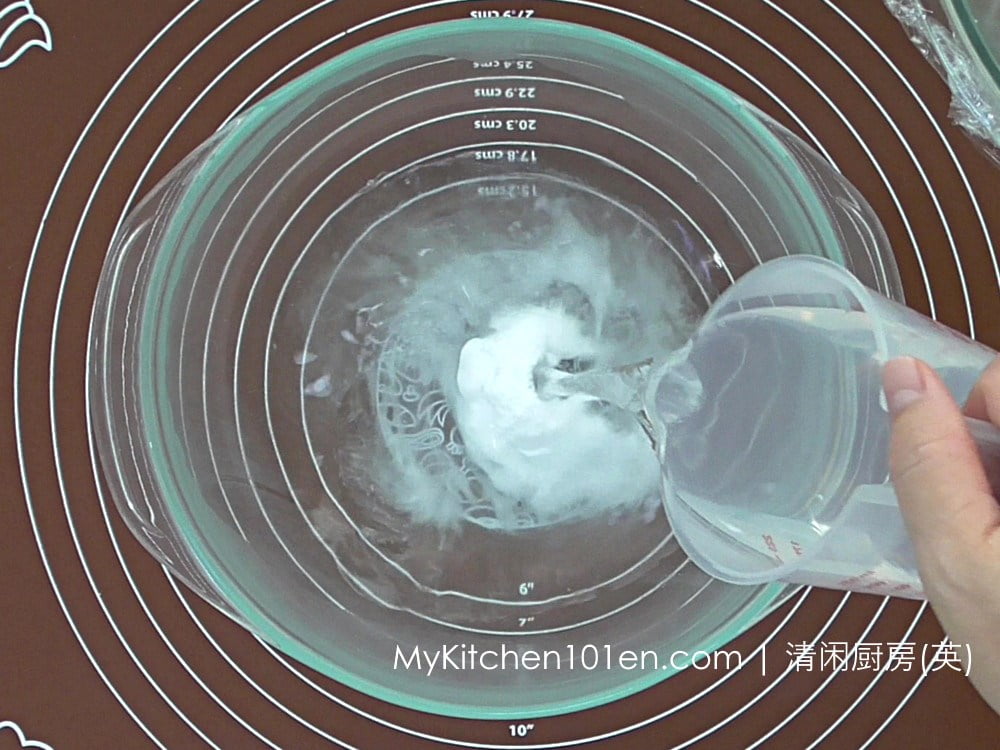 6 Divide dough into 8 portions, cover and rest for 15 minutes.
7 Preheating your oven to 220°C (425°F), takes about 10-15 minutes.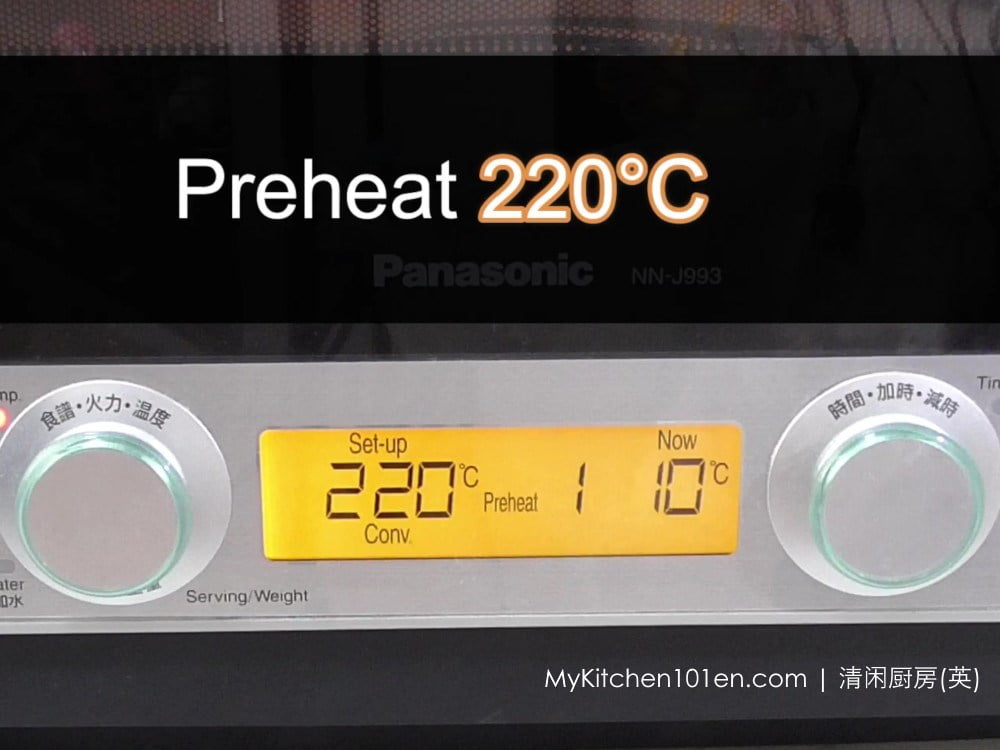 8 Roll dough into 50cm long strips. Dust flour lightly on working surface if needed.
9 Twist all the dough strips into Pretzel shape.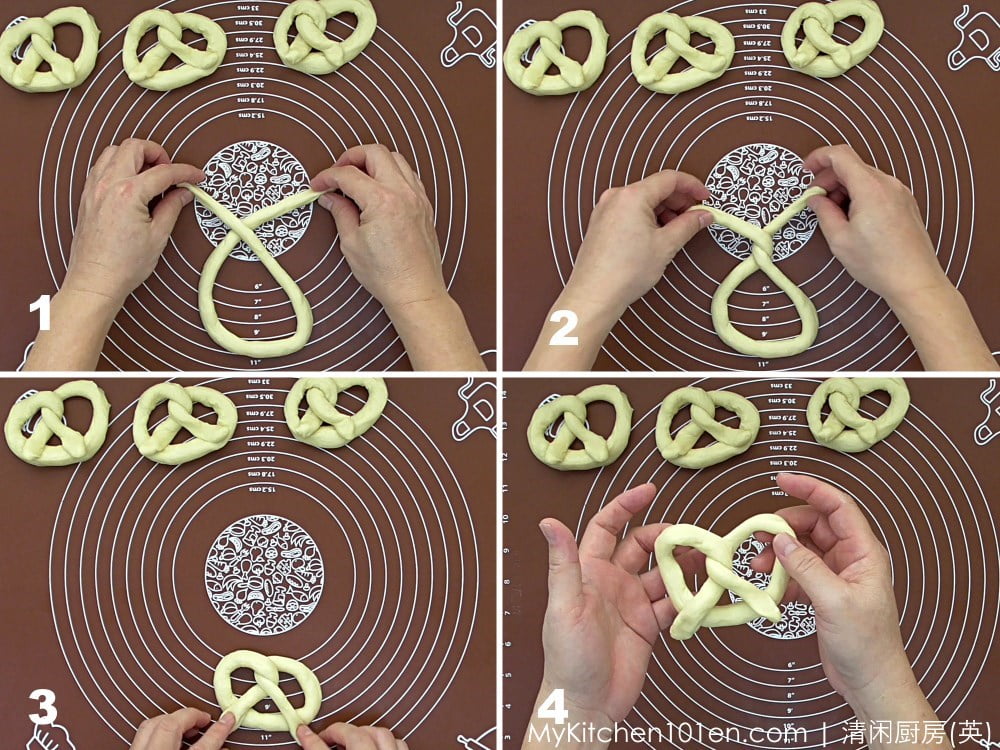 10 Dip each Pretzel into baking soda solution and place onto a clean dry towel to remove excess water.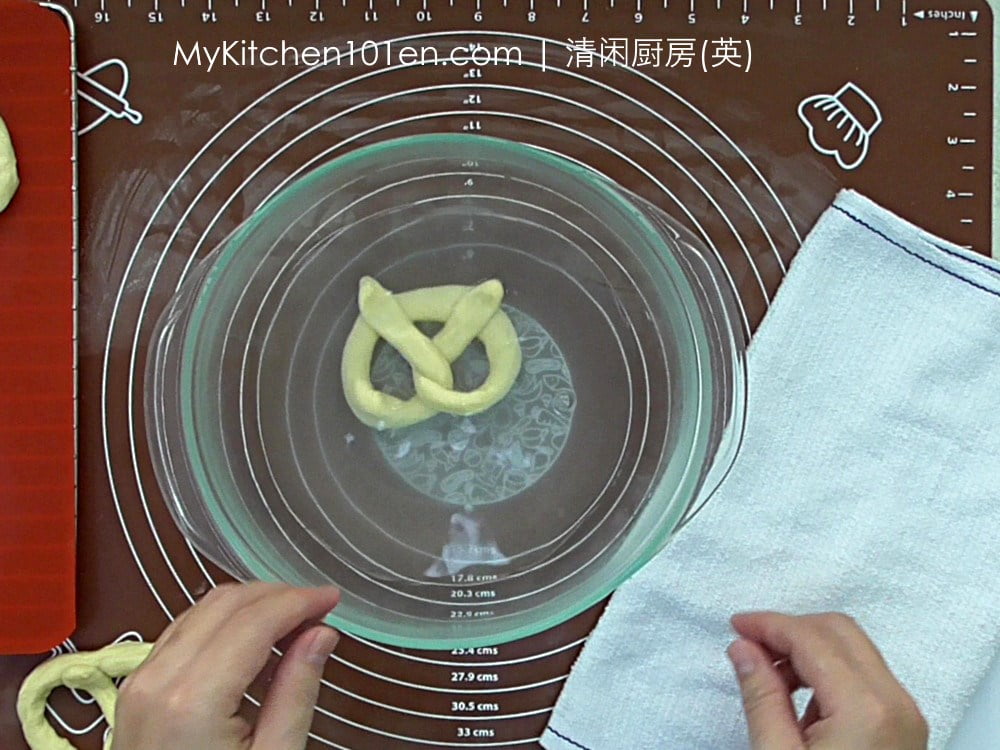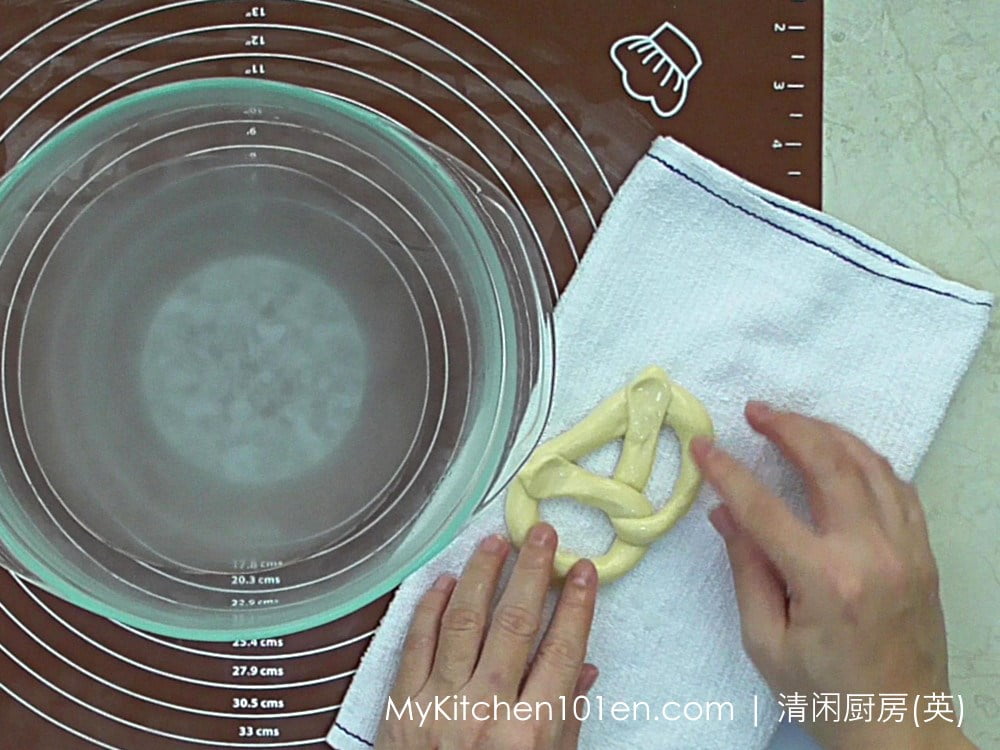 11 Bake for 12 minutes in a preheated oven at 220℃/425F°.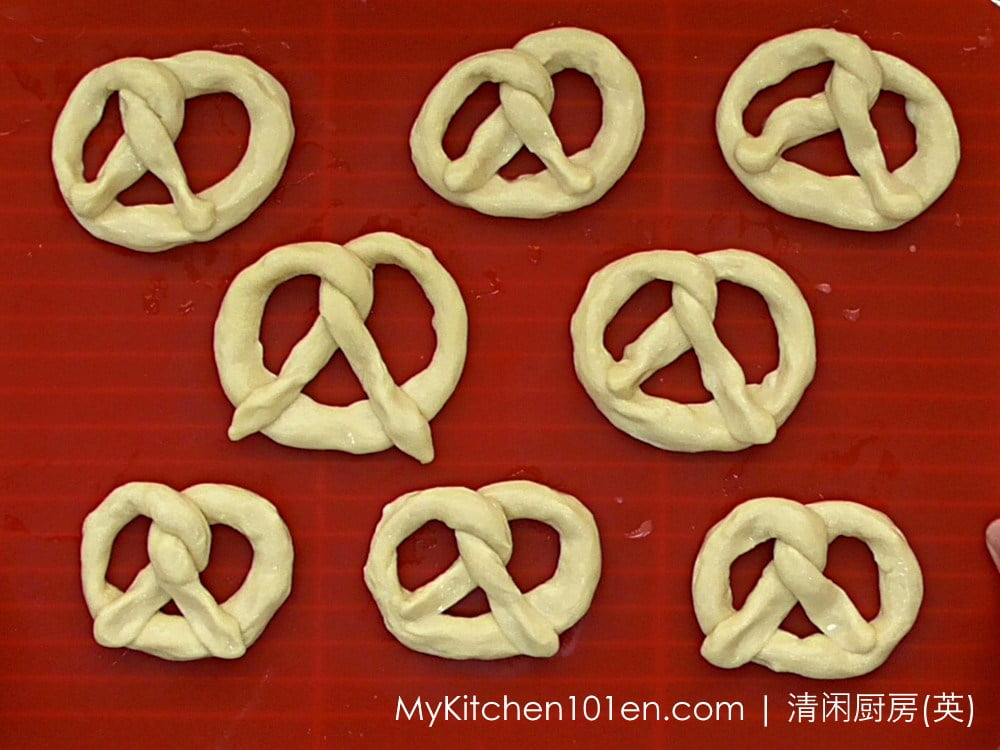 12 Brush with melted butter, coat with cinnamon sugar. You can have them plain with just butter or sprinkle with little salt and sugar. The best time to add salt is after dipping in baking soda solution so that it will stick.