This is a low-sugar version mooncake. The low-sugar Pandan paste is made with pandan juice and very sweet sweet potatoes, only a small amount of sugar is added. The "egg yolk" in this mooncake is made from cheese, custard and mung bean, not a real egg yolk.
CHINESE VERSION: 低糖翡翠馅芝士奶黄传统月饼 (无蛋)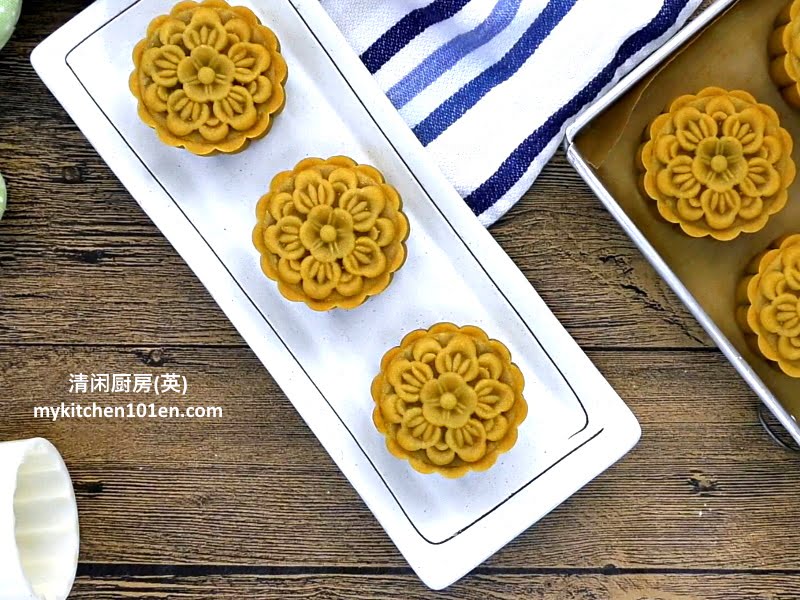 Low-Sugar Pandan Paste Cheese Custard Traditional Mooncake (without Egg) | MyKitchen101en
Yields: 10 (102 g each)
Ingredients for mooncake dough: (Yields: 390 g)
120 g golden syrup (Please refer: Homemade Golden Syrup Recipe)
60 g cooking oil
1 ¼ tsp lye water/alkaline water/kansui
200 g low protein flour/cake flour
Ingredients for Pandan Sweet Potato Paste: (Yields: about 480 g)
560 g steamed yellow sweet potato
350 g pandan juice*
½ tsp fine salt
35 g fine sugar
2 ½ tsps glutinous rice flour
40 g vegetable oil
Other ingredient:
For mooncake dough:
1 Combine golden syrup, cooking oil and lye water. Sift in low protein flour, mix into a dough. Wrap the dough with cling wrap, set aside at room temperature to rest for 2 hours.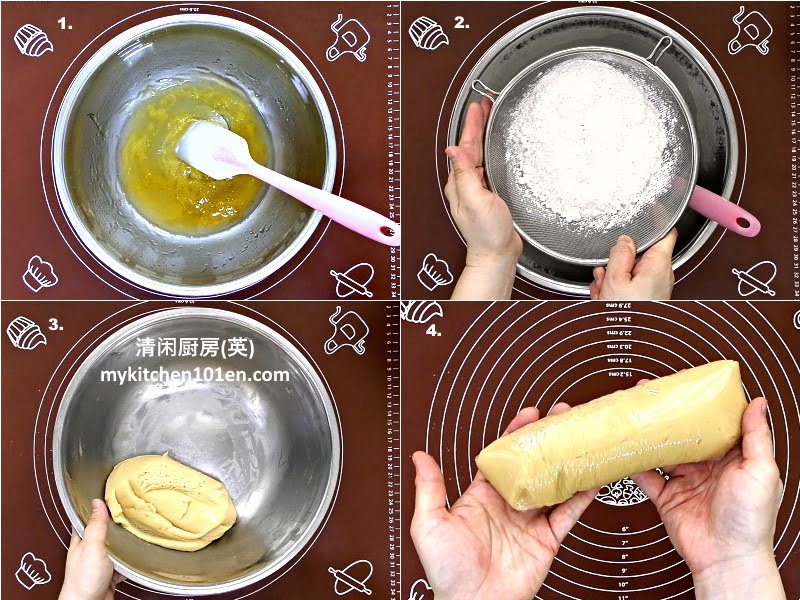 For Pandan Sweet Potato Paste:
1 Steam sweet potatoes for 30 minutes until very soft, measure out 560 g of steamed sweet potatoes.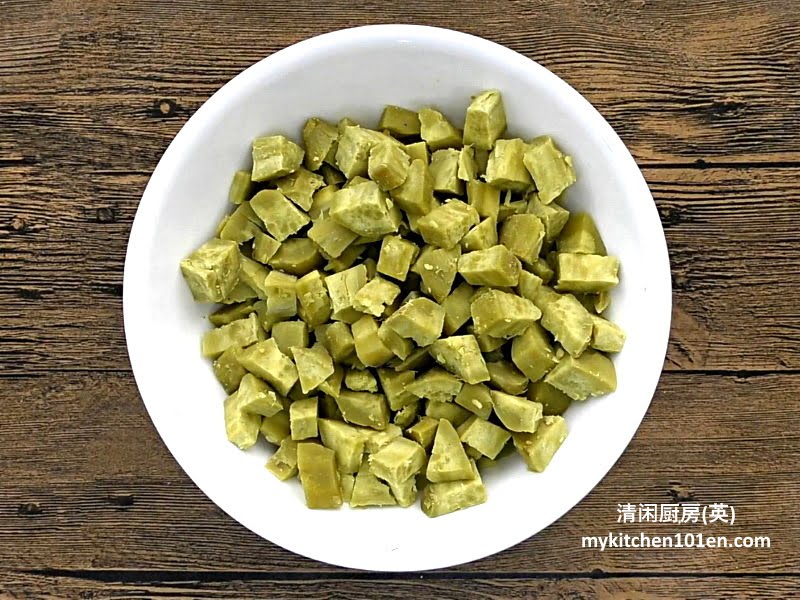 (Reminder: The sweet potatoes used in this recipe are Indonesian yellow sweet potatoes which are sweet. Use the sweet potato variant with pale yellow flesh which has lower moisture contents, thus yields more paste, as compared to bright yellow variant which has higher moisture contents.)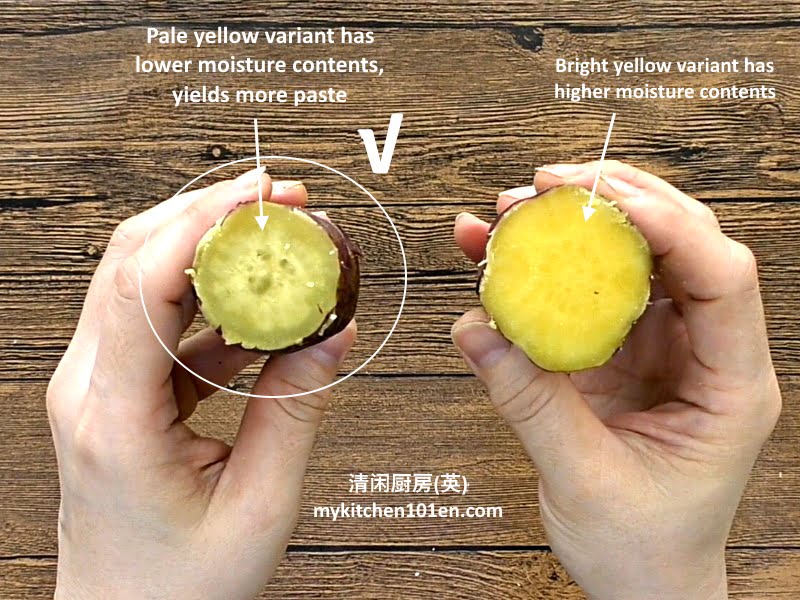 2 *Pandan juice: Blend 26 g of pandan leaves with 365 g of water, extract 350 g of pandan juice.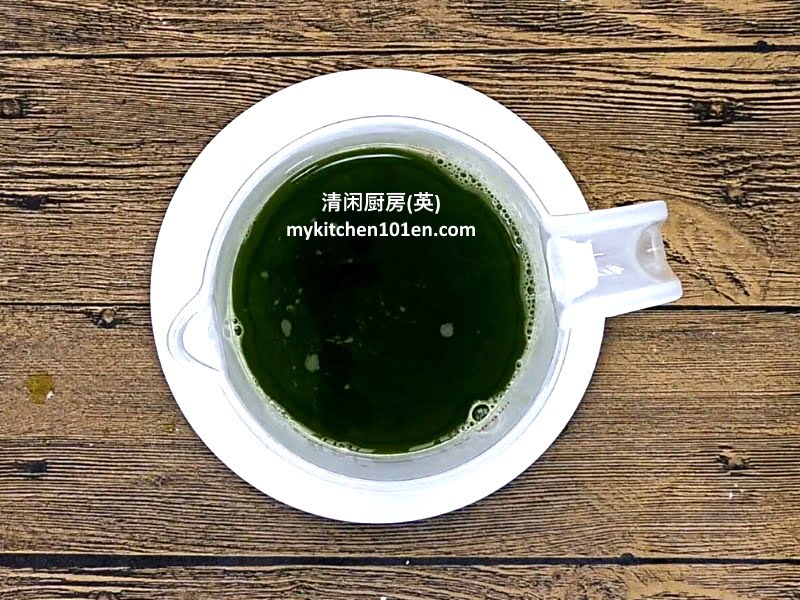 3 Add salt, sugar and glutinous rice flour to pandan juice, mix well. Add in steamed sweet potatoes, blend until smooth. Sieve into a non-stick pan. Add in cooking oil, mix well.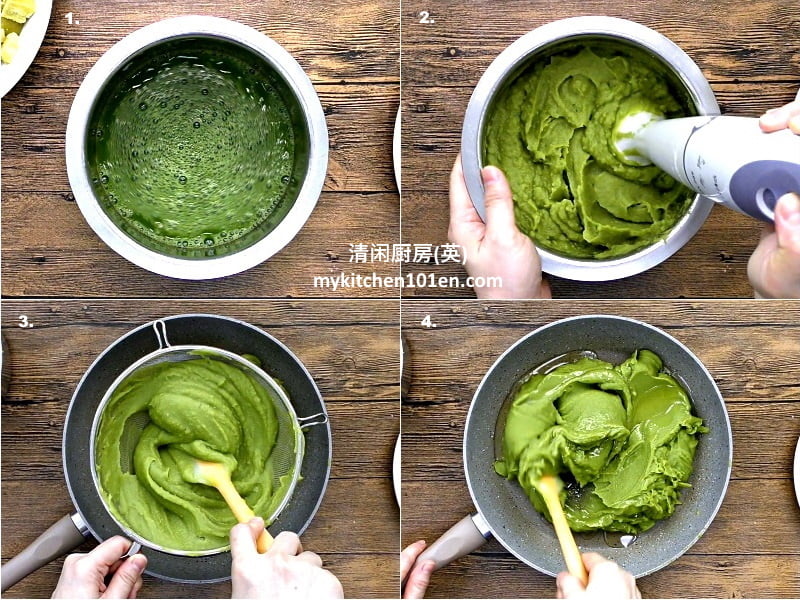 4 Cook over medium heat for 20 minutes, then reduce to medium-low heat and cook for about 16-17 minutes, until it reaches the consistency as shown in the video. Set aside to cool completely. (Reminder: The heat for different cooker is different, cooking time is just for reference.)
Making mooncakes:
1 Divide mooncake dough into 10 portions (39 g each).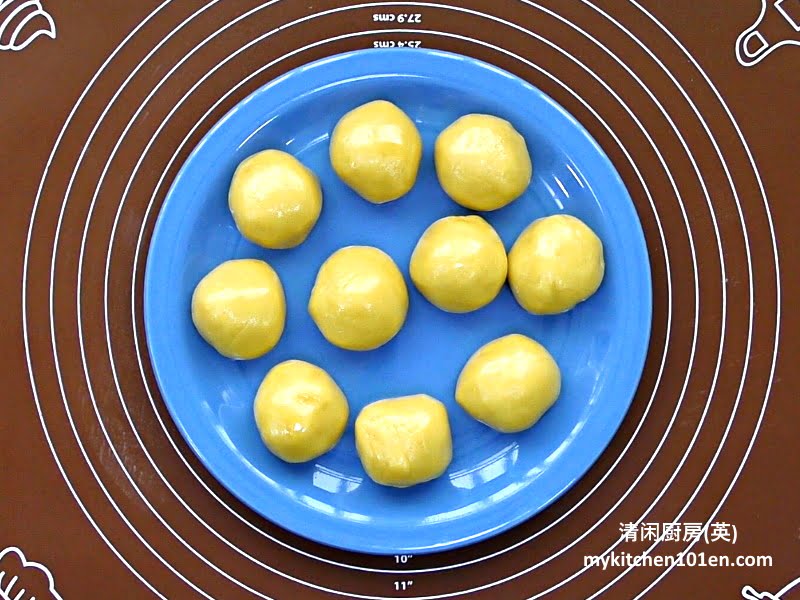 2 Divide cooled Pandan Sweet Potato Paste filling into 10 portions (48 g each).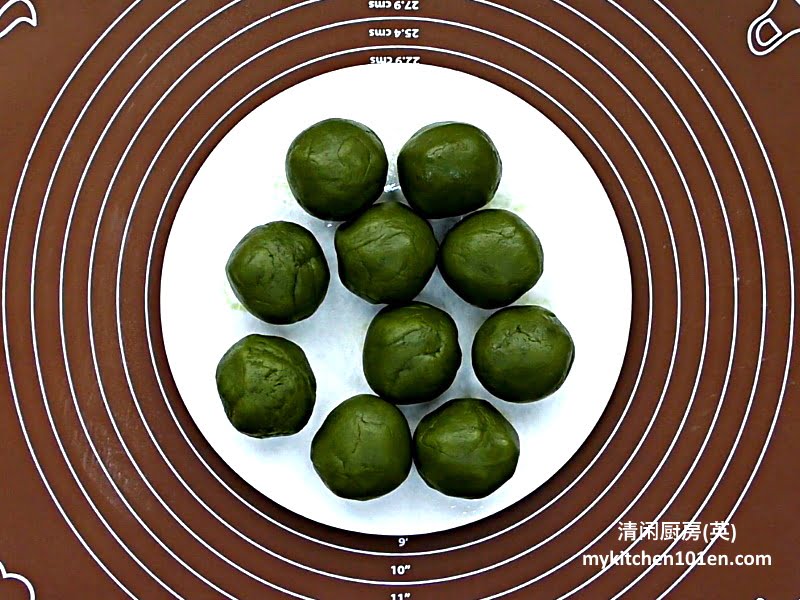 3 Shape pandan paste into a bowl, fill with cheese custard "egg yolk", wrap the "egg yolk" fully with the paste. Press until firm, then shape gently into a ball.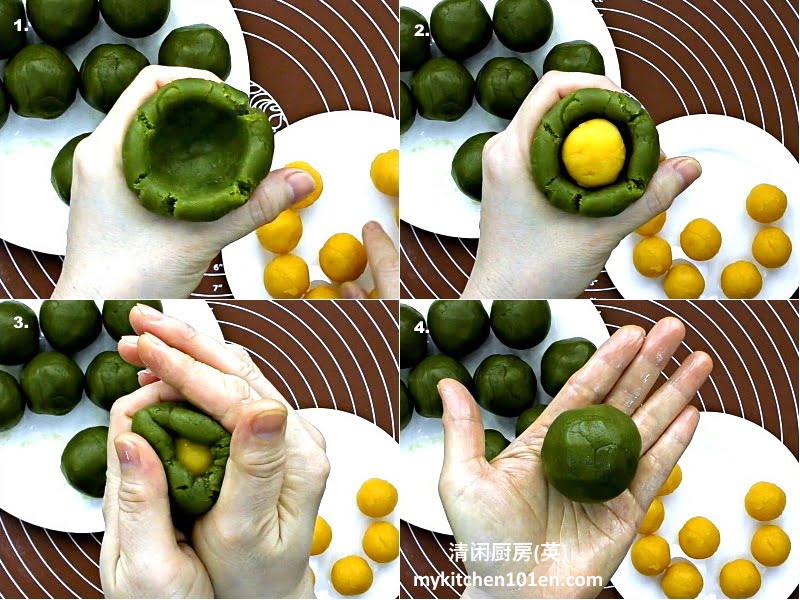 4 Flatten mooncake dough into round shape with a plate, put paste filling in the center, fully wrap filling with dough. Press until firm, coat outer layer with some flour, shape gently into a ball.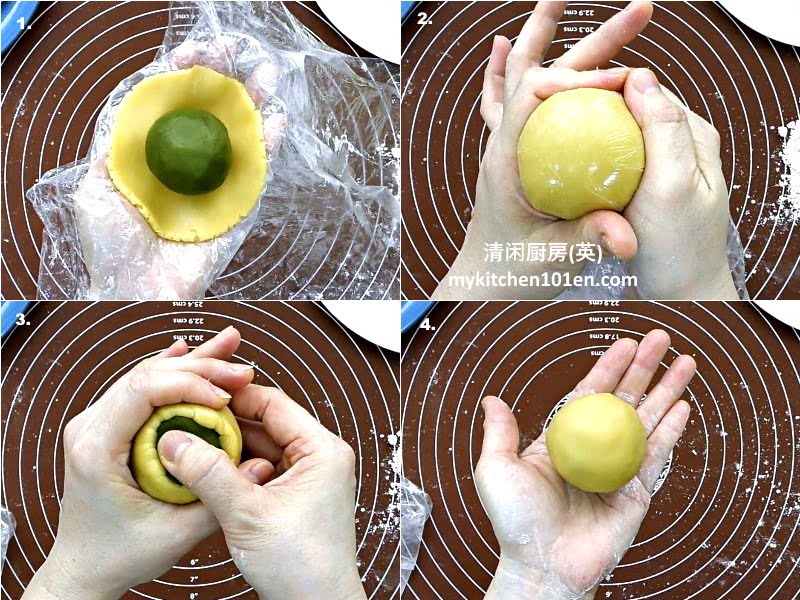 5 Arrange filled dough on a lined baking tray, print the pattern with mooncake mould (75-g size). (Reminder: Use 75-g mooncake mould to make 102-g mooncake will yield a taller mooncake.)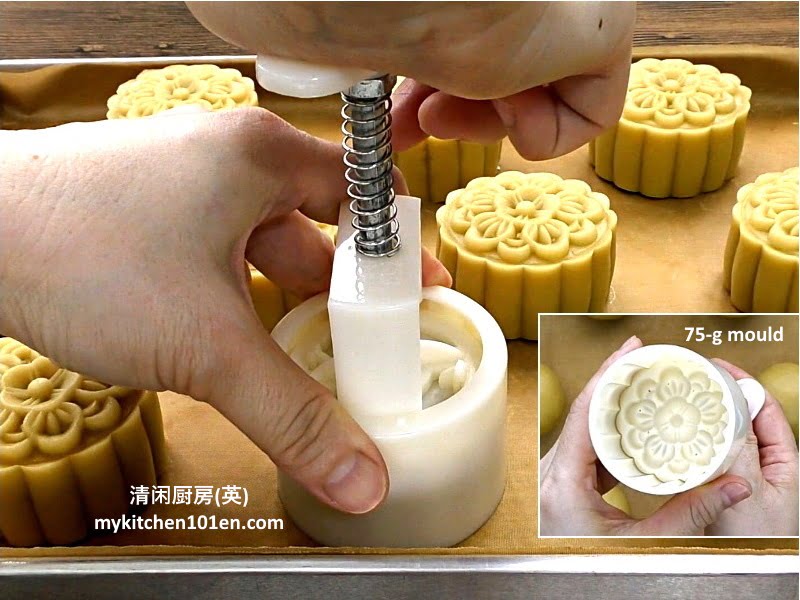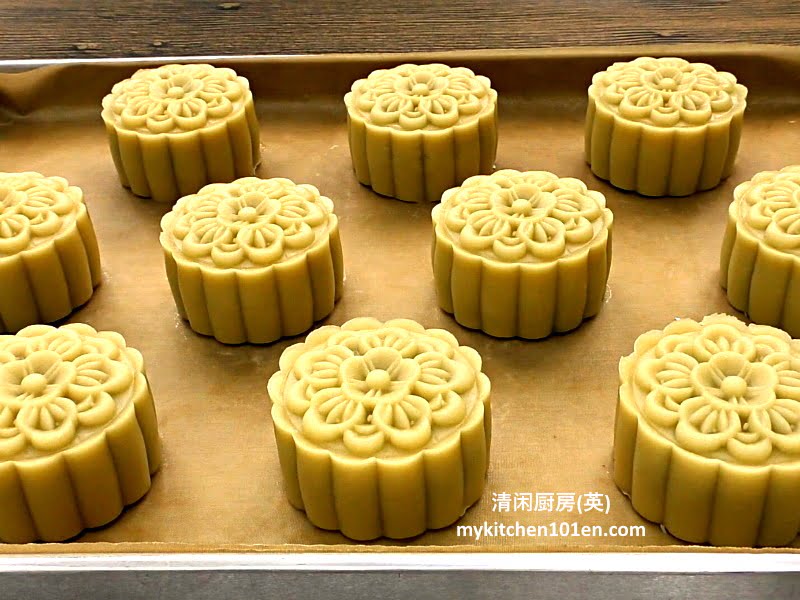 6 Spray the mooncakes with water just before baking. (Reminder: Spray with water will prevent mooncakes from cracking when baked.)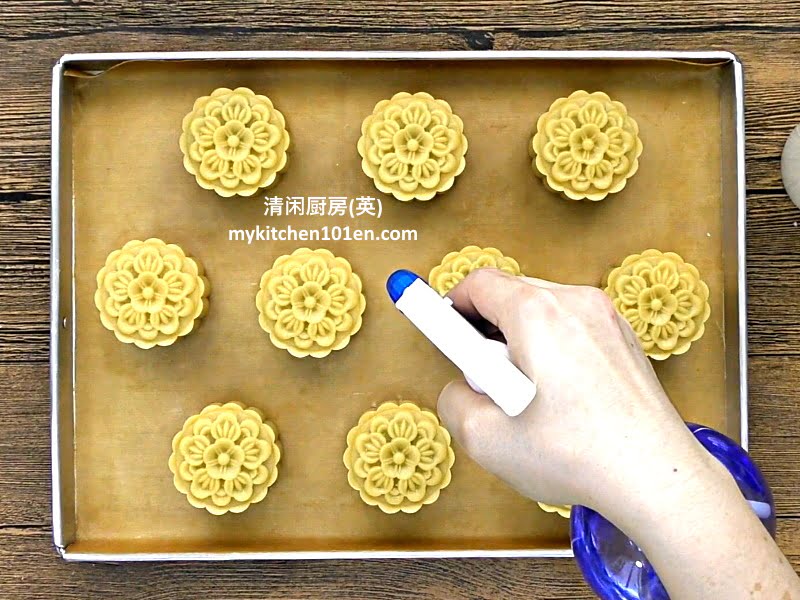 7 Bake in preheated oven at 160°C/320°F for 15 minutes (turn the tray after baking for 8 minutes for an even baking). Set aside at room temperature for 24 hours.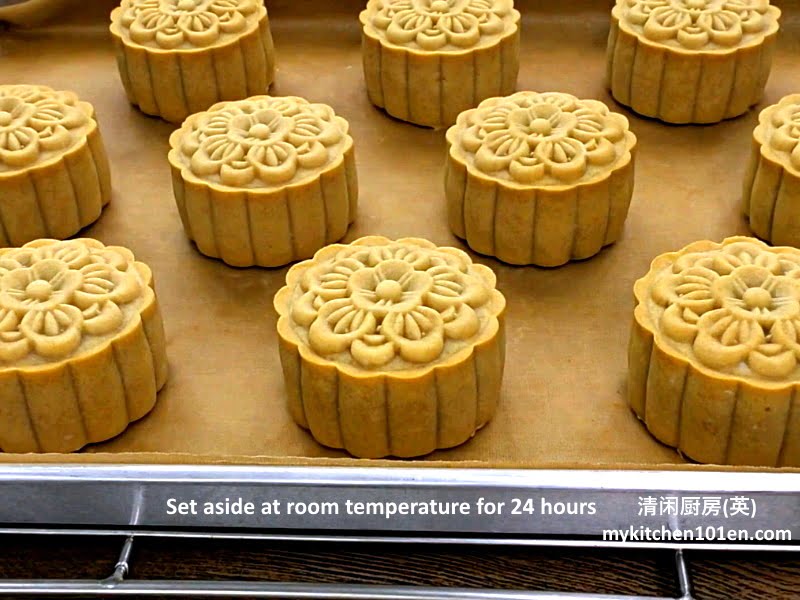 8 After resting for 24 hours, the skin of the mooncakes will become soft. (Reminder: Homemade mooncakes are without preservatives, it is suggested to put mooncakes in freezer-safe container and freeze for later consumption, return to room temperature before serving.)