Chiffon cake is a very moist cake with a very light, soft and fluffy texture. It is a popular cake among cake lovers. Chiffon cake is made with vegetable oil, thus it has lower saturated fat than butter cake. However, lacking of butter means that it is lacked of rich flavour.
CHINESE VERSION: 香橙戚风蛋糕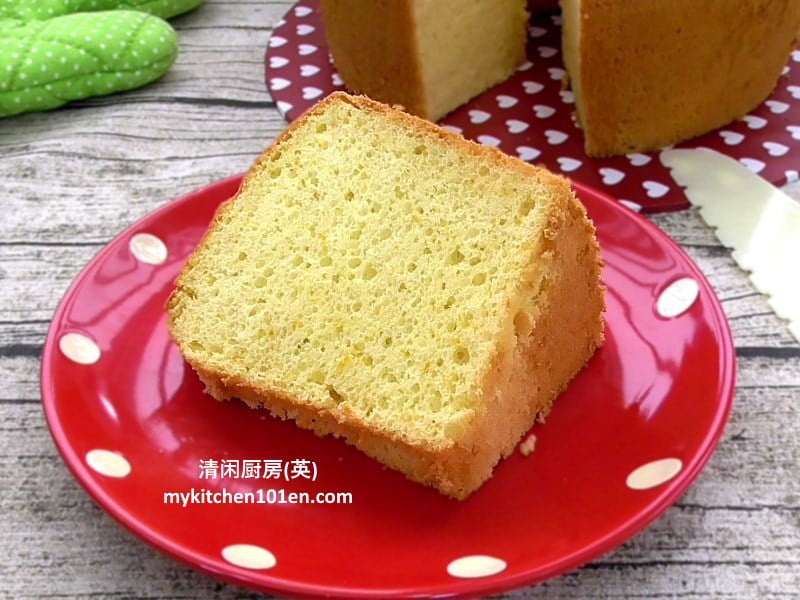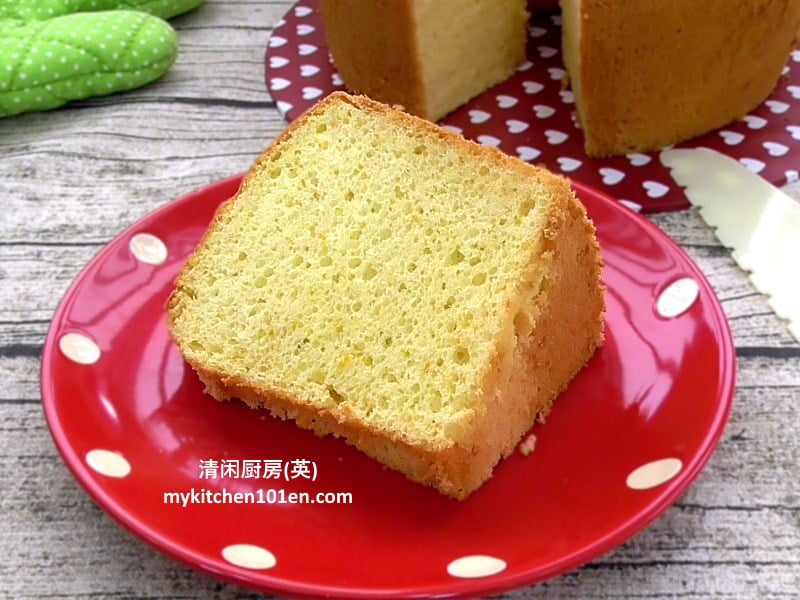 To enhance the flavour of chiffon cakes, rich and aromatic ingredients, such as orange juice, pandan juice, chocolate paste, etc. will be included in different recipes to bake chiffon cakes with different flavours.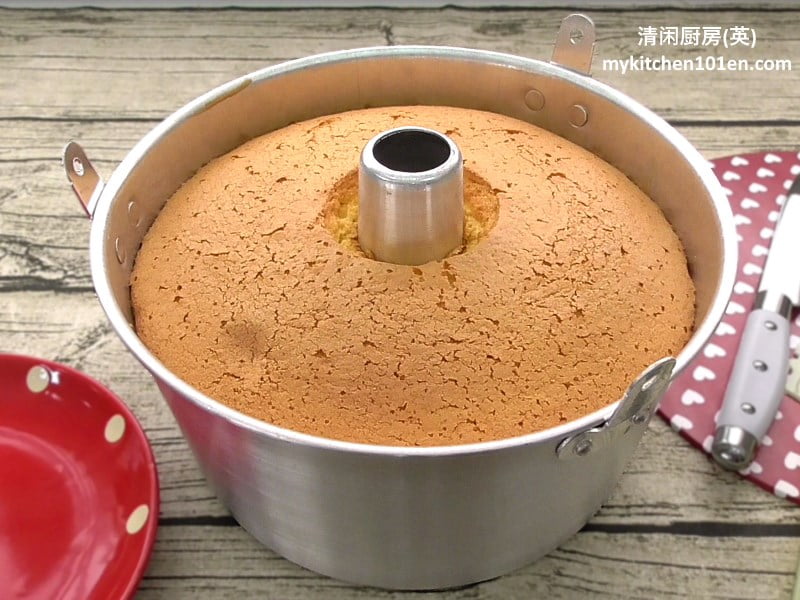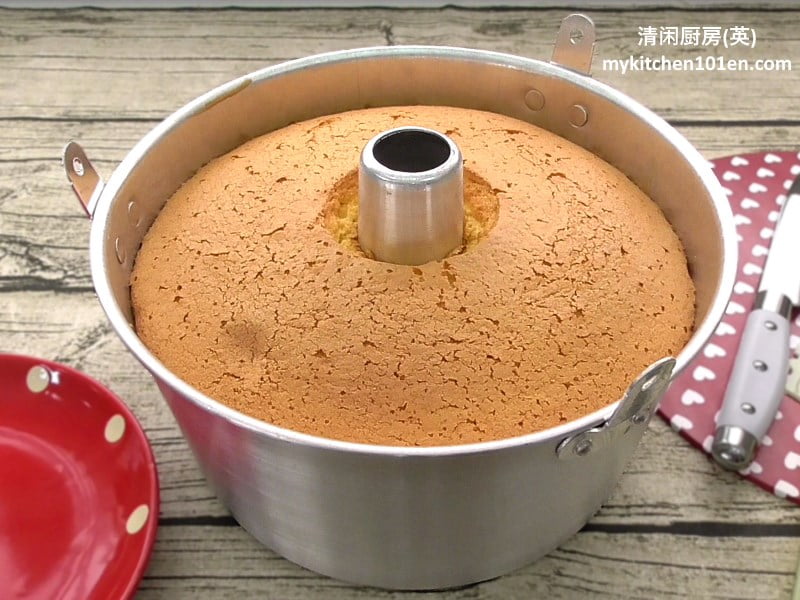 Orange Chiffon Cake | MyKitchen101en
Ingredients:
190 g (1.75 cup + 2.5 tbsps) low protein flour (cake flour)
1 tsp baking powder
1/4 tsp baking soda (sodium bicarbonate)
5 egg yolks (grade A/size: Large)
1/3 tsp salt
60 g (1/3 cup) fine granulated sugar
150 ml (1/2 cup + 2 tbsps) freshly squeezed orange juice (filtered)
grated orange zest (of 4 oranges, coloured skin only)
100 ml (1/3 cup + 1.5 tbsps) corn oil (or other vegetable oil)
Ingredients for meringue:
5 egg whites (grade A, room temperature)
1/4 tsp cream of tartar
90 g (1/3 cup + 2 tbsps) fine granulated sugar
Directions:
1 Preheat oven to 160°C/320°F.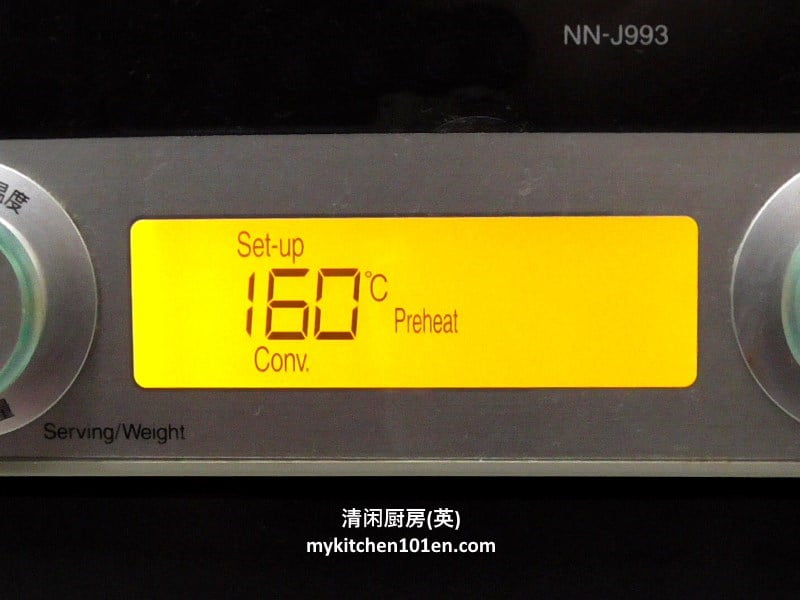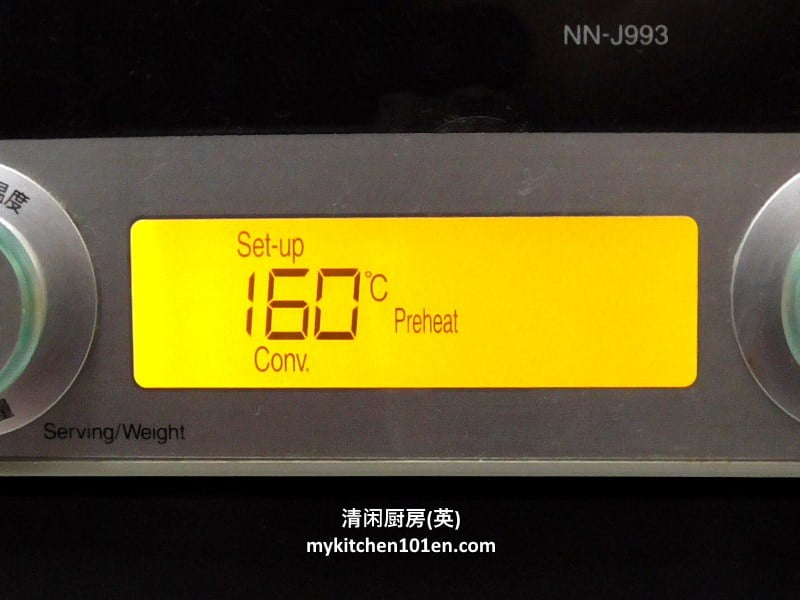 2 Mix and sieve together low protein flour, baking powder and baking soda.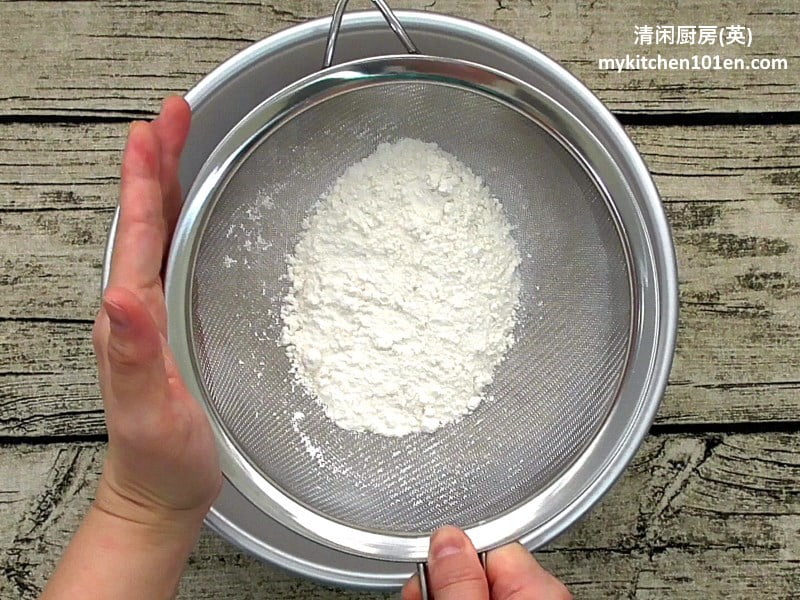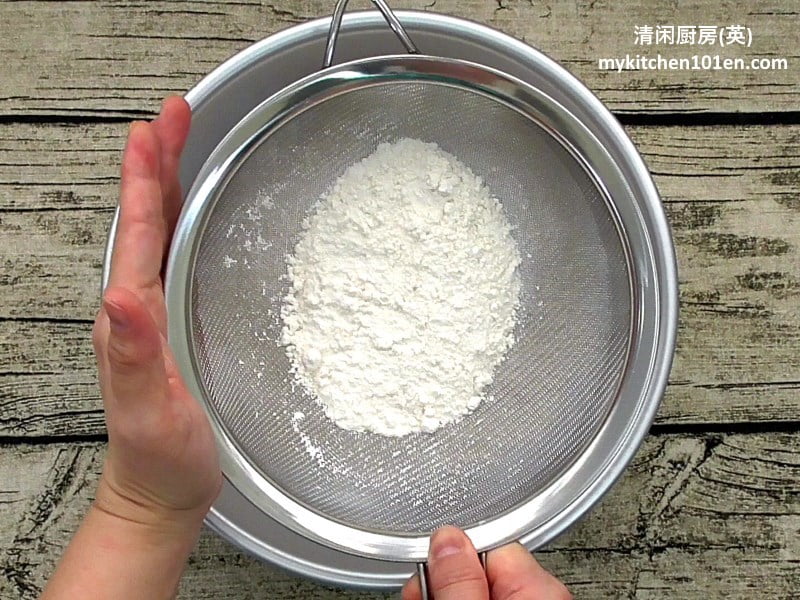 3 Whisk together egg yolks, salt, sugar, orange juice, orange zest and corn oil until well blended.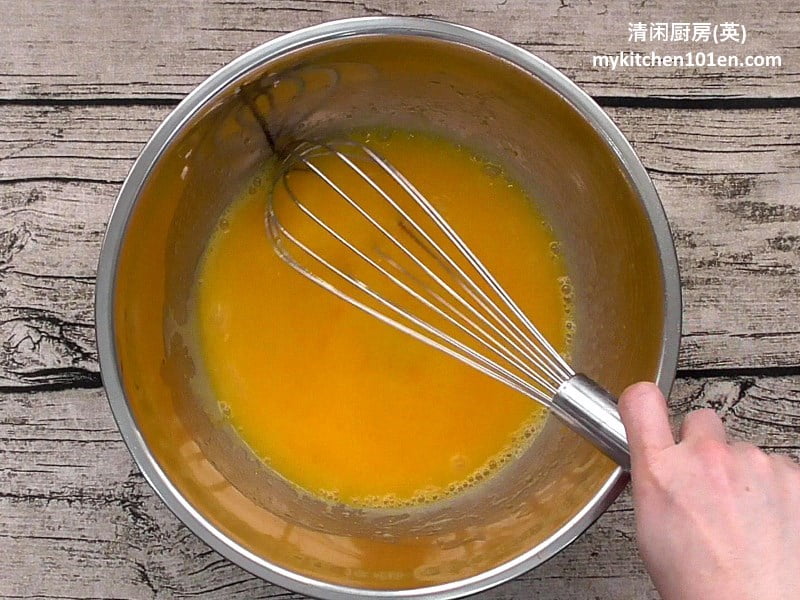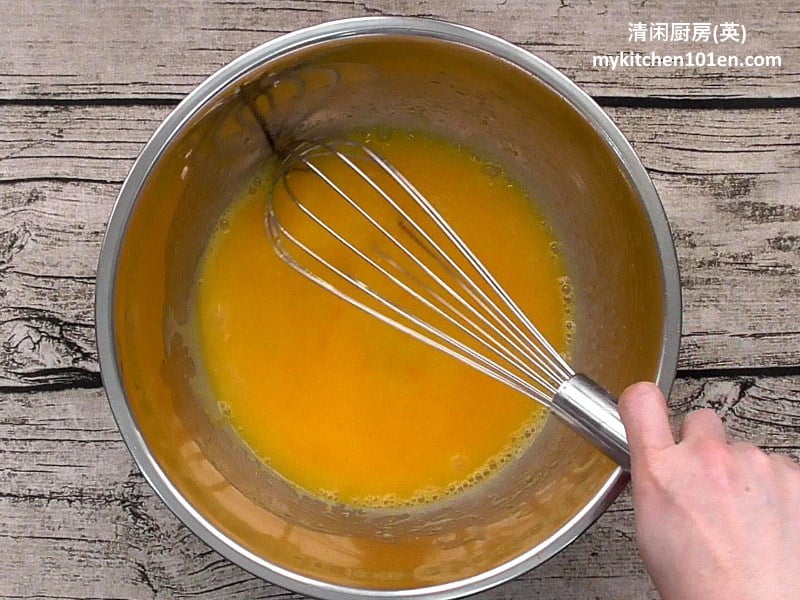 4 Sieve in the flour and mix until just combined (DO NOT over mix, to avoid activating the gluten).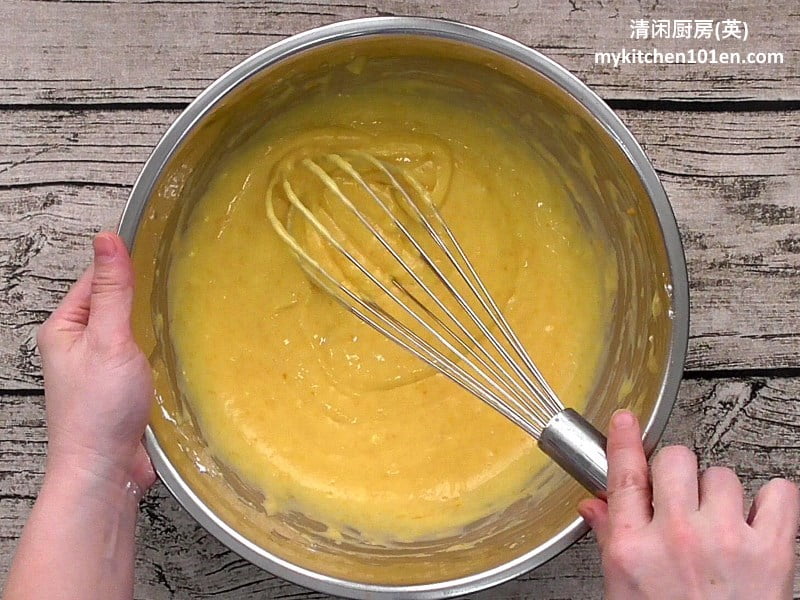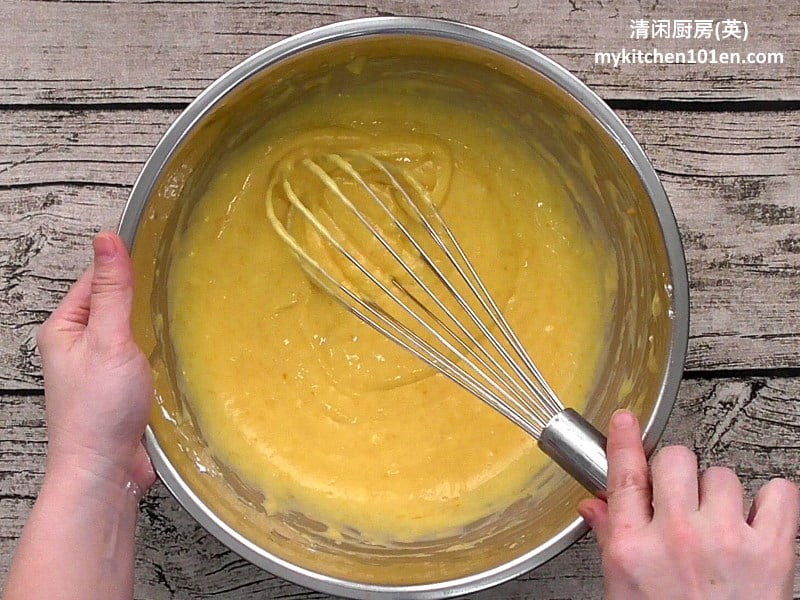 5 In another clean mixing bowl, whisk egg whites until frothy.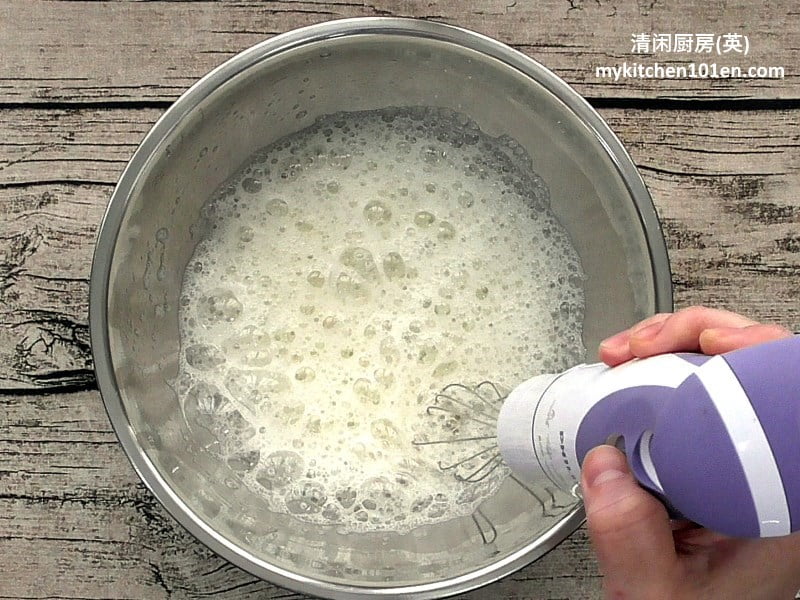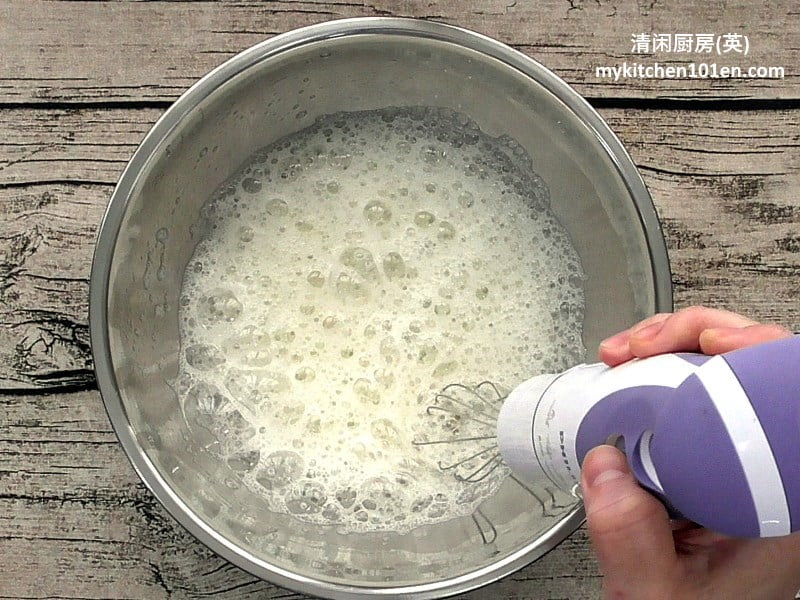 6 Add in cream of tartar, continue whisking until soft peak.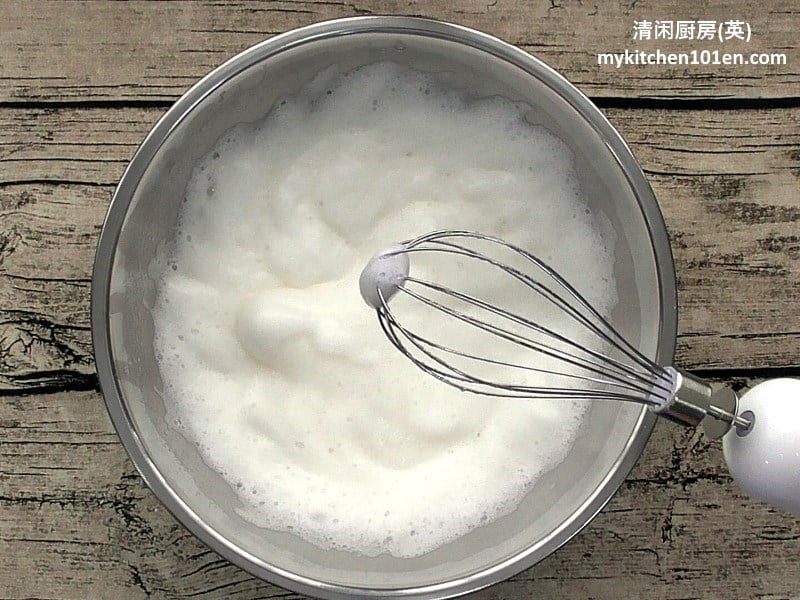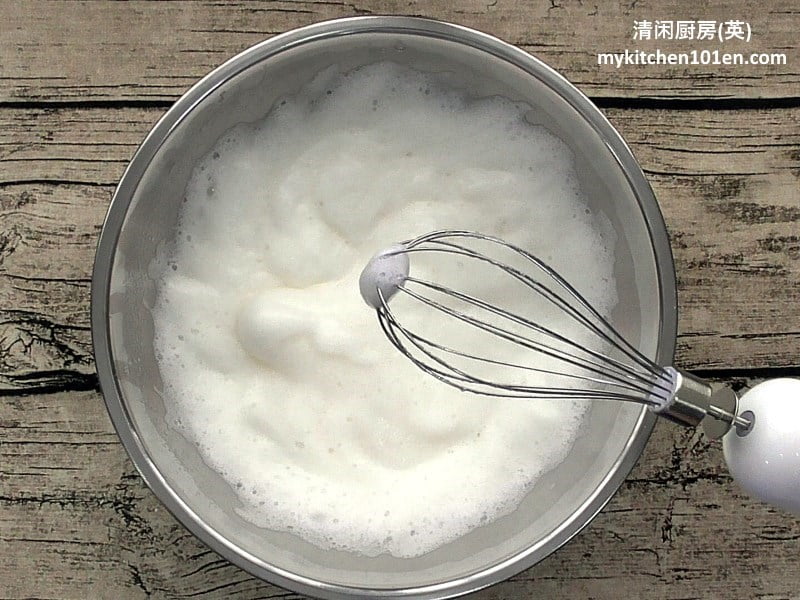 7 Add in sugar gradually, continue whisking until stiff peak.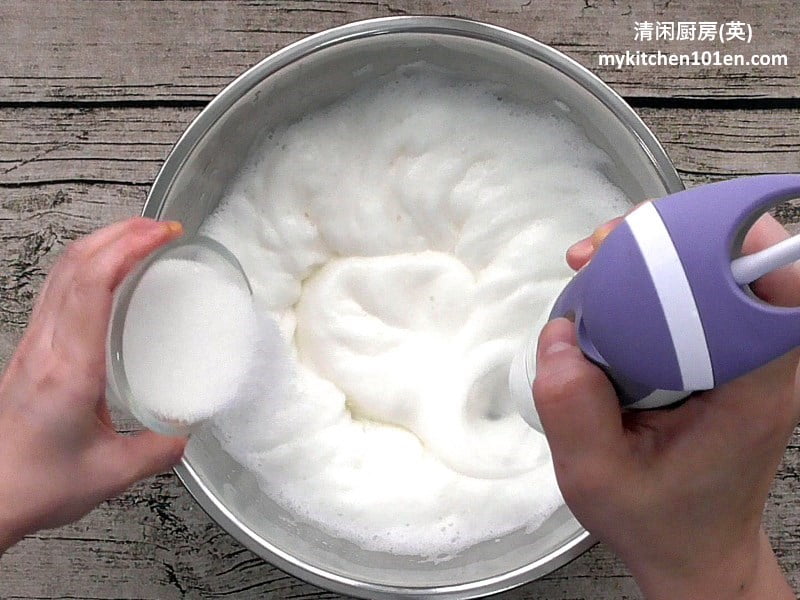 8 At stiff peak: the peaks will point straight up and hold.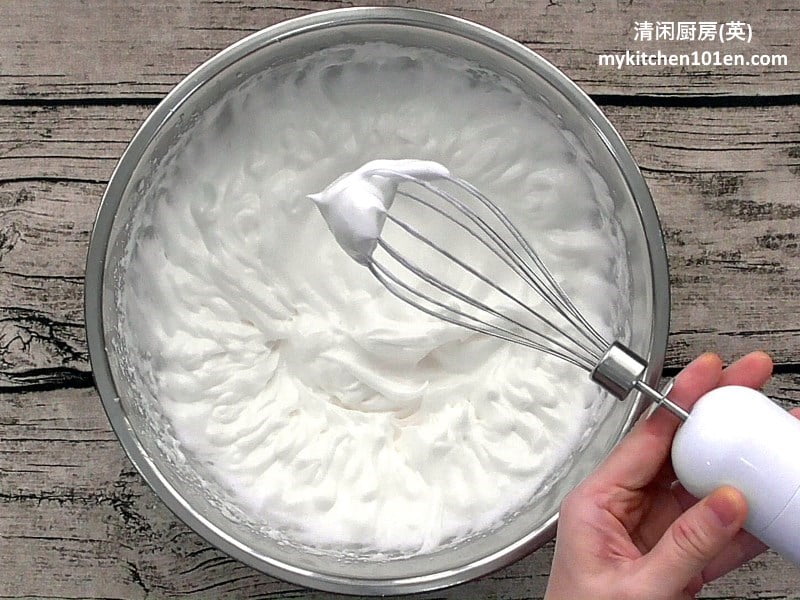 9 Whisk slowly for 1 minute to reduce the size of air bubbles (to reduce the holes in cake).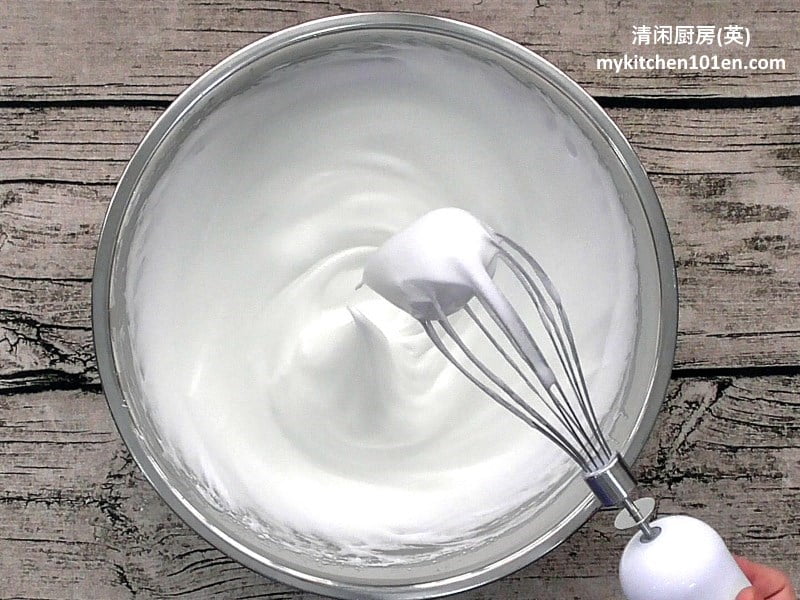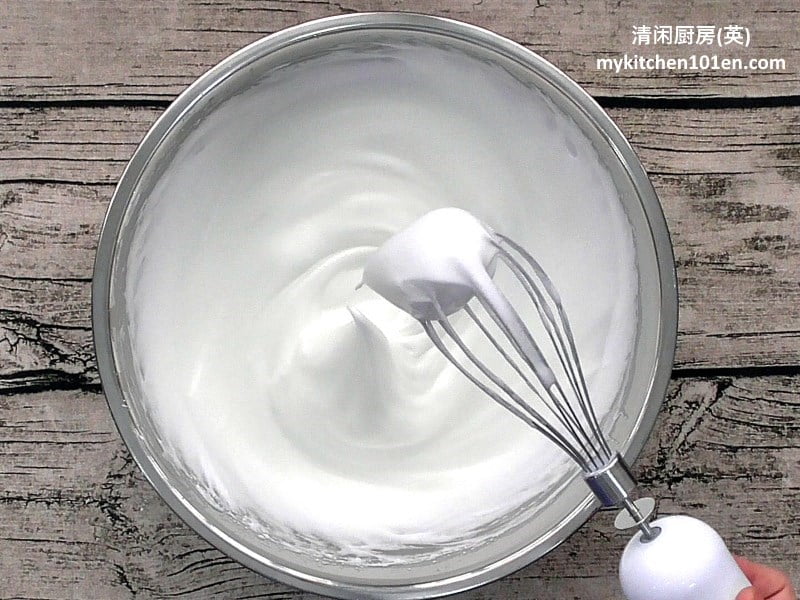 10 Add 1/3 part of meringue to batter, mix gently using balloon whisk.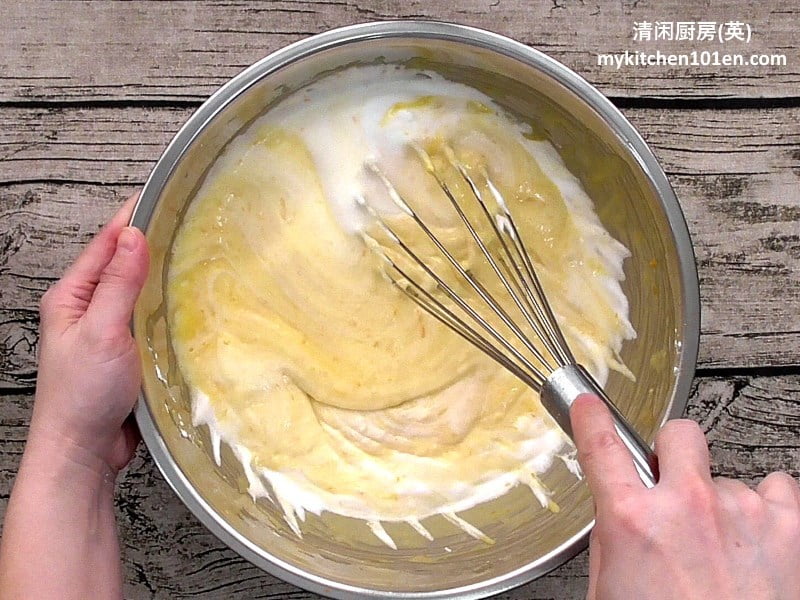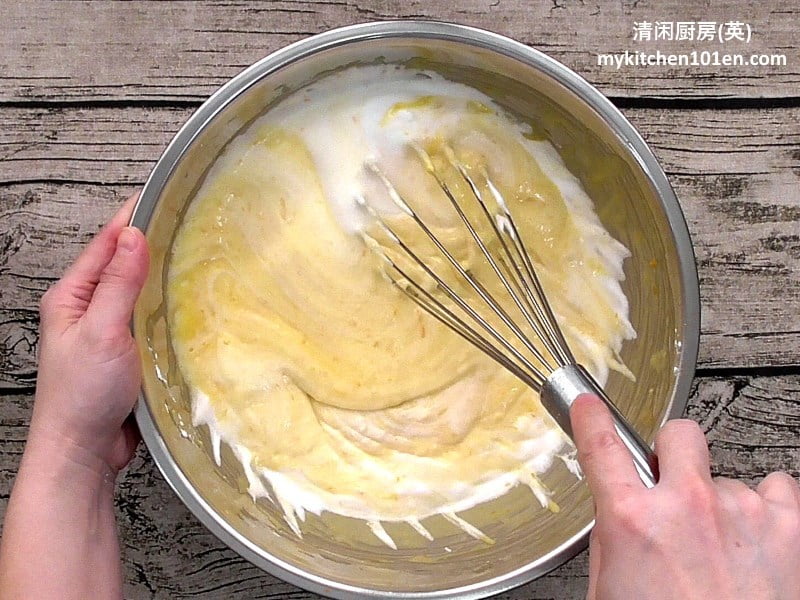 11 Divide the remaining meringue into 2 batches, fold in gently using rubber spatula until well mixed.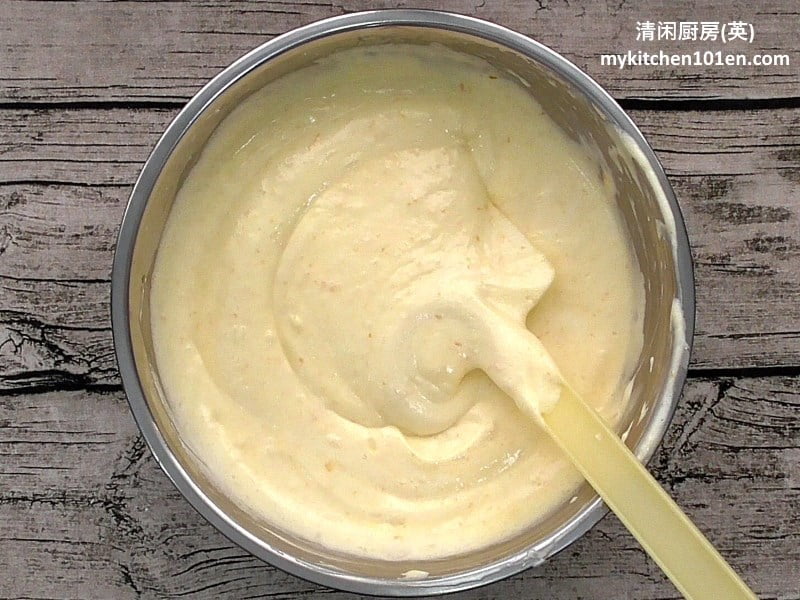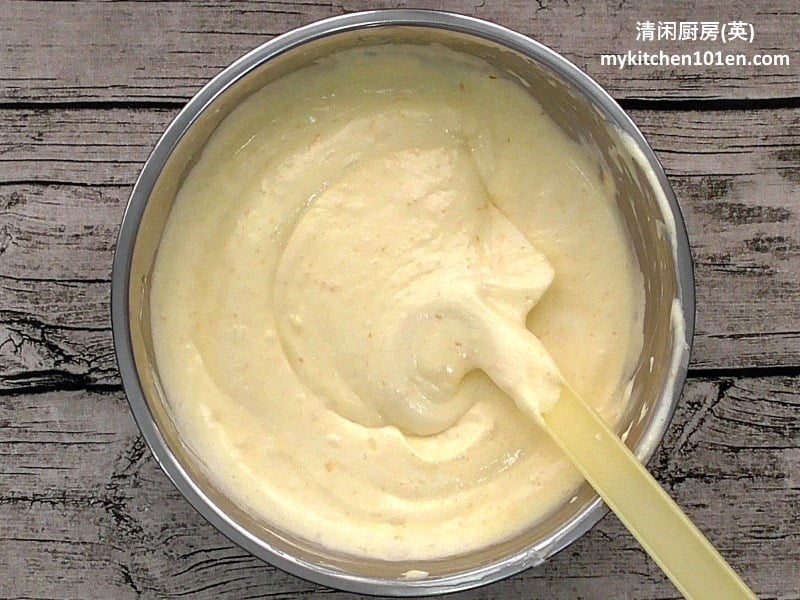 12 Tap mixing bowl on countertop for 3-4 times (to release large bubbles), then pour batter slowly into 22-cm loose bottom tube pan (DO NOT grease).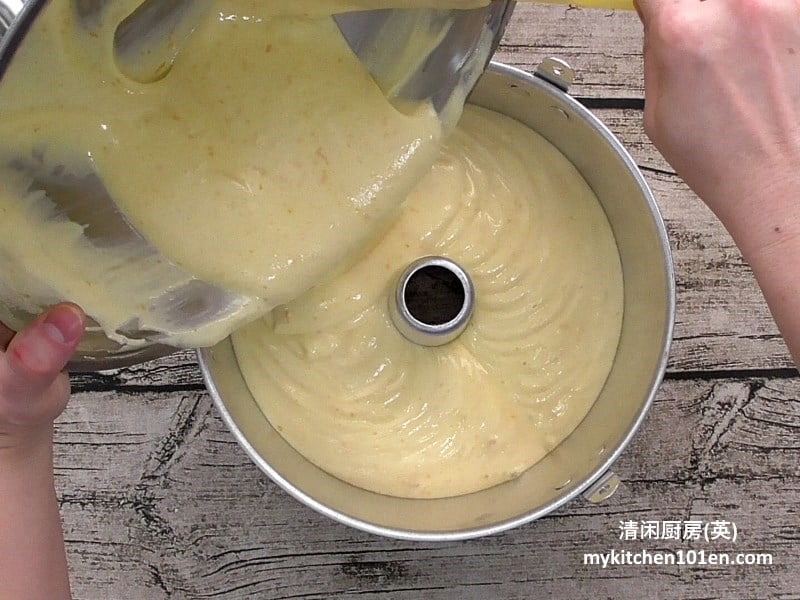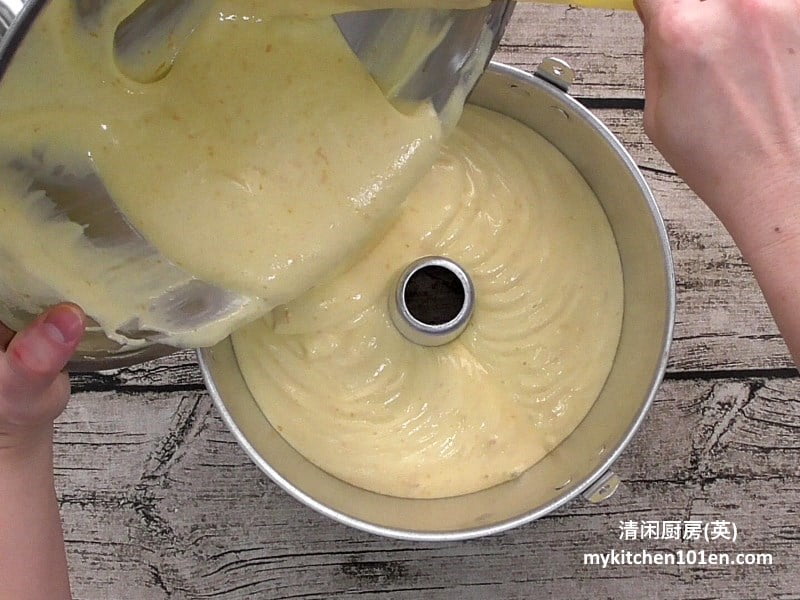 13 Bake at 160°C/320°F for 50-55 minutes, or until fully cooked. (Reminder: The heat for different oven is different, the suggested time is only for reference,
adjust the baking time base on your oven if necessary.)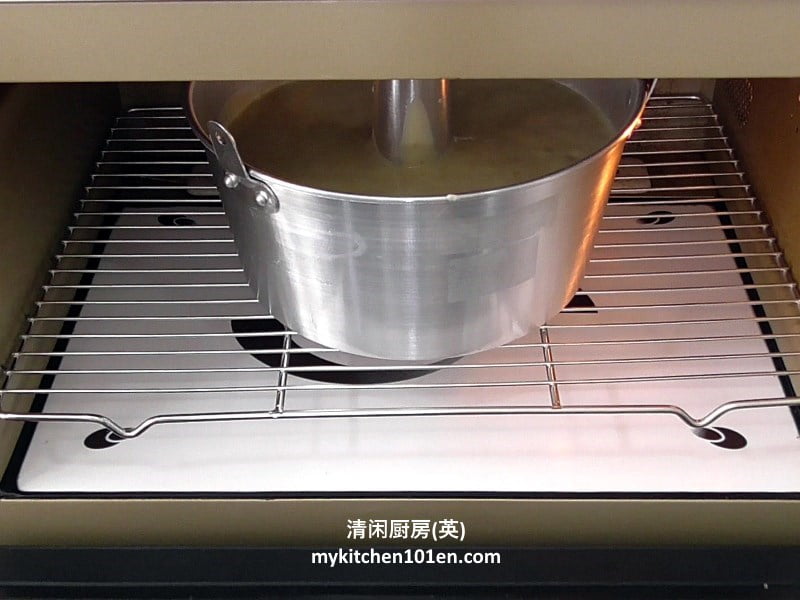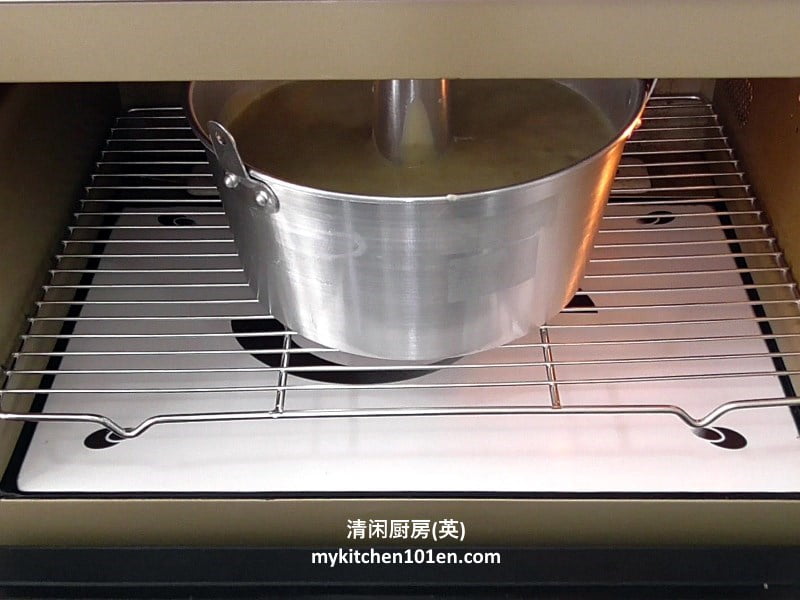 14 The cake is done when the wooden stick inserted in the center of the cake comes out clean.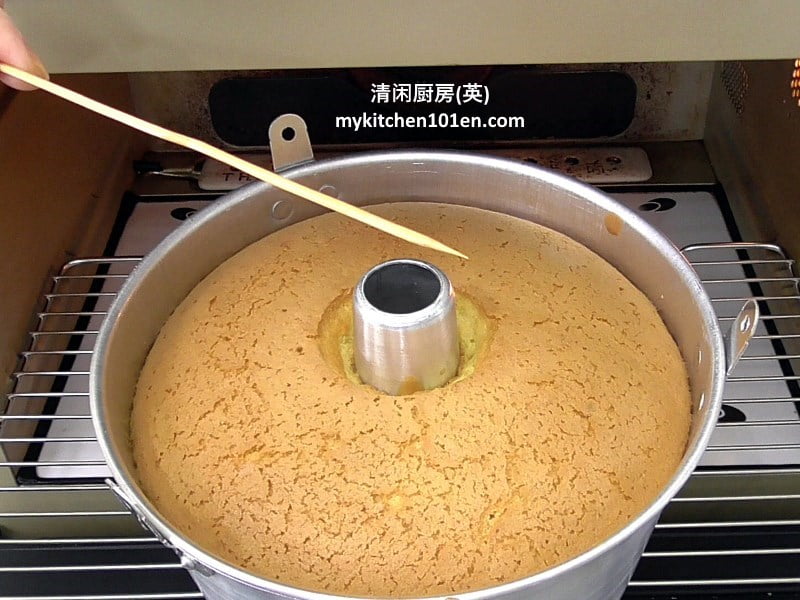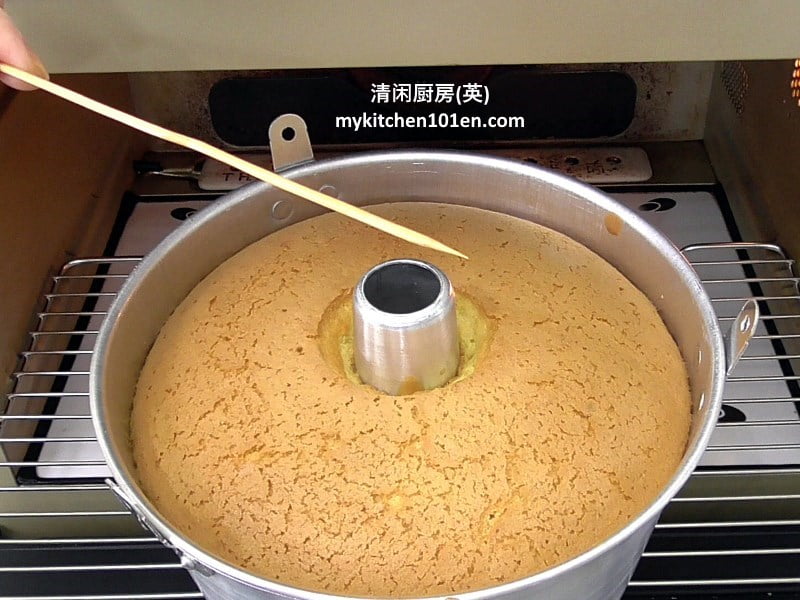 15 Turn the pan upside down onto a wire rack (at least 6″ from countertop), set aside for 2 hours or until fully cooled.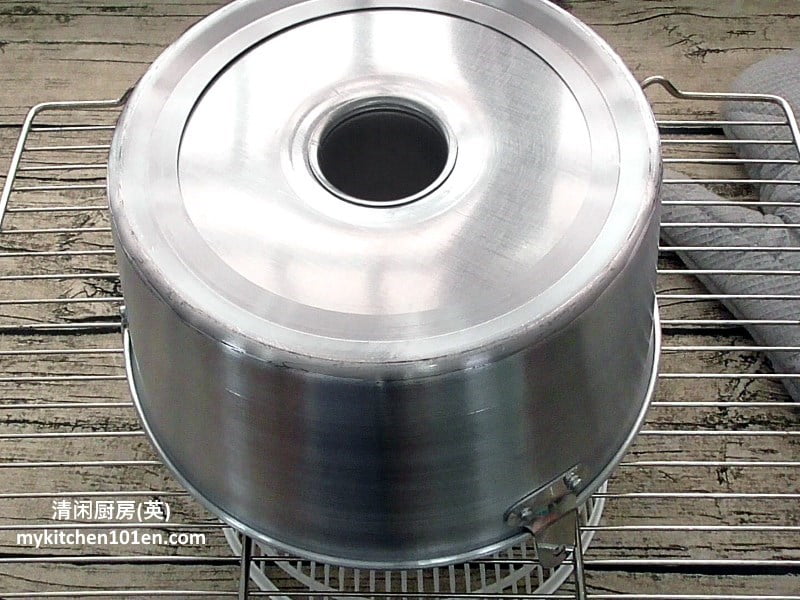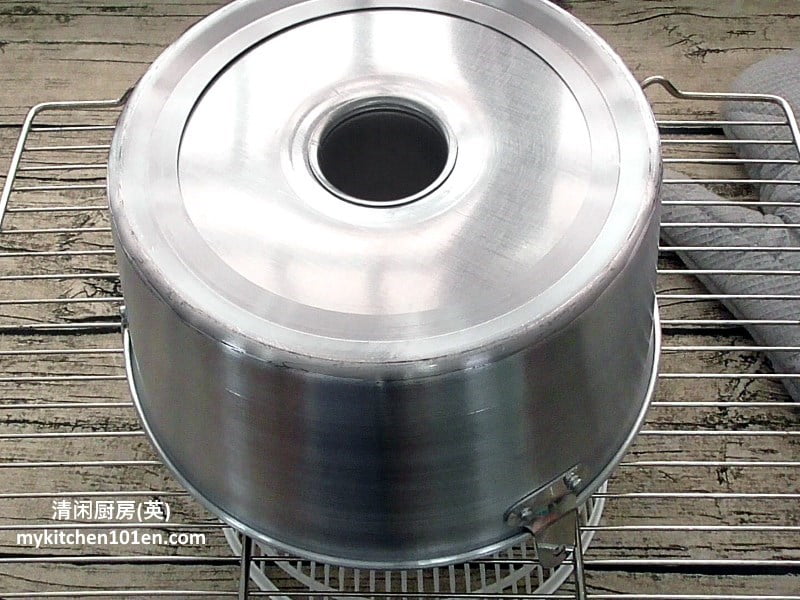 16 To unmould, run a sharp knife around the edge of the pan slowly, then take out the cake.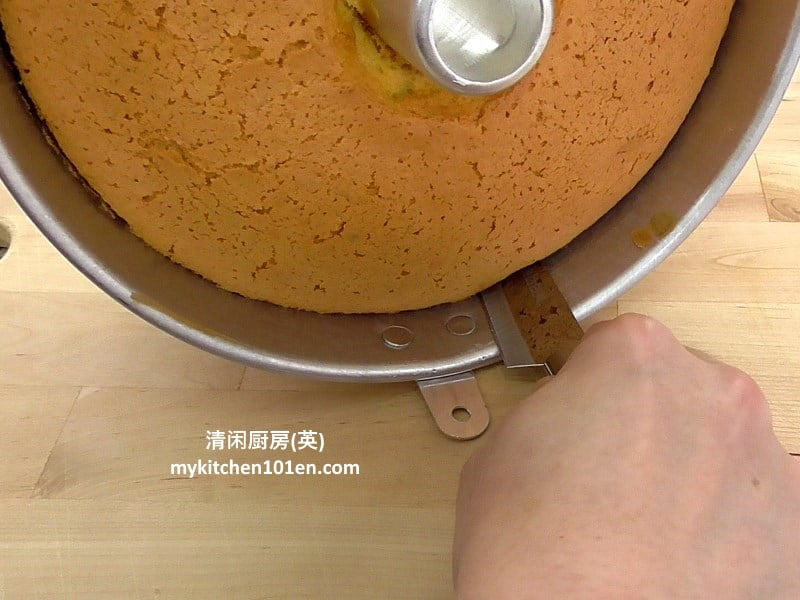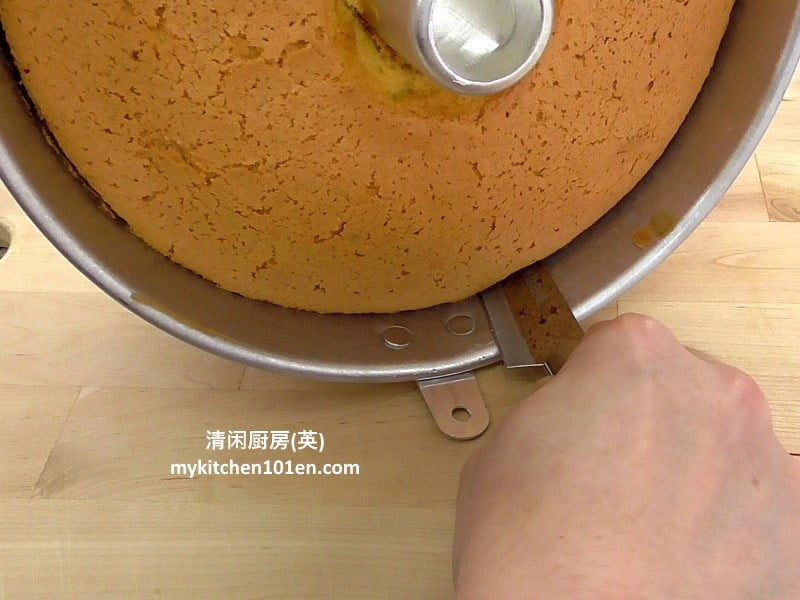 17 Run a sharp knife again around the bottom of the pan slowly and turn the cake out onto a serving board.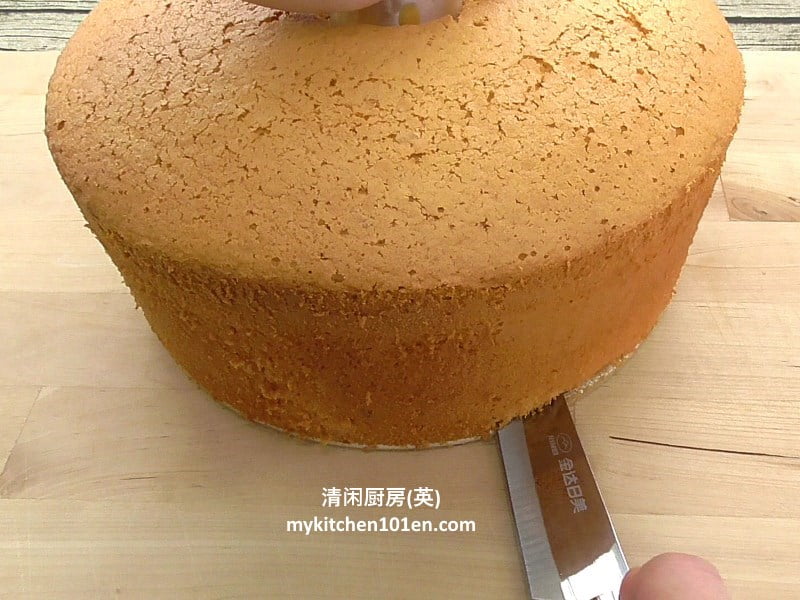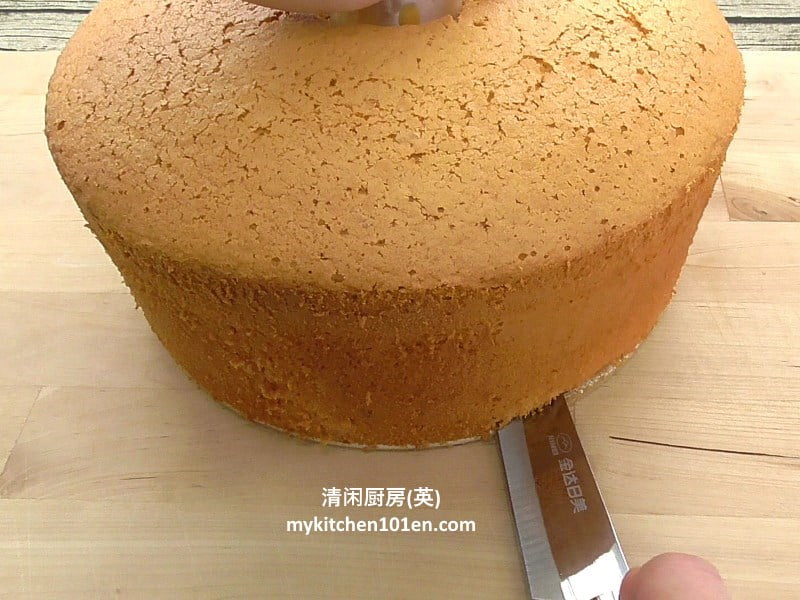 Tips for baking a light and fluffy chiffon cake (sharing of personal experience):
1 Choose oranges with thick zest for easy grating.
2 Wash the fruits thoroughly before grating the zest. Mix 1 part of distilled vinegar and 3 parts of water in a plastic basin, then soak the oranges for 20 minutes. Gently brush the zest using a clean fishnet washer or dishwasher brush, then rinse thoroughly with running water.
3 A little of baking soda (which is alkaline) helps neutralizing the acidity of fresh orange juice, allowing the cake to rise well. If the cake batter is too sour, the cake will not rise much.
4 Always use fresh cold eggs when separating the yolks and whites. The yolk of fresh cold egg will not break easily, thus make it easier for separation. Cover the yolks and whites with cling wrap and allow them to return to room temperature before using.
5 Egg whites and equipment used to beat egg whites must be grease-free and water-free or the meringue will fail, and so is your cake.
6 The egg whites are beaten until stiff peaks, DO NOT over whip. When over-whipped, the egg whites will become dry, grainy and lose their gloss.
7 Start paying attention when the beaten egg whites begin to look glossy. Stop and check the meringue after beating for every 10 seconds, stop the beating process immediately once it has reached the stiff peaks.
8 When folding meringue into the batter, you need to be quick but gentle to avoid deflating the meringue. Scrape the bottom of mixing bowl with rubber spatula and fold over, repeat folding motion until just well mixed.