Besides taro paste filling, the skin of this angku kuih is made with taro paste too. Since the colour of taro is light, dark brown sugar is added to yield a light brown colour skin.
CHINESE VERSION: 芋泥红龟糕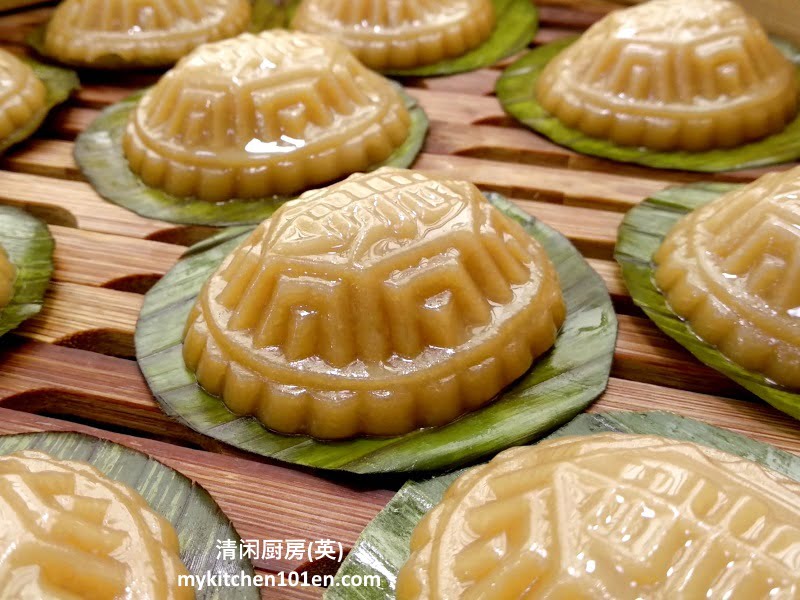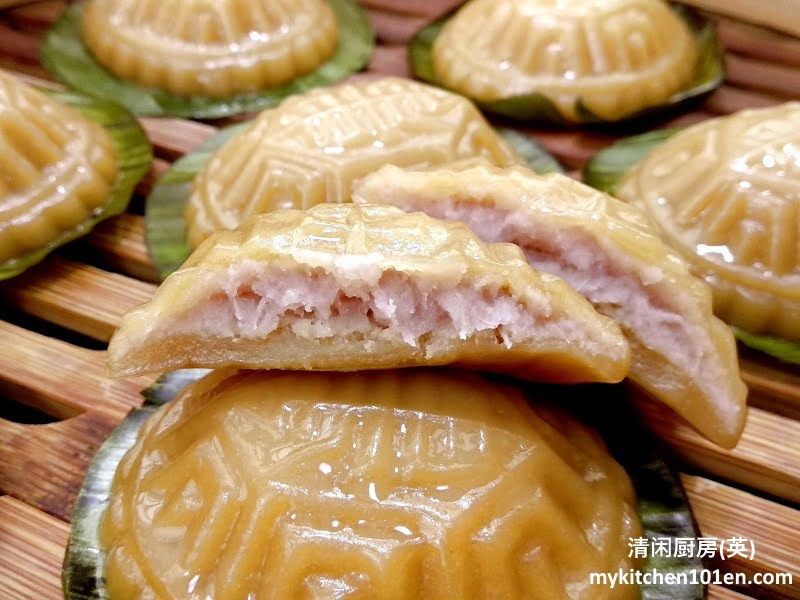 Taro Paste Angku Kuih | MyKitchen101en
Yields: 20 pcs
Ingredients for taro paste filling: (Yields: 270 g)
240 g steamed taro*
70 g fine sugar
1/16 tsp fine salt
1 tbsp cooking oil
Ingredients for taro paste skin: (Yields: 450 g)
80 g steamed taro*
45 g dark brown sugar
50 g + 1 tsp plain water
100 g + 100 g glutinous rice flour
60 g hot water (70°C)
2 tbsps cooking oil
(*Steamed taro: Steam 320 g of taro with 4 pieces of pandan leaves for 20 minutes until very soft, then divide into 80 g and 240 g.)
For taro paste filling:
1 Combine steamed taro, sugar, salt and oil in a sauce pot, mash into paste. Cook over medium heat for 5 minutes. Reduce to medium-low heat, cook for another 2-3 minutes, until you have a smooth paste. Set aside to cool.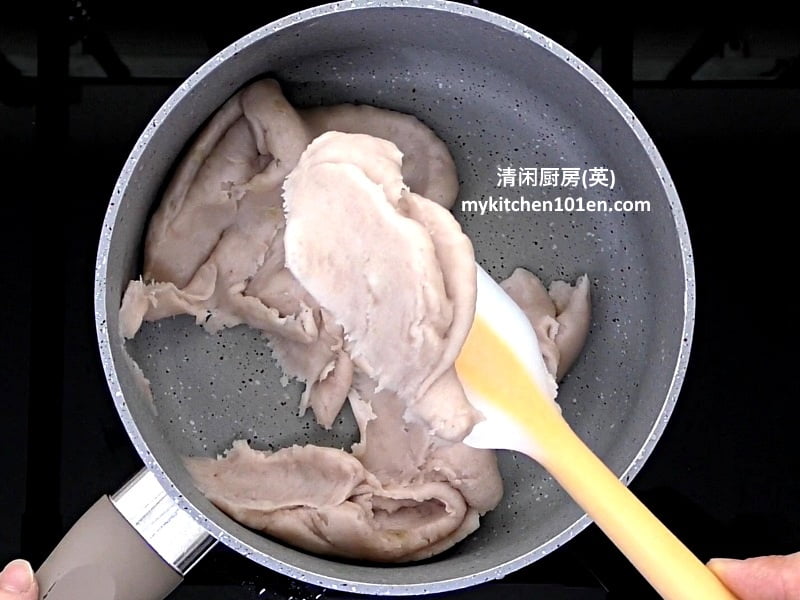 2 Divide filling into 20 portions (13 g each).
For taro paste skin:
1 Combine steamed taro, dark brown sugar and 50 g of water, blend until smooth, set aside to cool.
2 Mix together hot water (70°C) and 100 g of glutinous rice flour, then add in cooled taro paste, mix well. Add in another 100 g of glutinous rice flour to mixture, mix into a dough.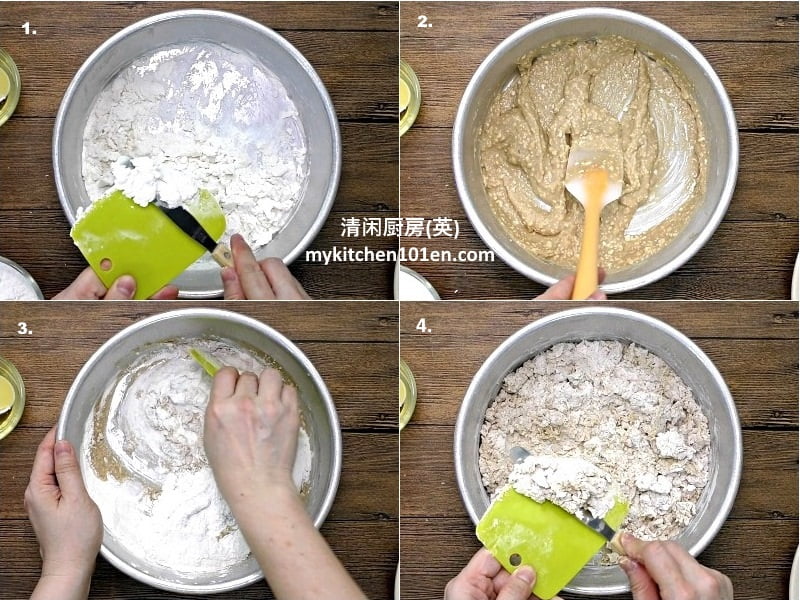 3 Add in adequate water according to the dampness of the dough (about 1 tsp), knead until a smooth dough is formed. Add in cooking oil, knead until well blended.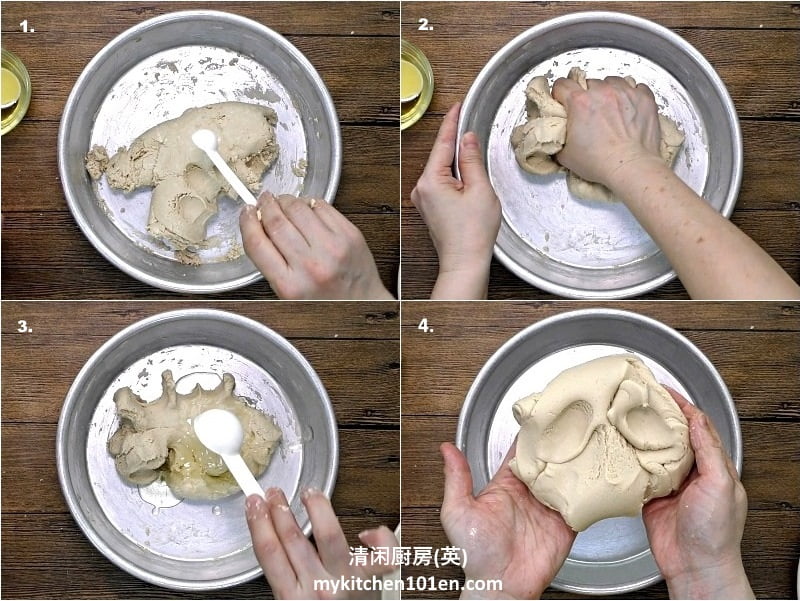 4 Divide dough into 20 portions (22 g each), cover with cling wrap to prevent from drying.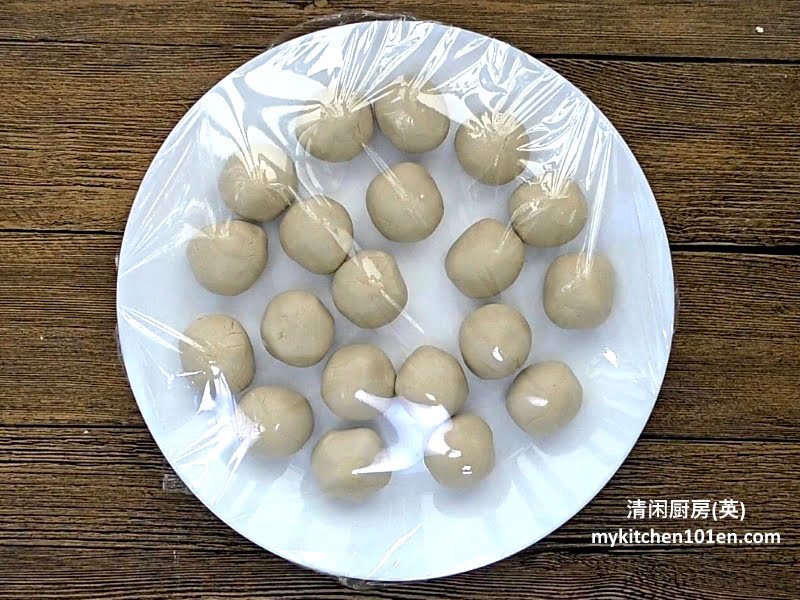 Making Taro Paste Angku kuih:
1 Prepare 20 pieces (7-cm) round banana leaves, coat with oil.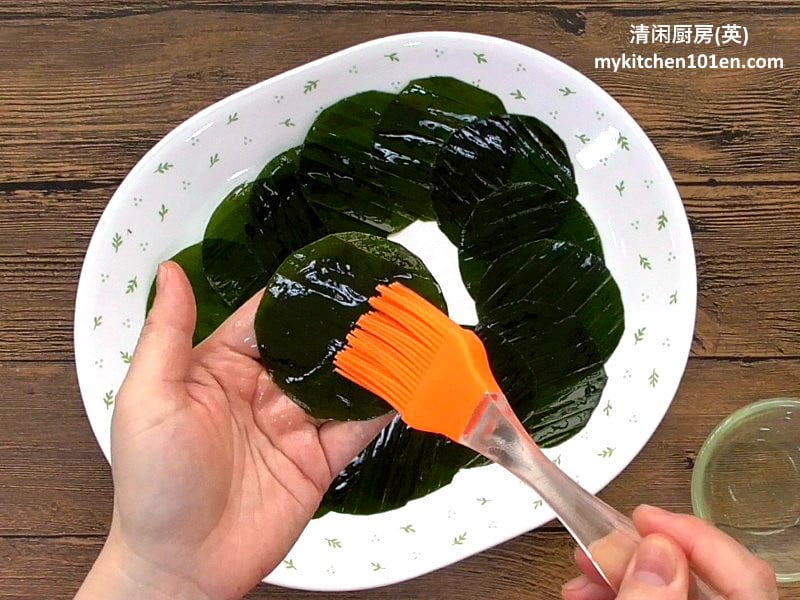 2 Lightly coat Angku mould with glutinous rice flour, tap off excess flour. (Reminder: The size of Angku mould used in this recipe is 35-gram mould, about 6 cm x 5.5 cm.)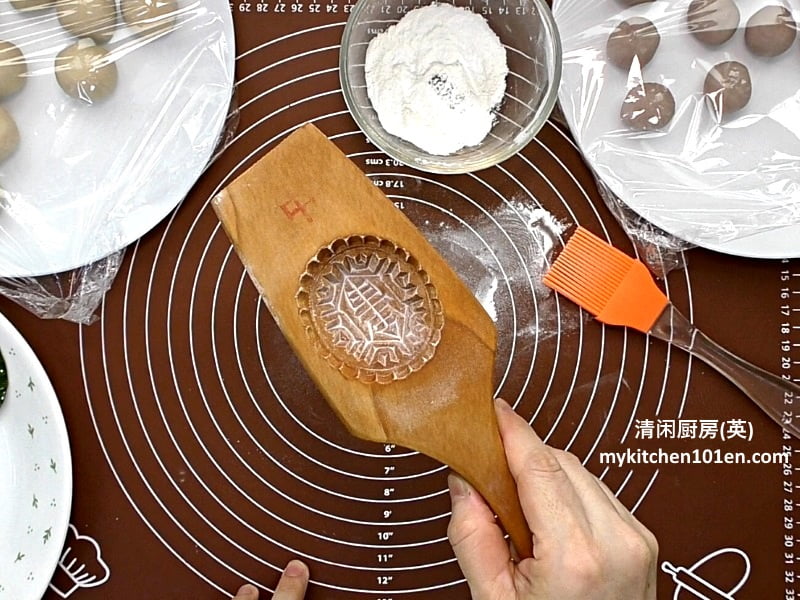 3 Shape dough into a bowl, fill with taro paste filling, wrap filling fully with dough, press until firm and shape gently into a ball. Put into mould, press lightly with palm to fill the mould, tap the mould gently on work top to unmould the filled dough, put onto a piece of banana leaf, then arrange in steamer rack. (Reminder: Bamboo steamer is suggested for steaming).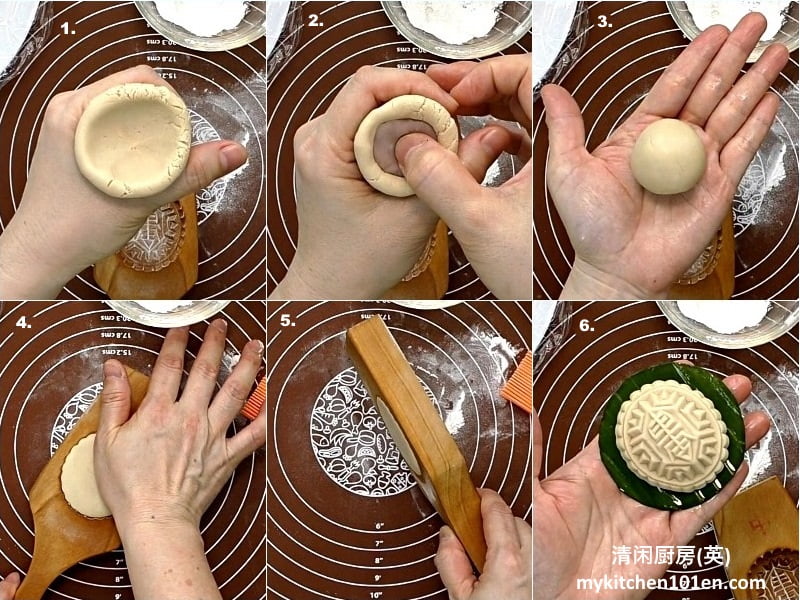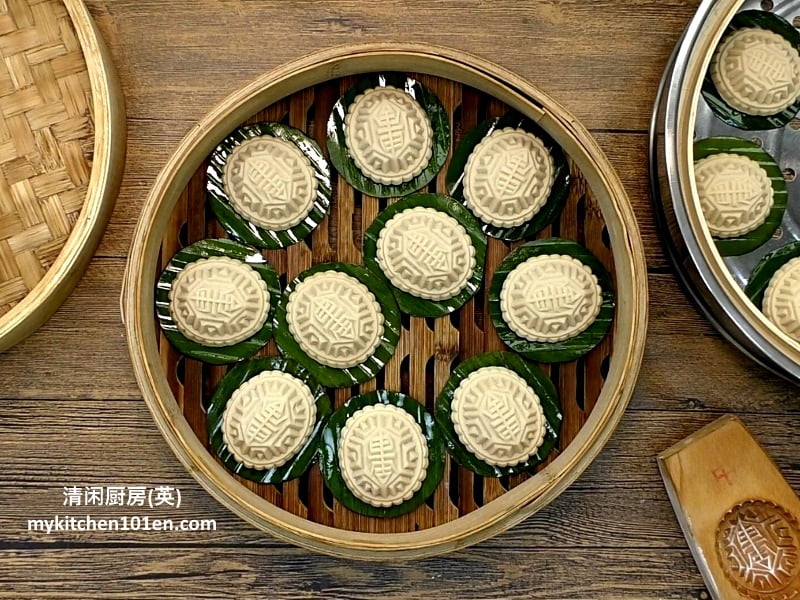 4 Steam over medium heat for 8 minutes.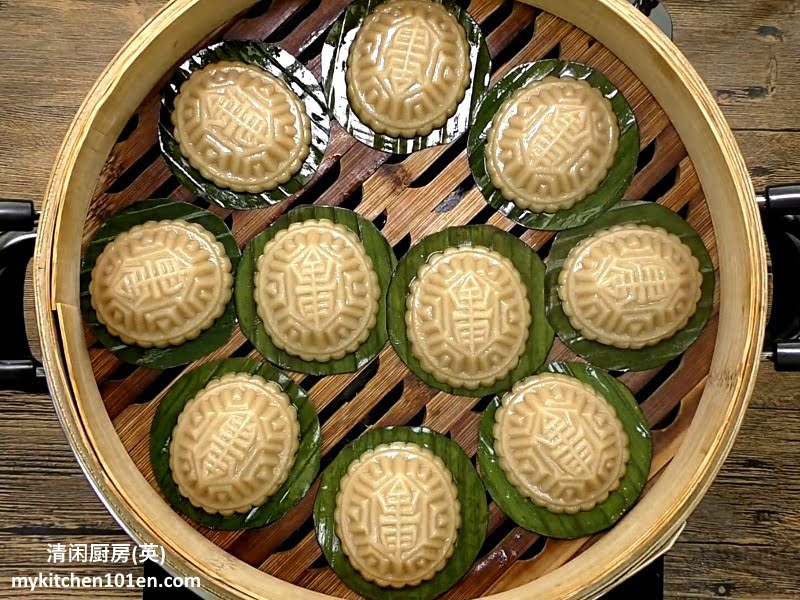 5 Lightly coat the surface with some oil.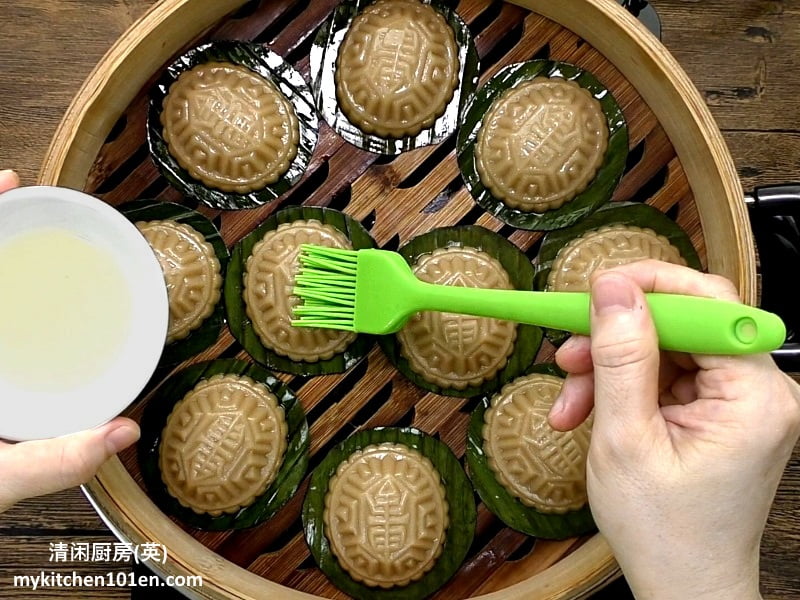 6 Set aside to cool. (Reminder: When cooled, cover the Angku kuih with cling wrap to prevent it from drying.)