The crust of spiral curry puff is made with the combination of oil dough and water dough. Shortening is used to make the oil dough as it will yield a less oily crust. You may deep-fry or bake the curry puffs. Deep-fried curry puffs have nice spiral pattern, but for the baked curry puffs, the pattern is not obvious.
CHINESE VERSION: 螺旋咖喱角:油炸或烘烤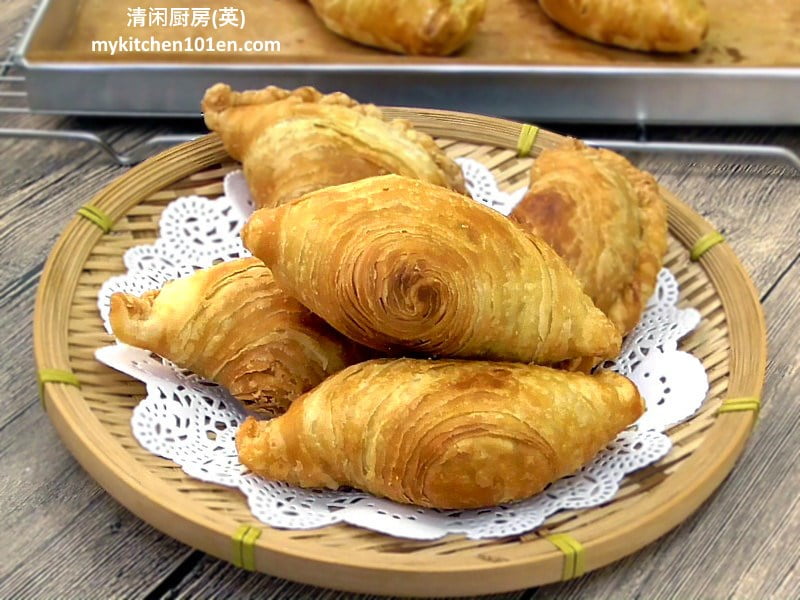 Spiral Curry Puff (Karipap Pusing): Deep-Fried or Baked | MyKitchen101en
Yields: 10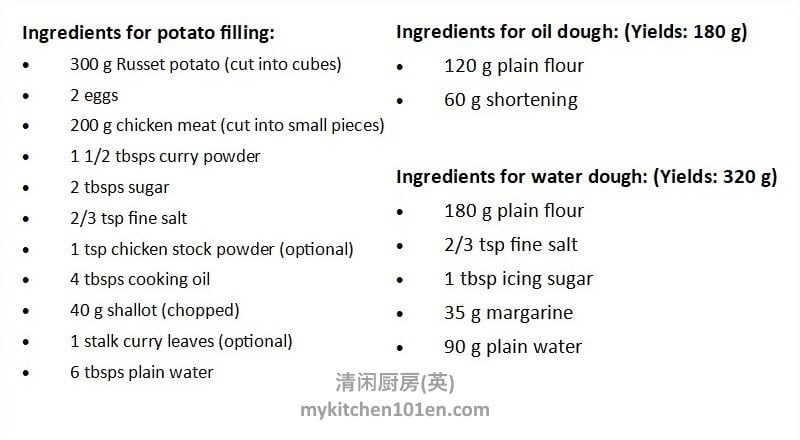 Preparing potato filling:
1 Steam Russet potato and eggs for 10 minutes, or until potato has softened.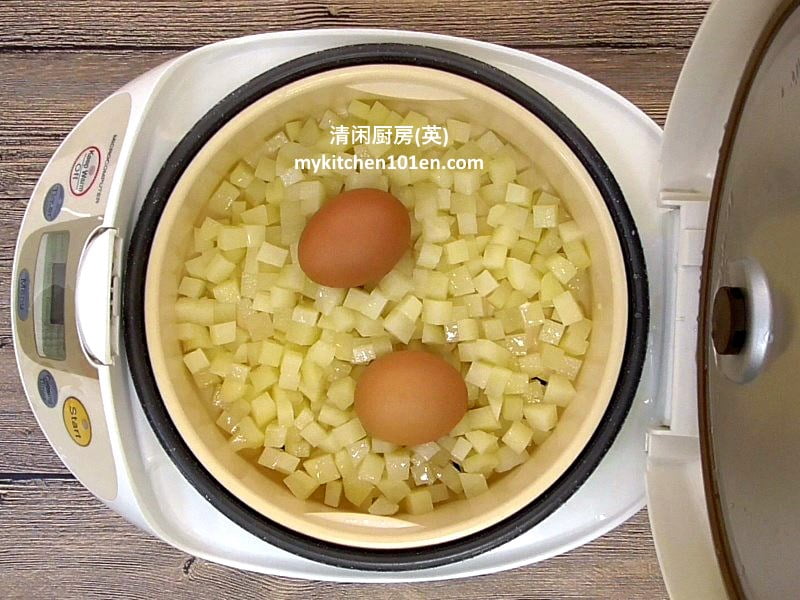 2 Add curry powder, sugar, salt and chicken stock powder to chicken meat, mix well, set aside to marinate for 20 minutes. (Reminder: Add extra 1/3 tsp of salt if omitting chicken stock powder).
3 Preheat cooking oil, add in shallot, cook until fragrant. Add in marinated chicken meat and curry leaves, cook for about 1-2 minutes (CORRECTION: The instruction at 1:18 in the video should be "Cook for about 1-2 minutes", NOT "7-8 minutes"). Add in steamed potato, mix well. Add in water, cook until water is drying up.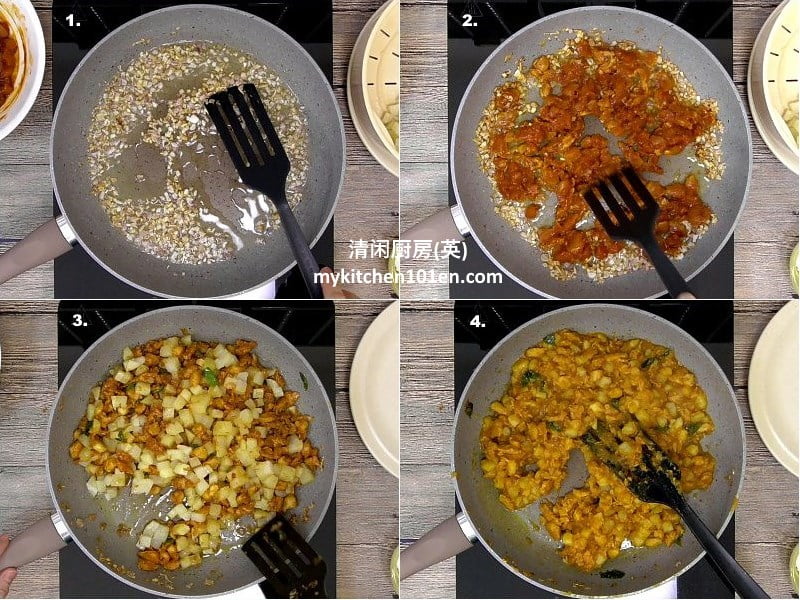 4 Divide filling into 10 portions.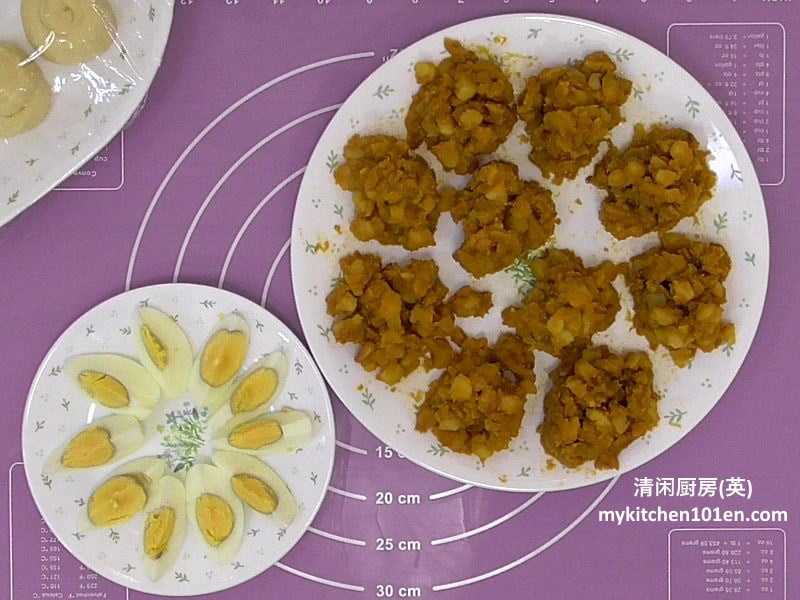 Preparing dough for puff skin:
1 For oil dough: Mix together plain flour and shortening until a dough is formed.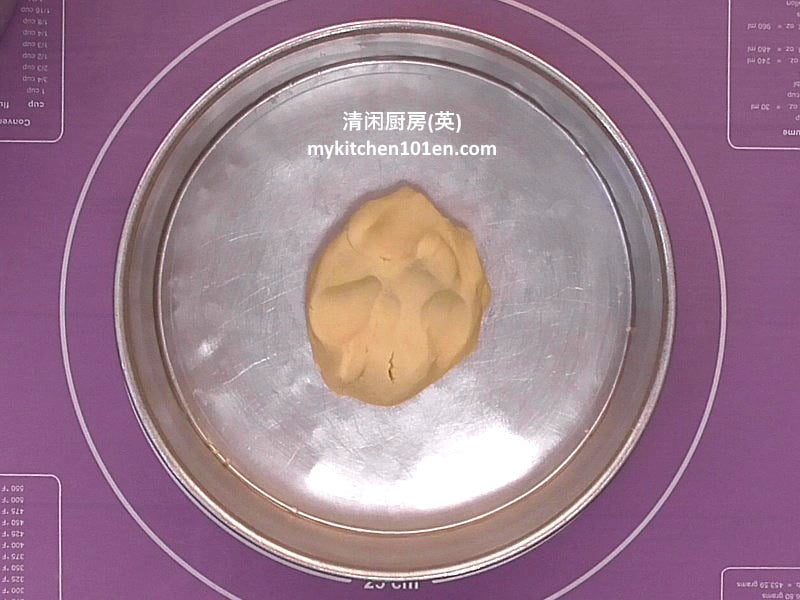 2 For water dough: Mix together plain flour, salt and icing sugar. Mix in margarine, then add in water gradually, mix until a dough is formed.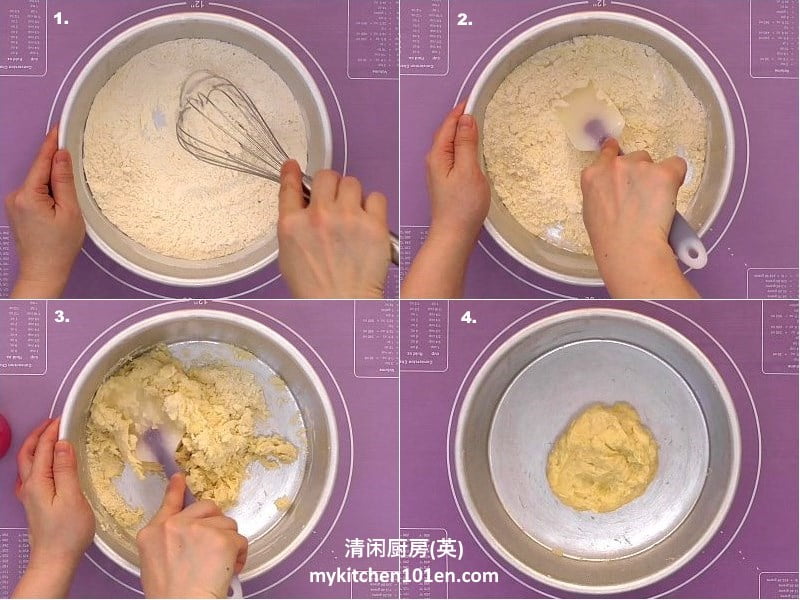 3 Divide oil dough (36 g each) and water dough (64 g each) into 5 portions.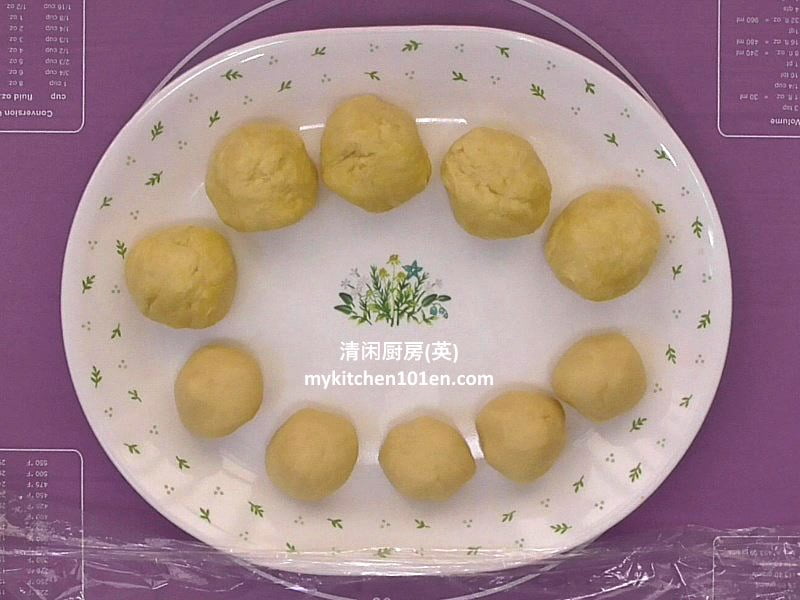 4 Flatten water dough, top with oil dough, fully wrap oil dough with water dough, shape into a ball.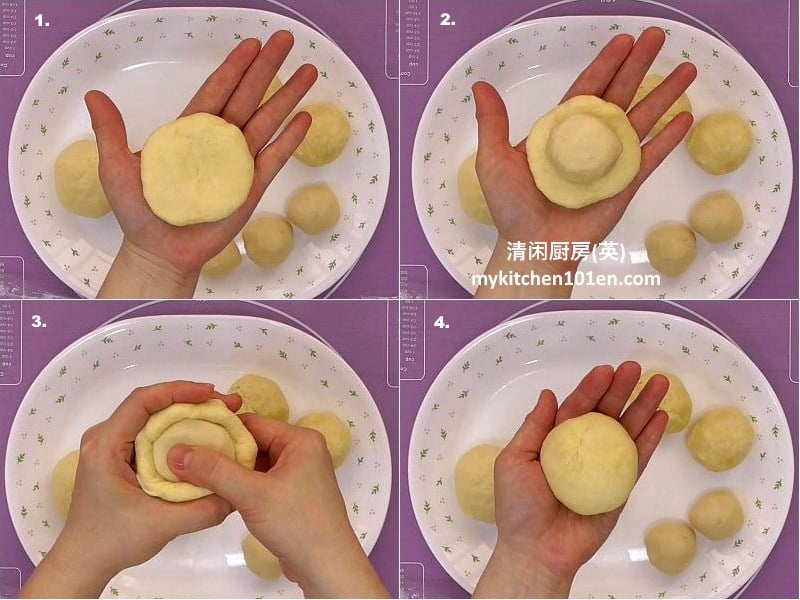 5 Roll out the dough into oblong shape, then roll it up. Roll out the rolled dough again, then roll it up again. Cut each into 2. Cover with cling wrap, set aside to rest for 20 minutes.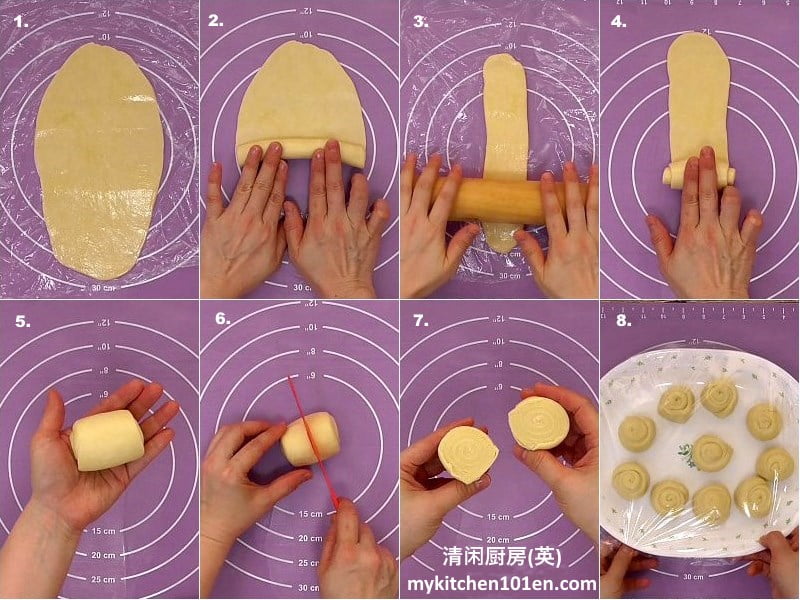 Making Spiral Curry Puffs:
1 Flatten dough into round shape (cut side facing down), put 1 portion of filling and egg in the center. Fold into half, seal and pleat the edges.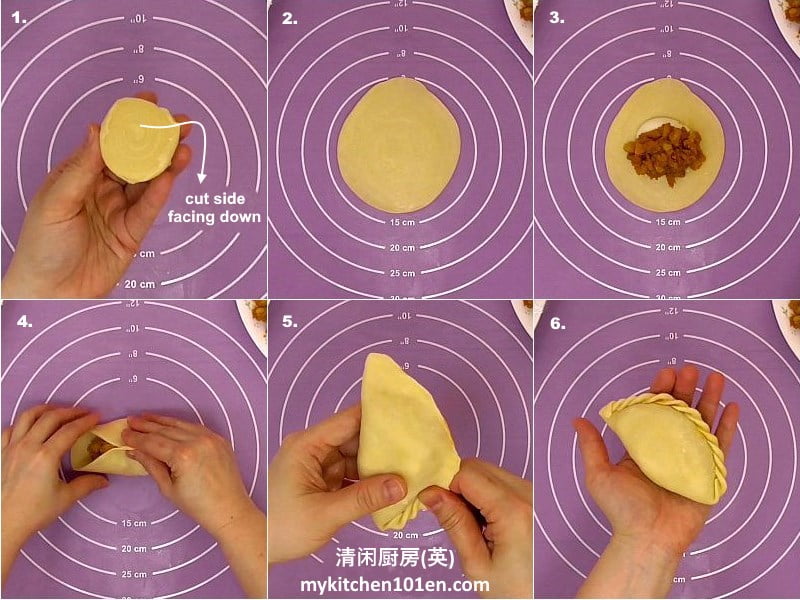 Instructions for deep-frying:
1 Preheat cooking oil to 170°C/340°F, turn to medium heat, deep-fry curry puffs until golden brown.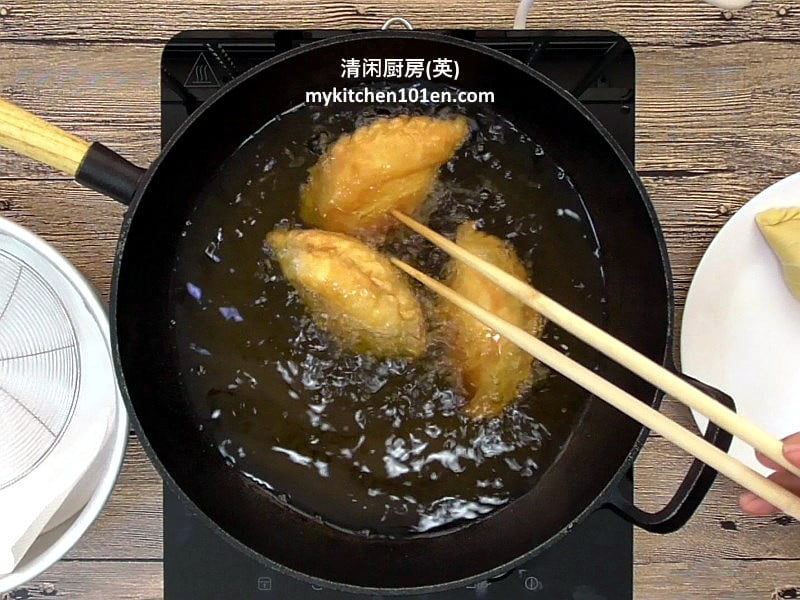 2 Put fried curry puffs on a strainer ladle to drain off the oil.
3 Allow spiral curry puffs to slightly cool down before serving.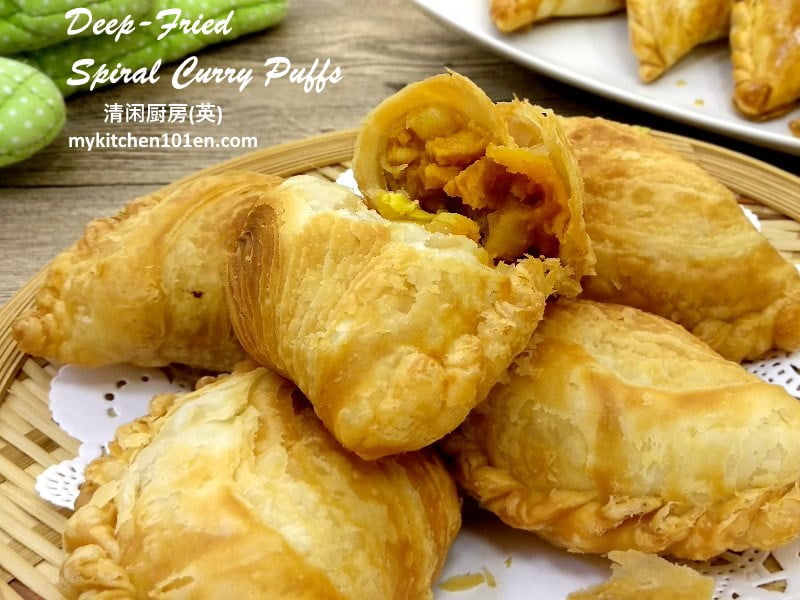 Instructions for baking:
1 Arrange curry puffs on a baking tray lined with non-stick baking paper, brush the surface with egg wash. (For egg wash: Mix together 1 egg yolk and 1 tsp of water, sieve through.)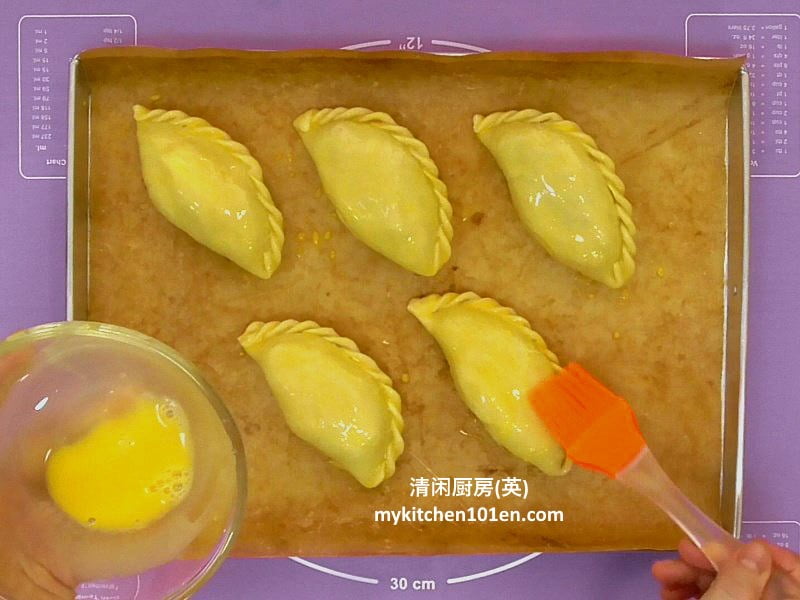 2 Bake in the preheated oven at 200°C/390°F for 30 minutes, until golden brown.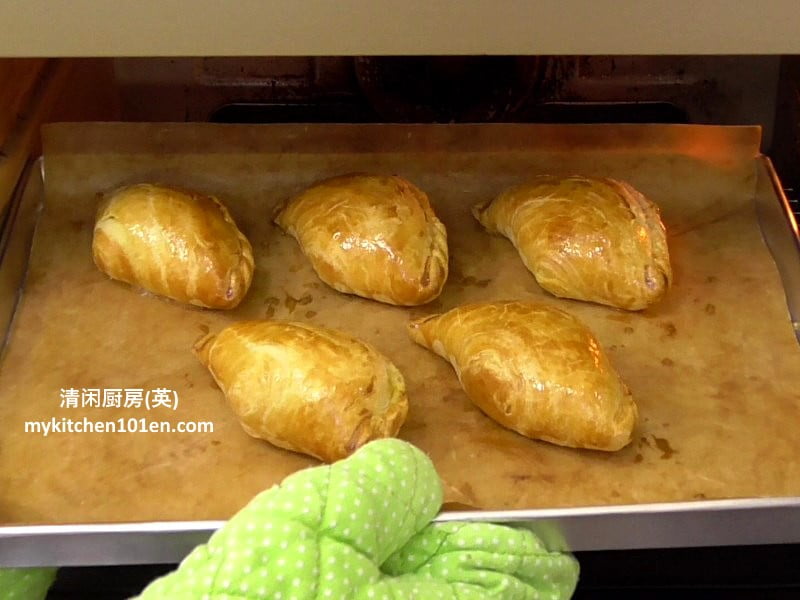 3 Allow baked curry puffs to slightly cool down before serving.