Curry puff is a popular tea-time snack in Southeast Asia. Although there are several types of puff with different filling, potato chicken curry is by far the most common.
This recipe calls for Russet potato, which is larger with brown skin. Russet potatoes are starchy, light and fluffy, making them great for baking. Russet potato softens at a fraction of the time and yields smooth texture for the filling, because of high starch, they don't hold shape well.
Learn how to make these no-fuss and simple curry puff from scratch, crispy crust pastry filled with flavorful savory filling.
Chinese Version: 马铃薯鸡肉咖喱角食谱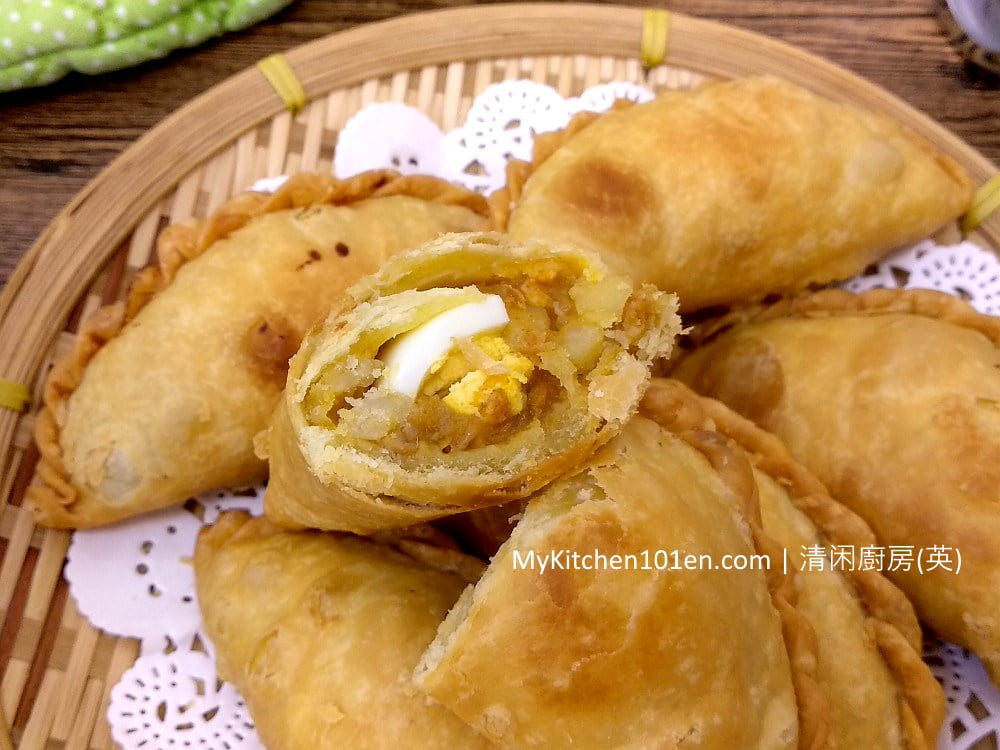 Curry Puff (Karipap) Recipe | MyKitchen101en
Yields: 6 large curry puff
Filling ingredients (Yields: about 288g):
150g Russet potato (peeled and cut into cubes)
100g chicken meat (cut into small pieces)
2 tsp curry powder
1 ½ tsp sugar
½ tsp salt
½ tsp chicken stock powder (optional)
6 pcs curry leaves (optional)
20g shallot (chopped)
2 tbsp oil
3 tbsp water
1 egg (room temperature)
Dough ingredients (Yields: about 288g):
175g all-purpose flour
50g margarine
55g water
¼ tsp salt
1 tsp oil
Instructions:
1 Cut chicken meat into small pieces, add in curry powder, sugar and salt, marinate for about 20 minutes.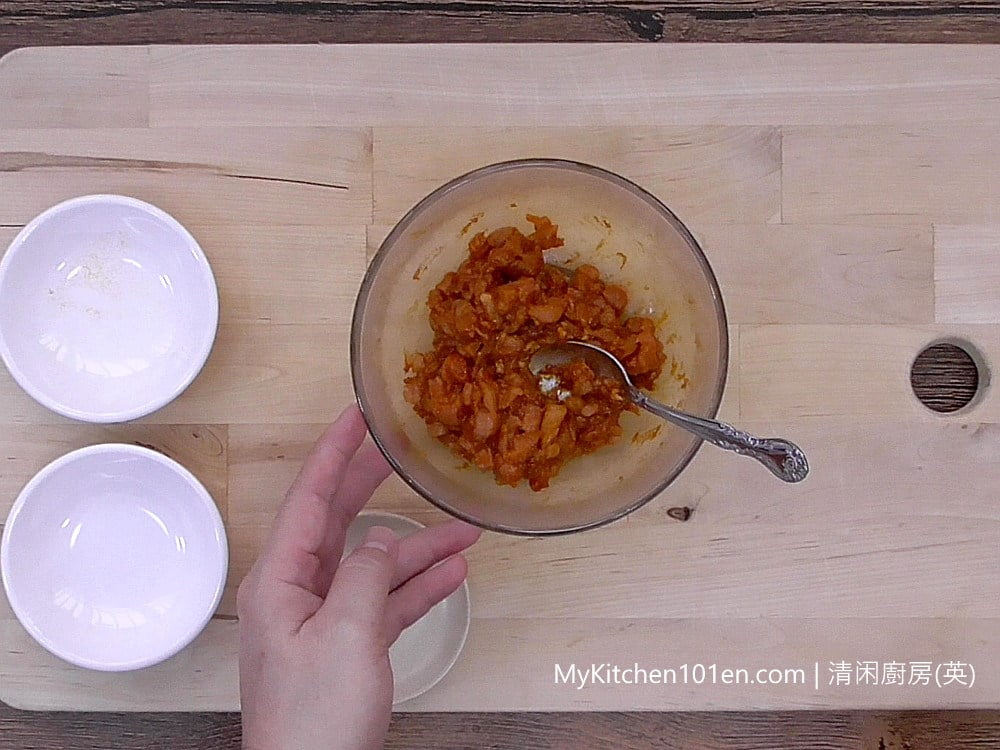 2 Steam both Russet potato and 1 egg for 10 minutes. When the egg is done, let it sits in cold water, this will make it easy to peel and get a clean looking egg.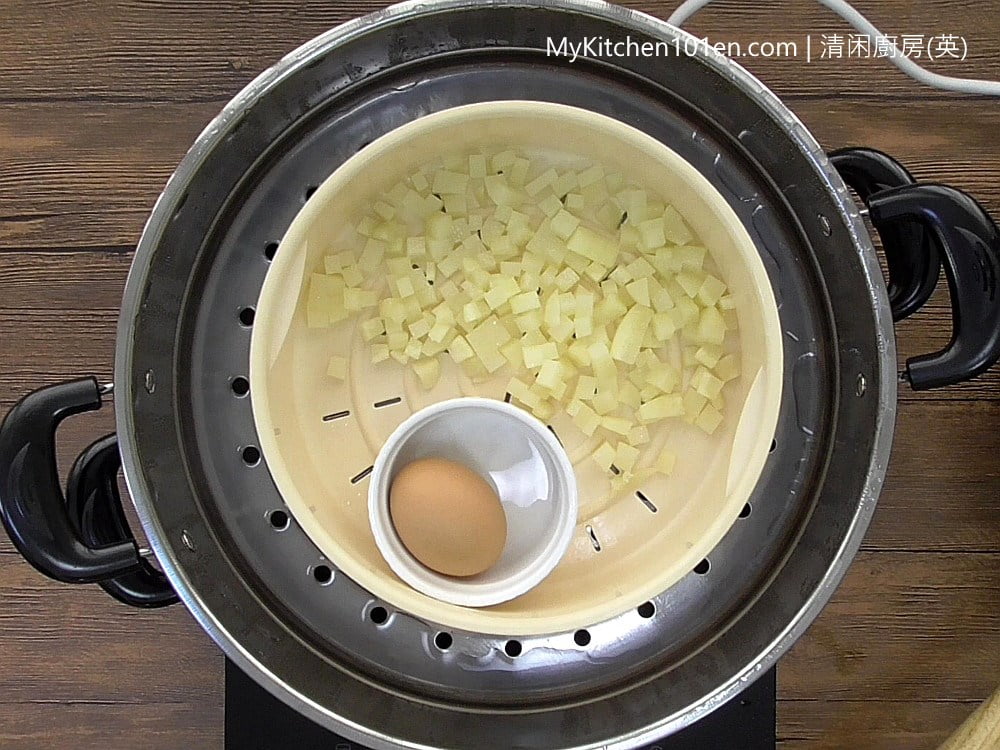 3 Heat 2 tablespoons of oil in wok or skillet, sauté chopped shallot until fragrant, add in marinated chicken, 6 pieces of curry leaves (optional), stir fry until almost done.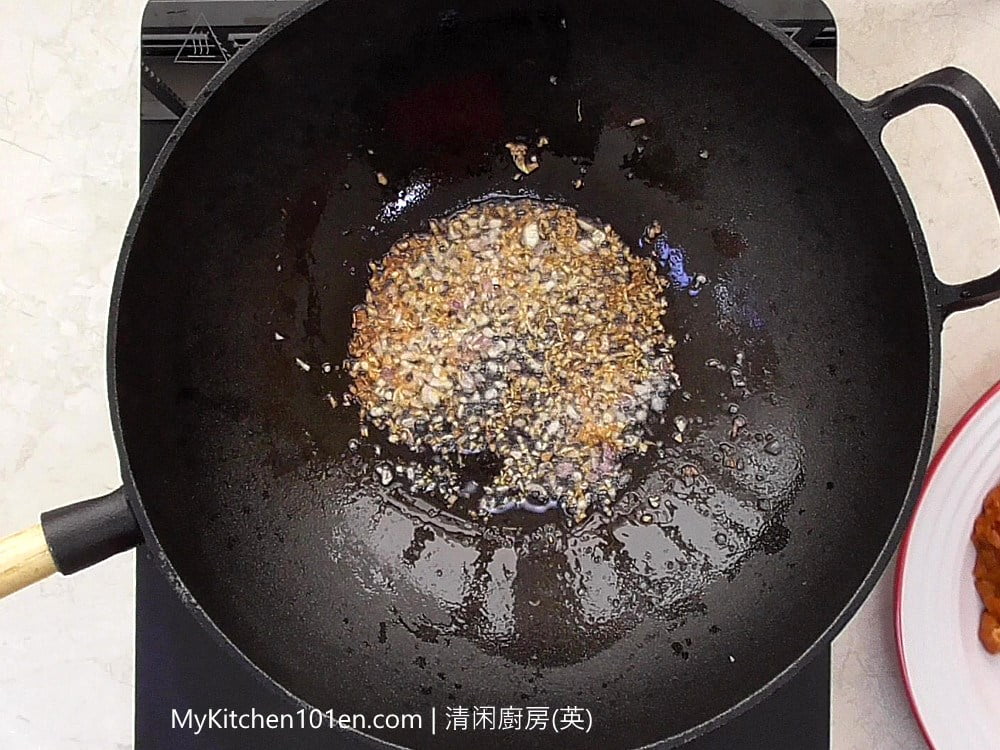 4 Add in steamed potato, ½ tsp chicken stock powder (optional) and 3 tablespoon of water, stir until potato filling is thickened; filling should be wet but not dripping. Set aside to cool.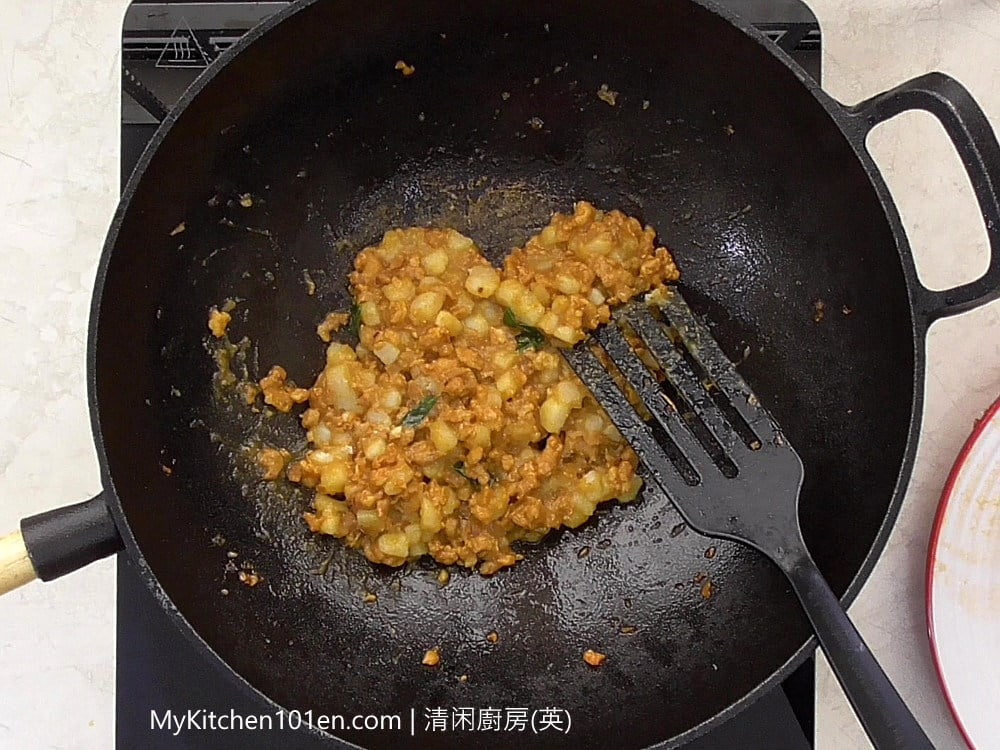 5 For dough: Mix flour and salt, rub margarine into flour mixture. Add in 55g(ml) water, knead until dough is formed, knead in 1 teaspoon of oil. Wrap the dough with cling wrap and rest for 20 minutes.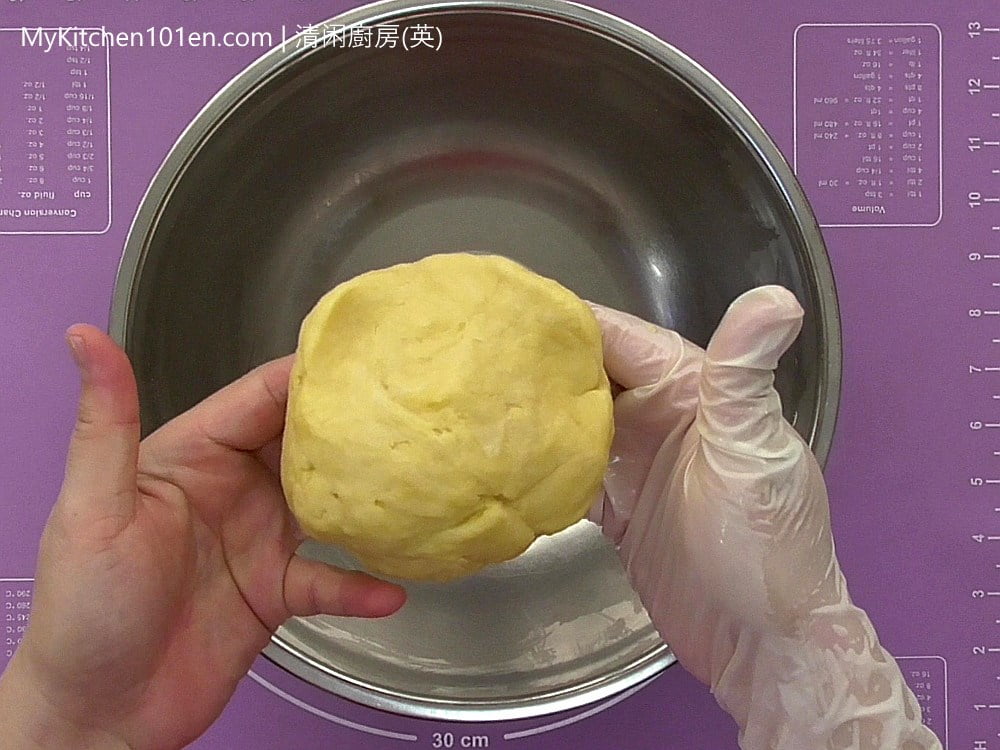 6 Divide dough and filling into 6 equal portions. Flatten dough into round shape; fill with potato filling and ⅙ of hard-boiled egg.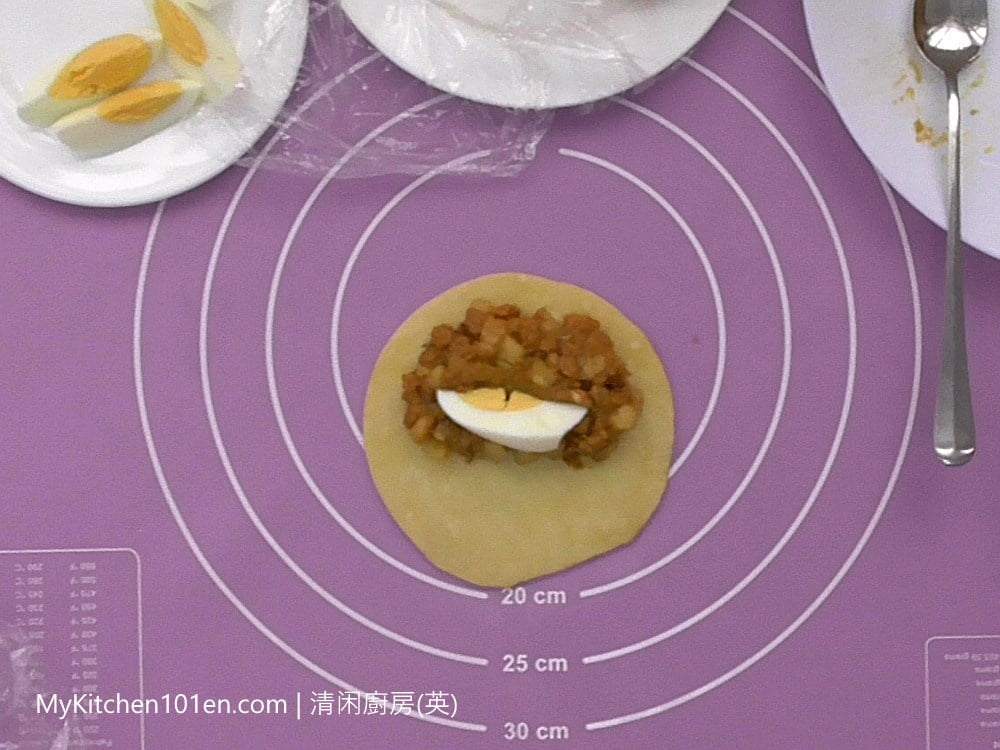 7 Fold in half, seal and pleat the edge.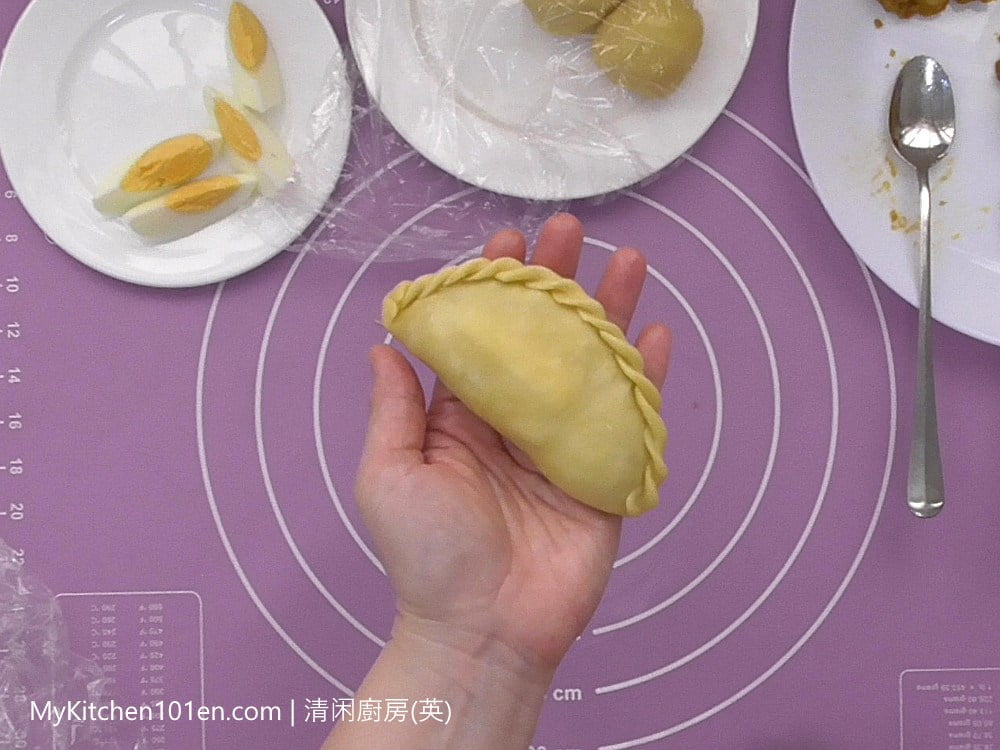 8 Deep-fry at 170°C until golden brown.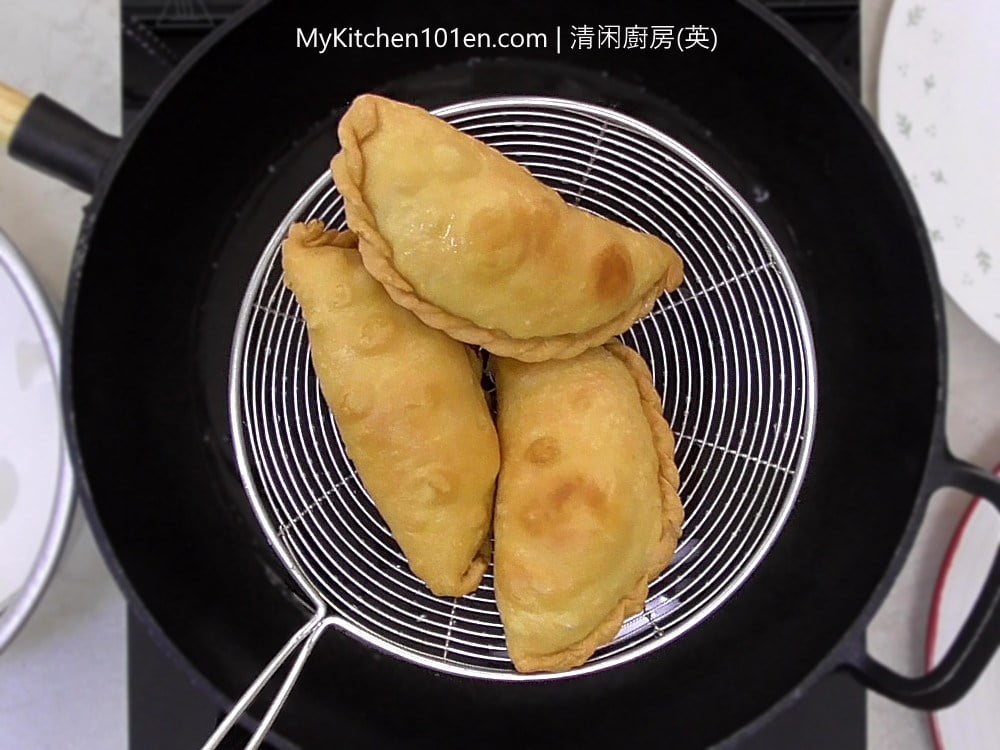 9 Serve warm and enjoy.