Cheesecakes are favorite desserts for most girls, and some guys too. Making your own cheesecake at home is not difficult, and it is usually cheaper than store-bought. This no-bake cheesecake recipe is even simpler, no oven is needed, only refrigerator is required. If you have friends who are cheesecake fans too, then you can share this homemade cheesecake with them too!
CHINESE VERSION: 蓝莓柠檬免烤芝士蛋糕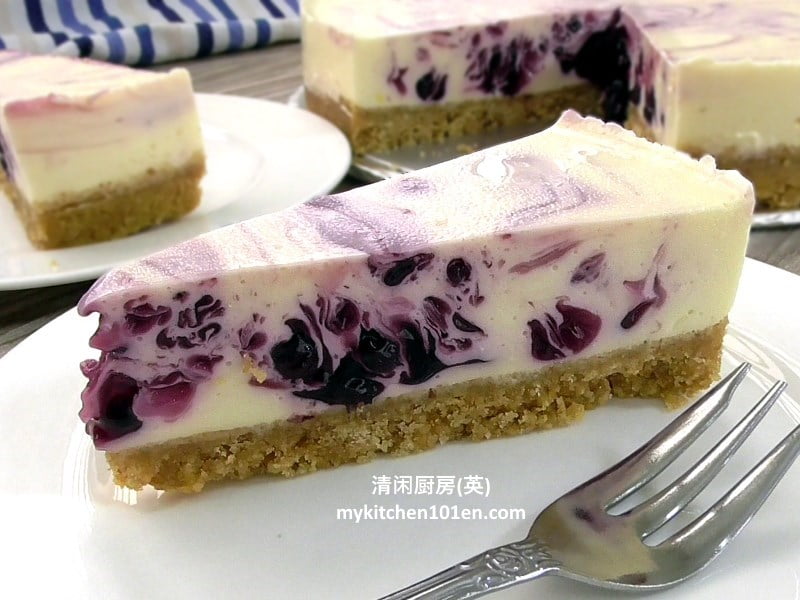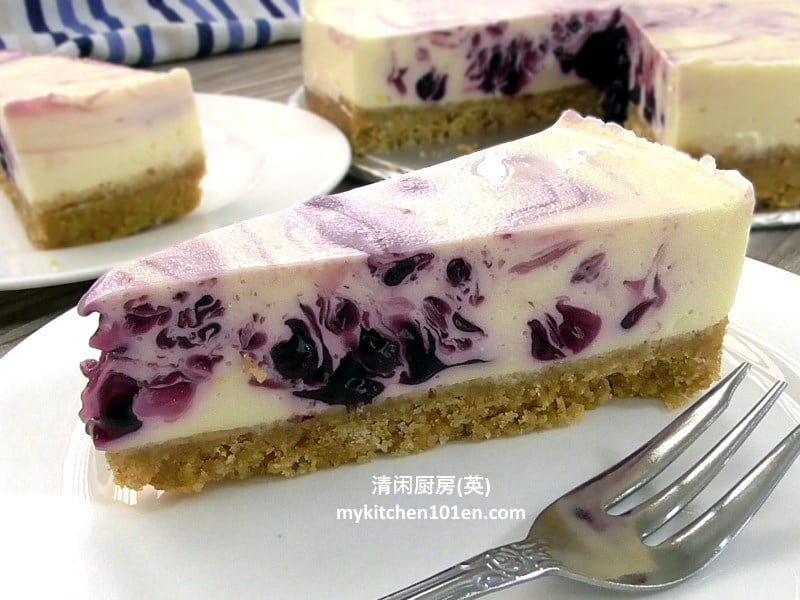 No-Bake Blueberry Lemon Cheesecake | MyKitchen101en
Ingredients for bottom crust:
300 g (10.5 oz) digestive biscuit
50 g (1/4 cup) fine granulated sugar
100 g (7 tbsps) melted butter
Ingredients for cheesecake:
240 ml (1 cup) plain water
28 g (9 tsps) gelatin powder
500 g (17.6 oz) cream cheese (at room temperature)
165 g (3/4 cup + 1 1/4 tbsps) fine granulated sugar
300 g (1 cup + 3 1/2 tbsps) plain yogurt
grated lemon zest (1 lemon)
3 tbsps lemon juice
300 g (1 cup) blueberry filling
Preparing the bottom crust:
1 Wrap the bottom of 10-inch (25-cm) round loose base baking pan with aluminium foil.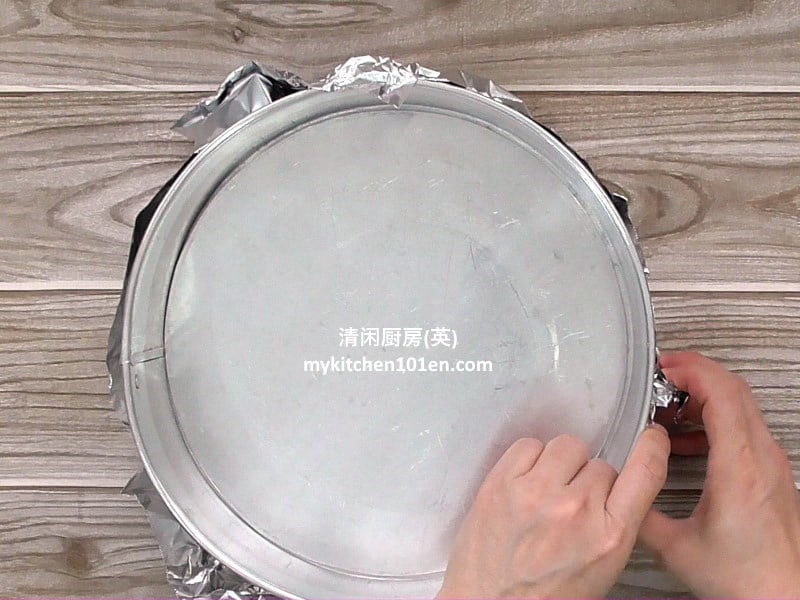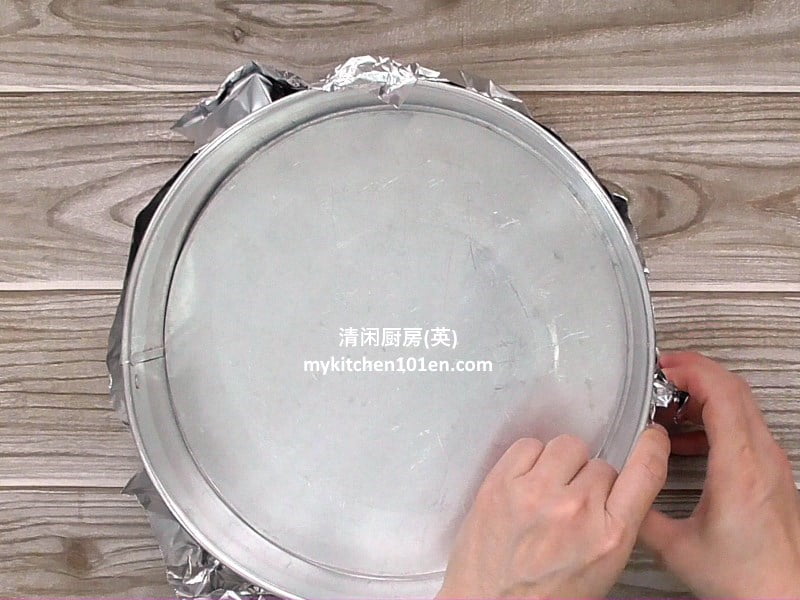 2 Put biscuit in zip lock bag, then crush with rolling pin.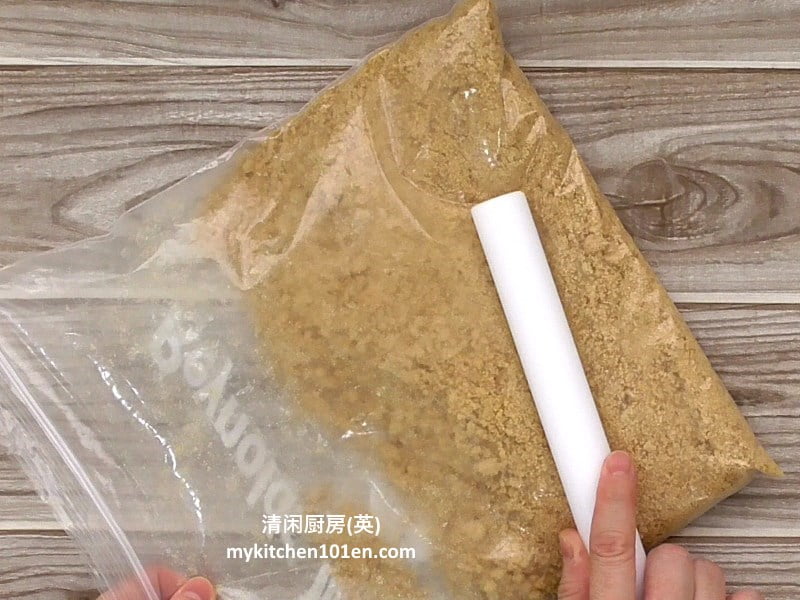 3 Add sugar and melted butter to crushed biscuit, mix until well combined.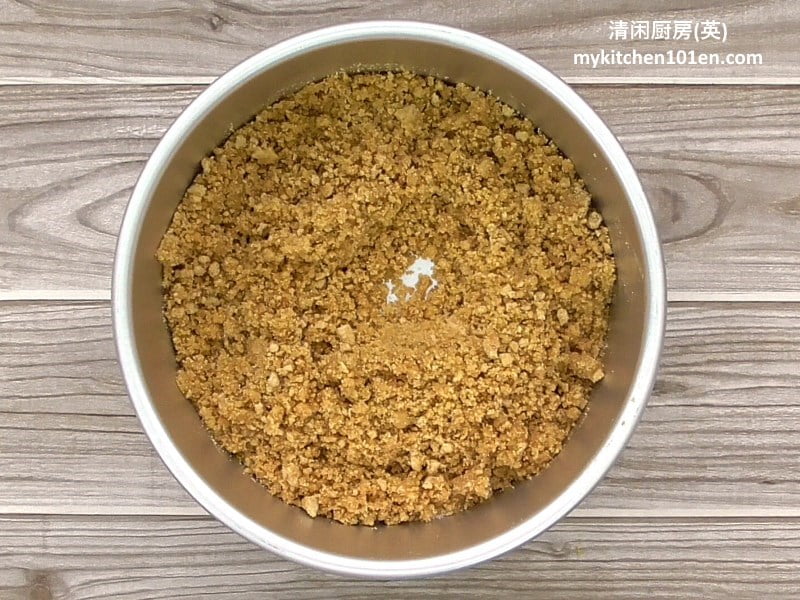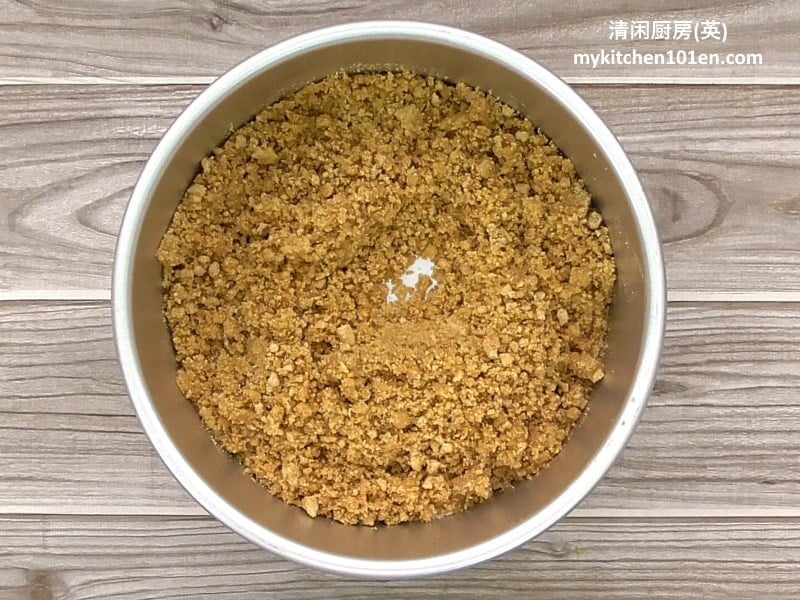 4 Transfer to baking pan and press down until firm, keep refrigerated for later use.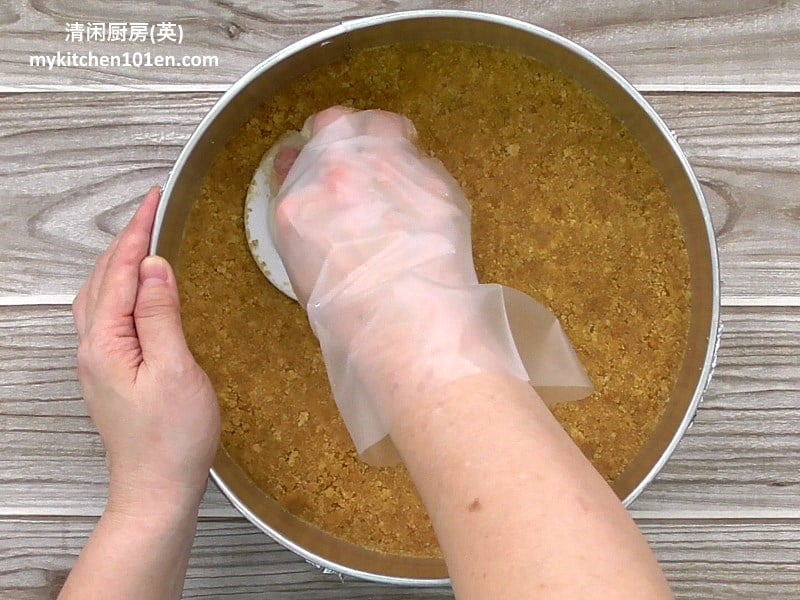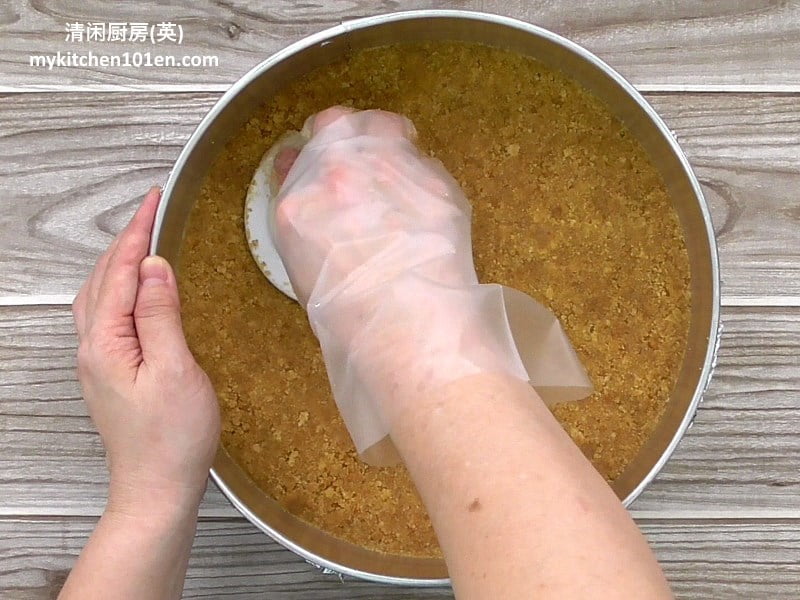 Preparing the cream cheese mixture:
1 Sprinkle gelatin powder over plain water and let it stands for 10 minutes.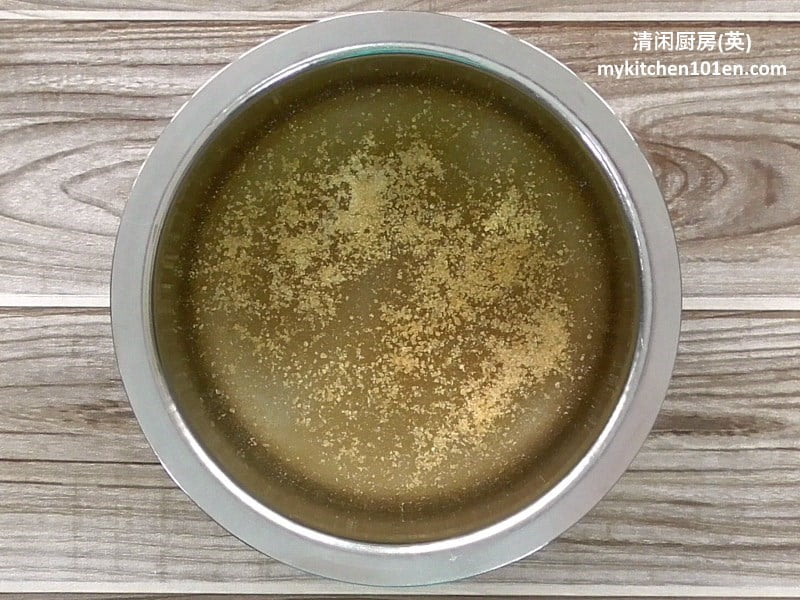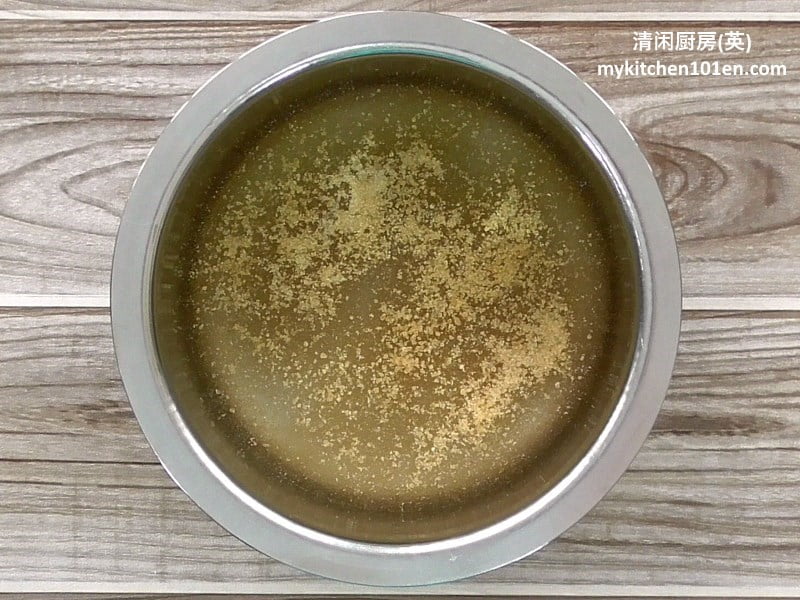 2 Combine cream cheese and sugar, then beat over medium speed until light and fluffy.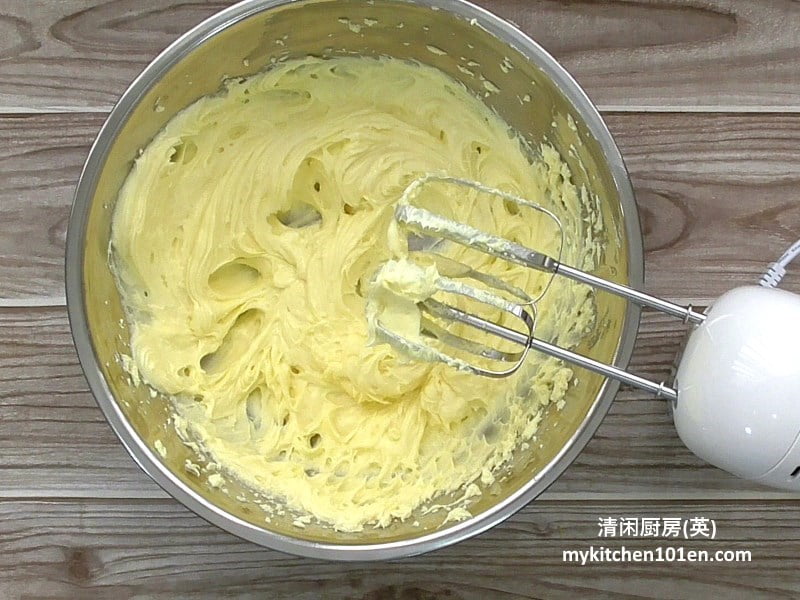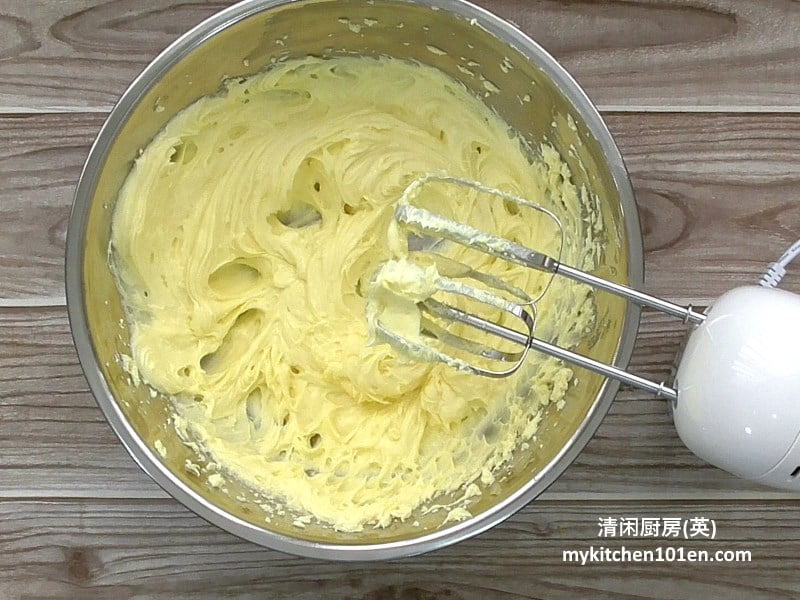 3 Add in yogurt, lemon zest and lemon juice, beat over medium-low speed until mixture is smooth.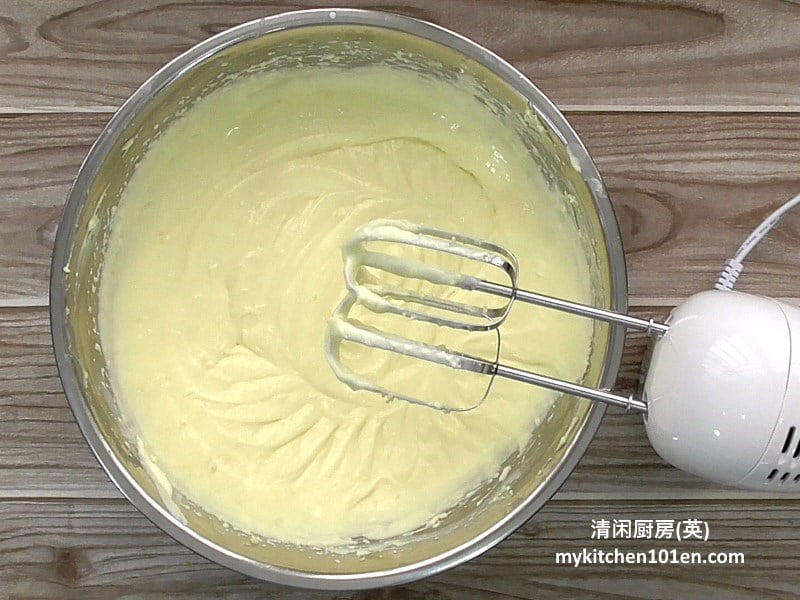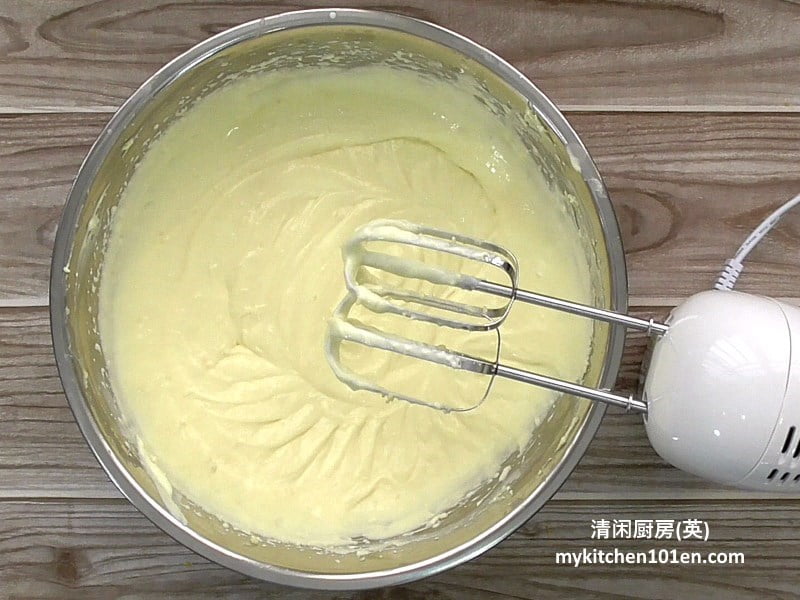 4 Gently heat the soaked gelatin, stirring until fully dissolved.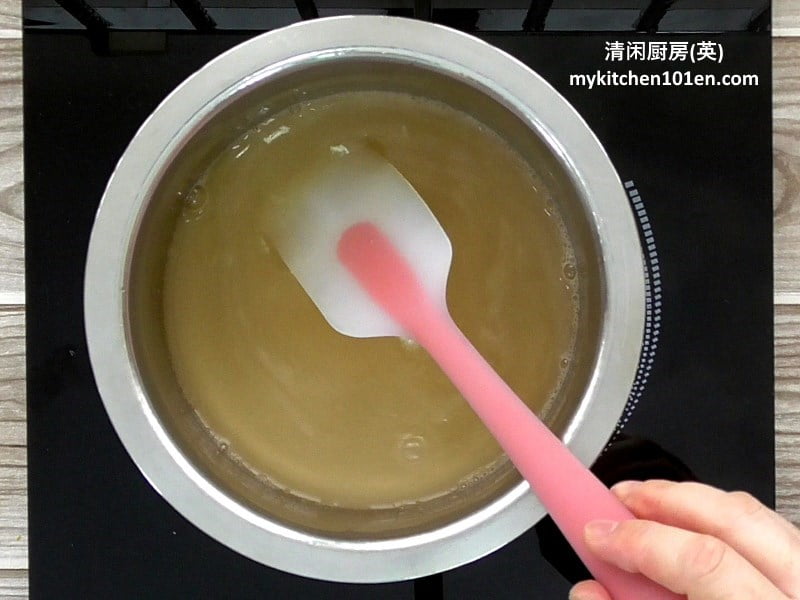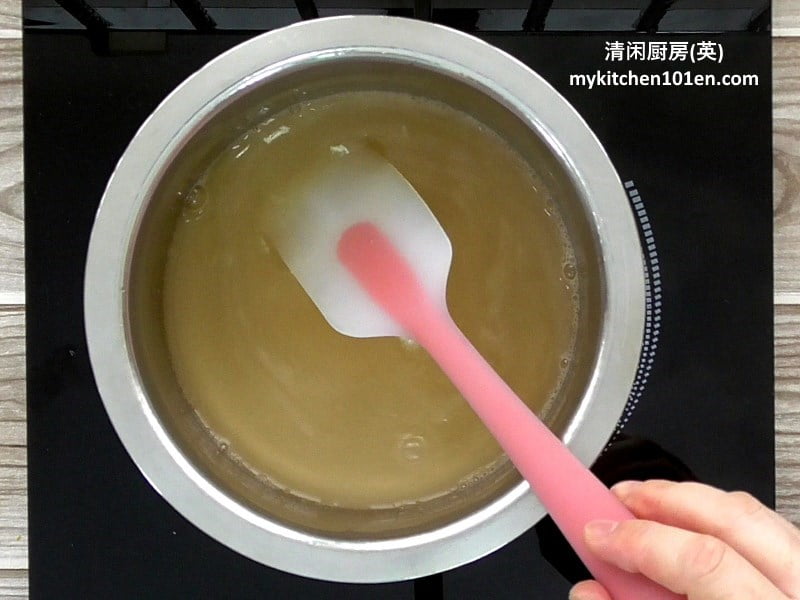 5 Add melted gelatin to the cream cheese mixture, mix until well blended.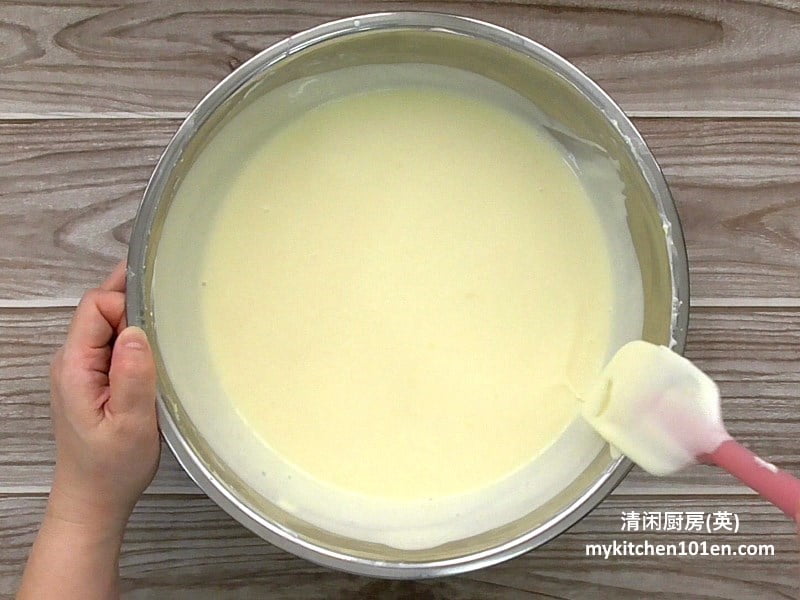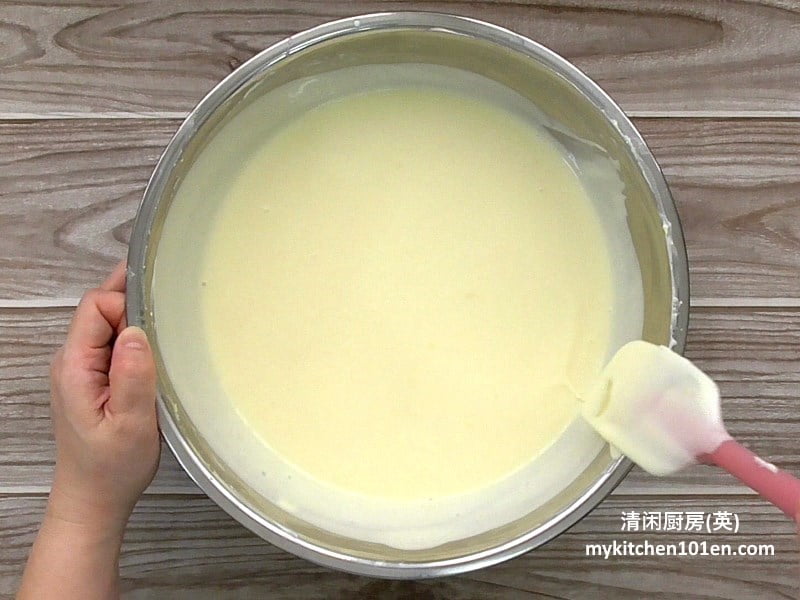 6 Pour 1/2 of cheese mixture onto biscuit crust, top with 1/2 of blueberry filling, repeat the same steps for the remaining.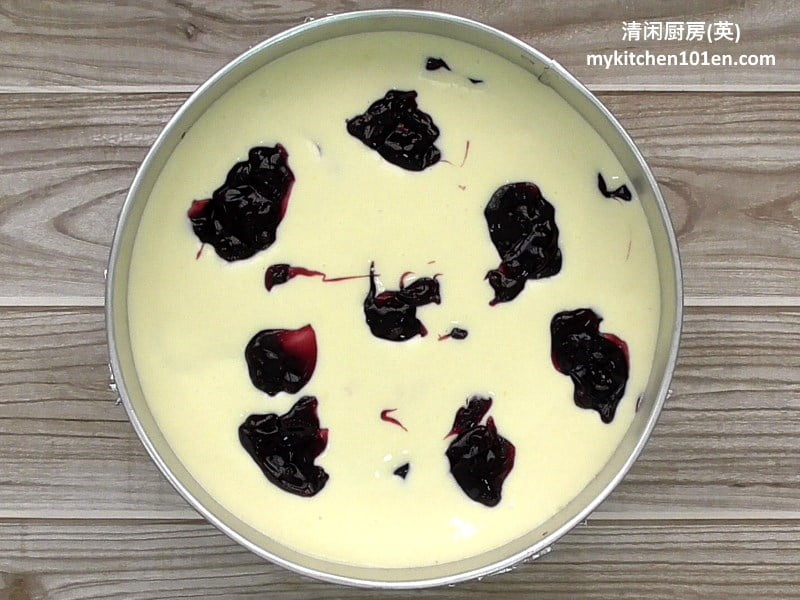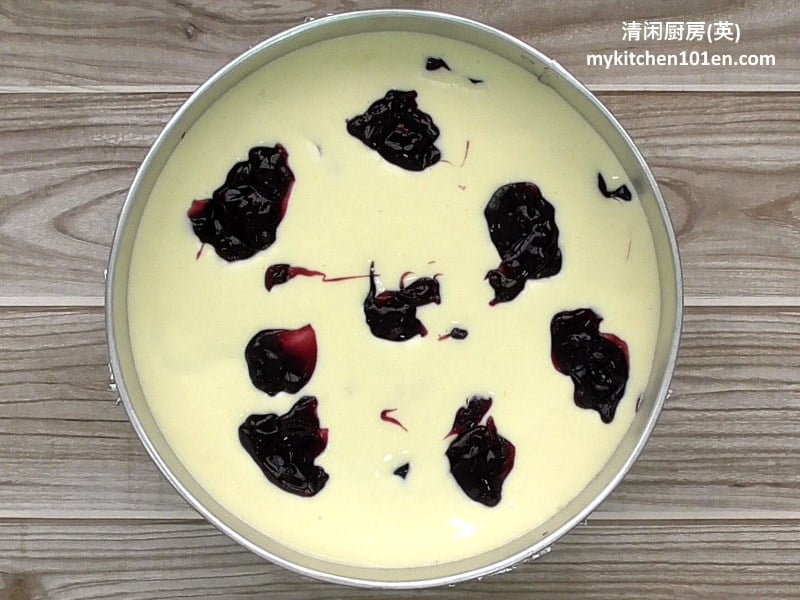 7 Swirl using icing spatula to distribute the filling over cheese mixture.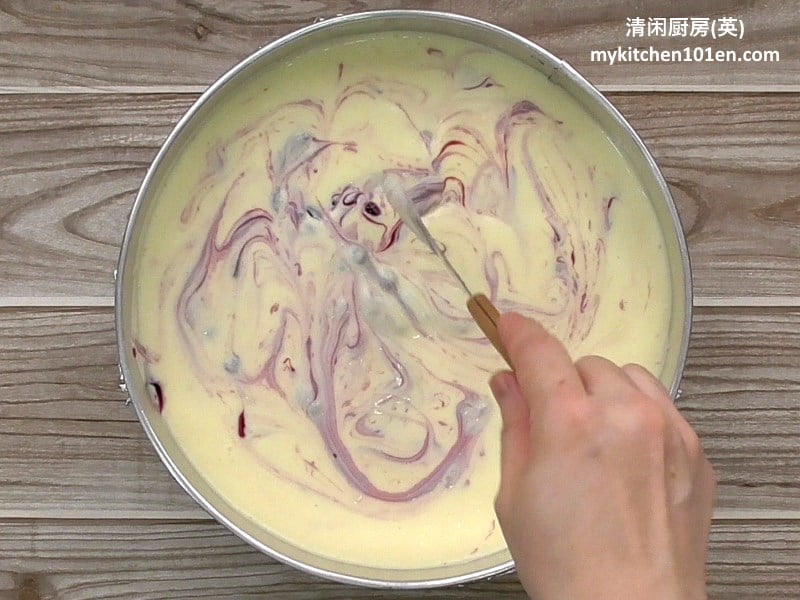 8 Cover the baking pan, then keep refrigerated for at least 8 hours or overnight, until cheese mixture has fully set.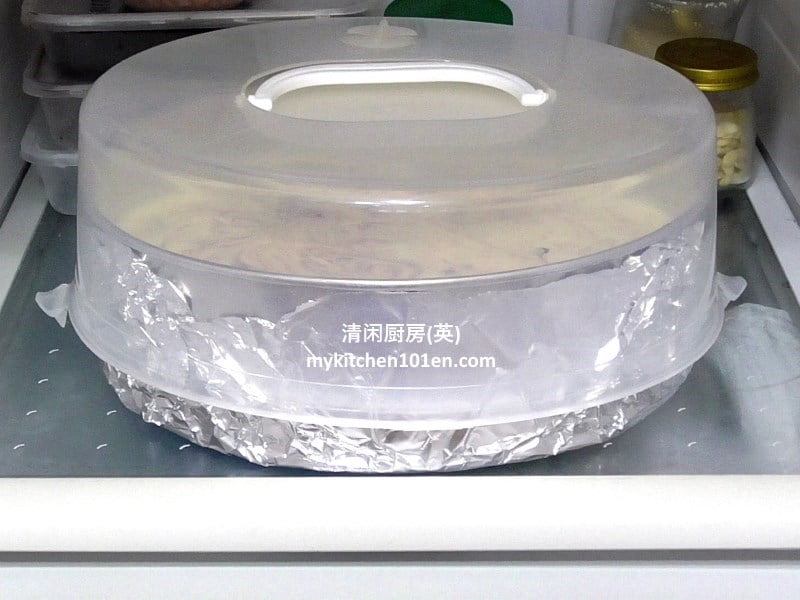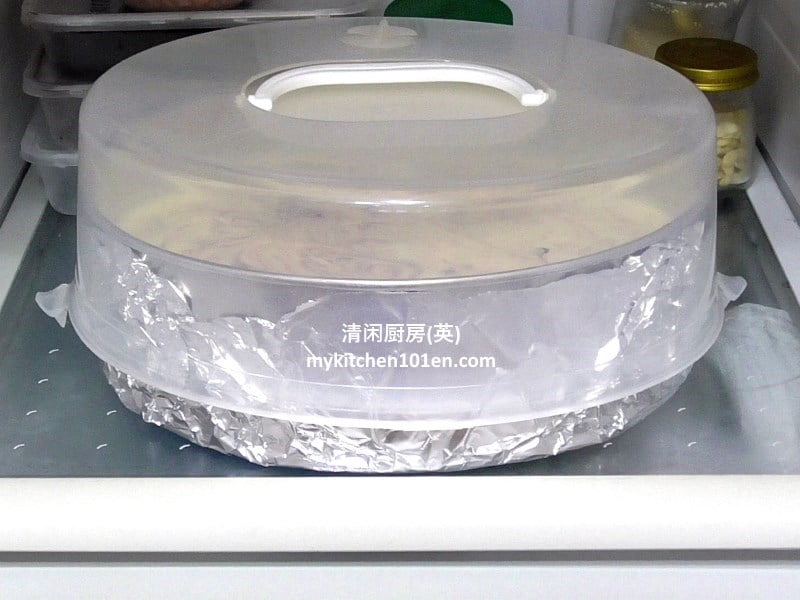 9 To unmould, run a knife around the edge, then remove the ring gently.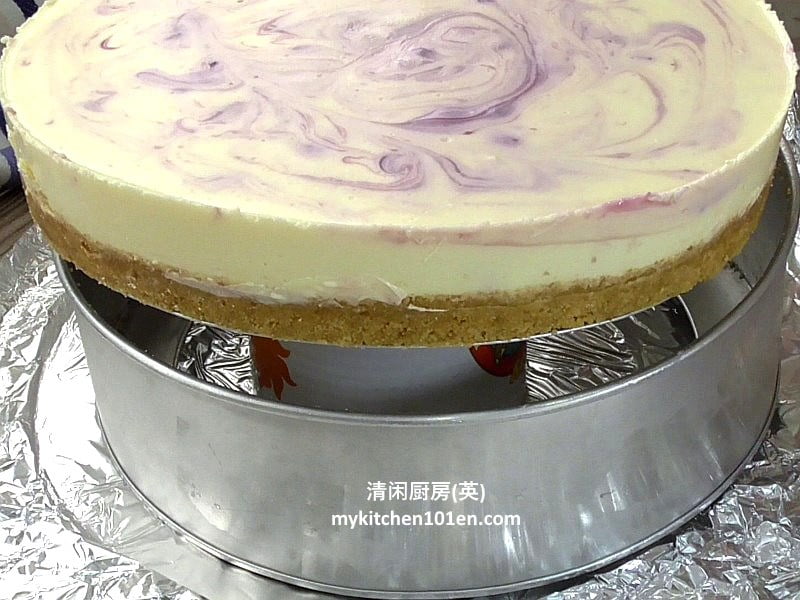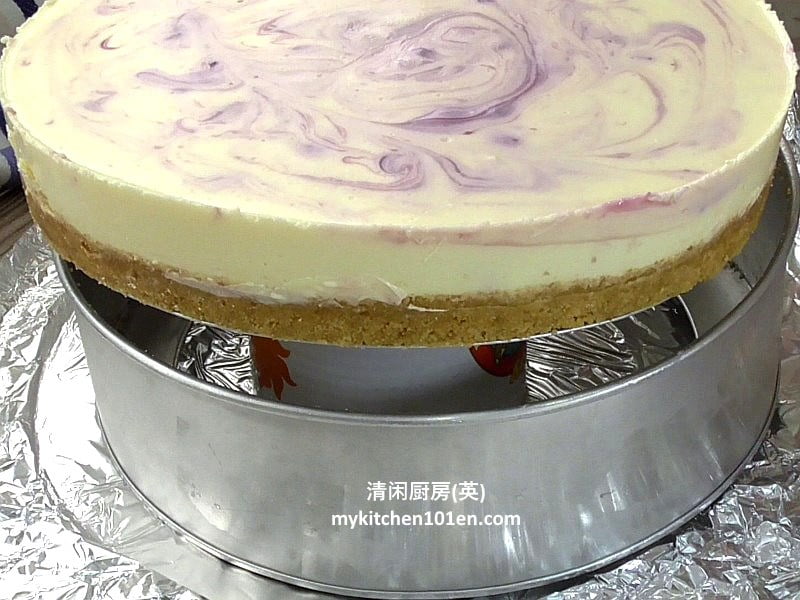 10 Cut into 16 equal portions using a knife. Keep leftover cheesecake refrigerated for later consumption (the cheesecake will start to melt if left at room temperature for too long).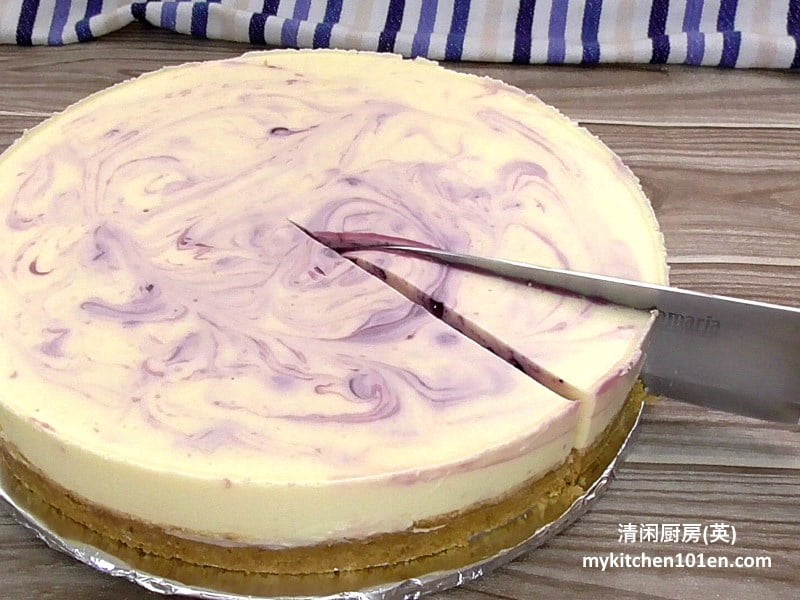 Reminder:
1 The strength for gelatine powder used in this recipe is 200 blooms.
2 The blueberry filling (less sweet) used in this recipe is different from blueberry jam (more sweet).
3 You may reduce the amount of fine granulated sugar to your personal preference.
4 Allow cream cheese to sit at room temperature for 3-4 hours to return to room temperature, you won't be able to beat until smooth and creamy if the cream cheese is cold.