Sambal is a popular chili sauce among Southeast Asia countries especially Indonesia, Malaysia, Singapore and Brunei. It is typically made from ground chili pepper; secondary ingredients can be different depending on personal preference and taste.
If you love hot and spicy seafood, try this Sambal squid (Samba Sotong) recipe at home, it is a simple dish that is easy to prepare, very flavorful, absolutely delicious and goes very well with rice.
Chinese Version: 香辣叁巴鱿鱼
Tips:
Dried chilies may cause irritation, use rubber gloves when handling.
This recipe use 2 onion, one for chili paste and another one for stir-frying.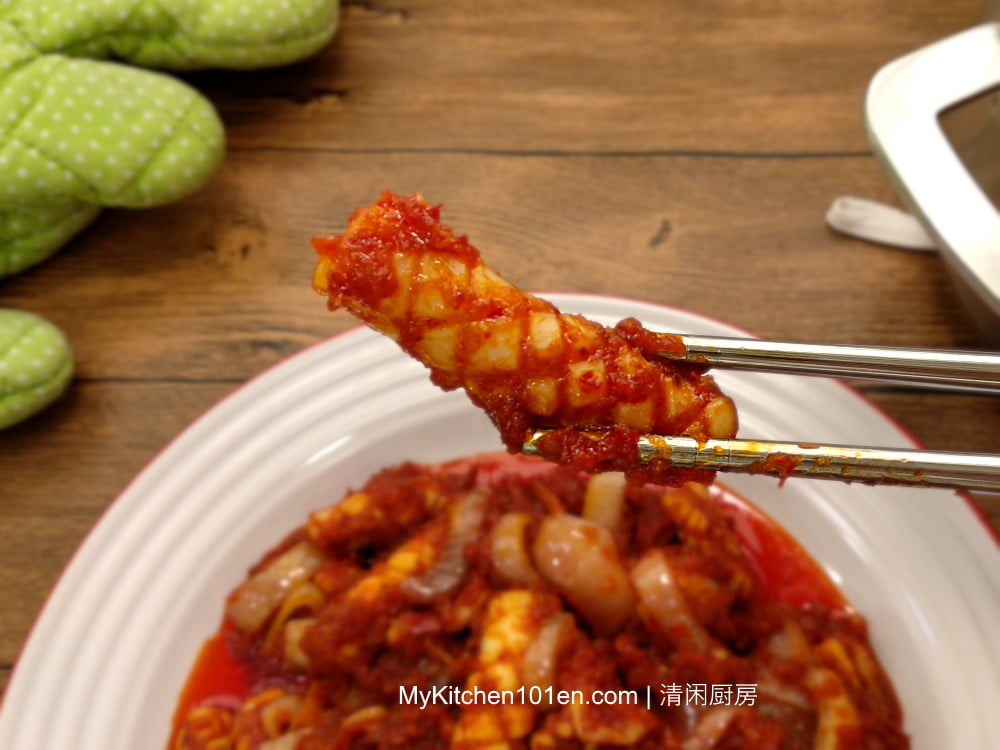 Spicy Sambal Squid Recipe | MyKitchen101en
Ingredients:
500g fresh squid
70g fresh red chili
30g dried chili
2 onion (about 200g)
30g shallot
15g garlic
15g dried shrimp
2 Tbsp sugar (30g)
1 ½ tsp salt (10g)
130g-150g cooking oil
Instructions:
1 Cut squid from the middle, remove internal organs.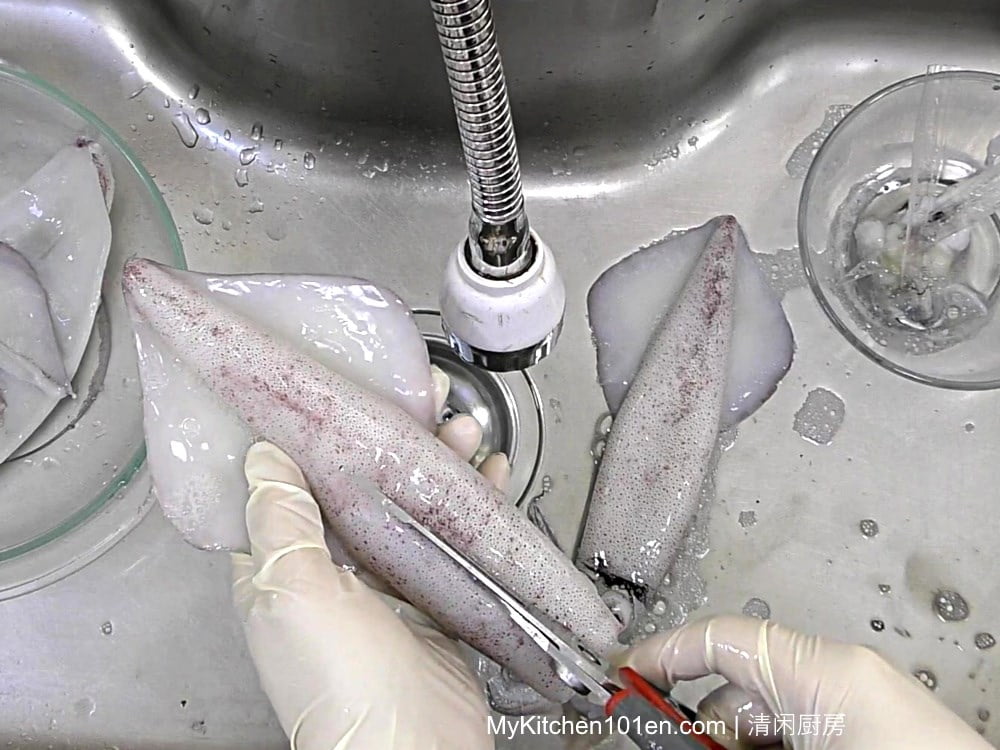 2 Peel off the skin.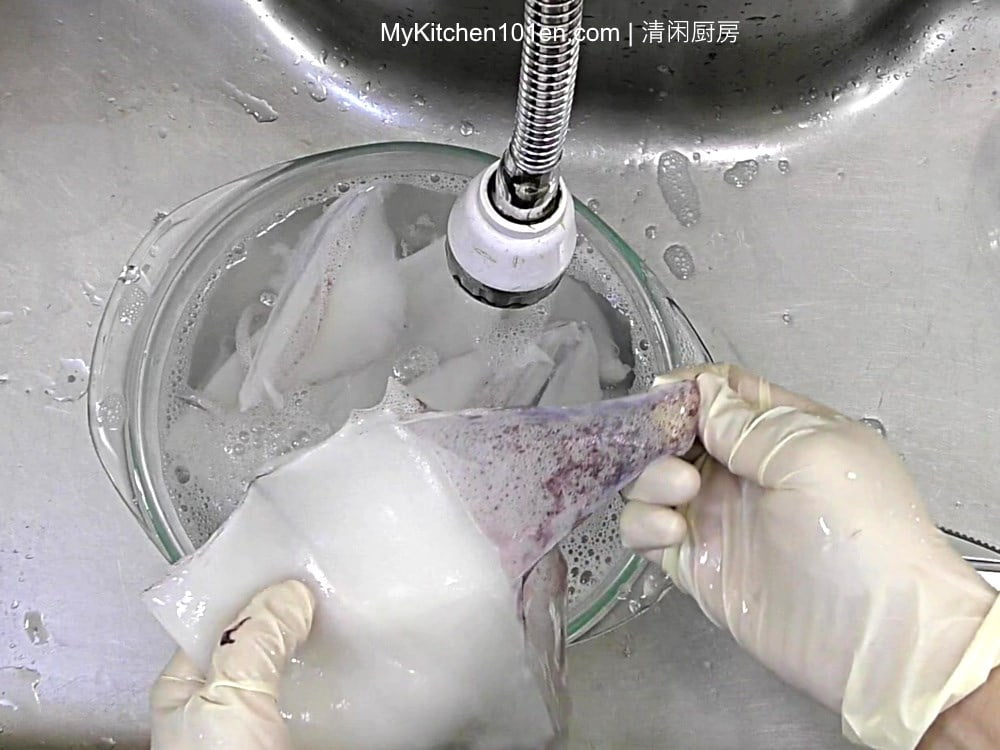 3 Wash and clean under running water, score the inner surface diagonally in a crisscross pattern, do not cut through the squid. Cut into small pieces.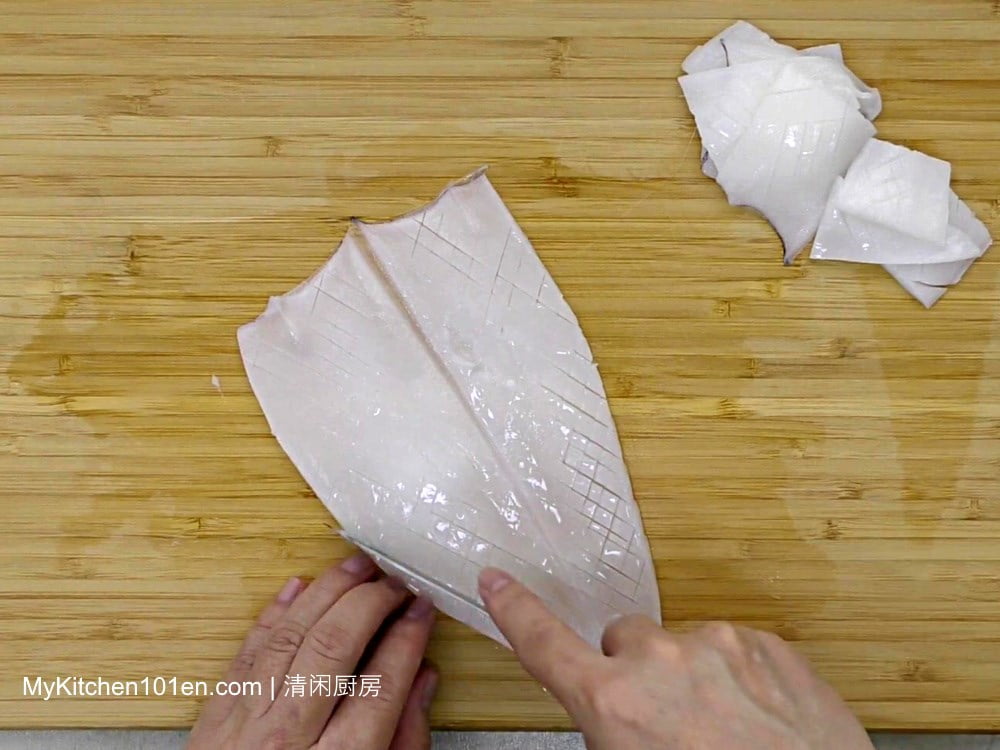 Cut into small pieces.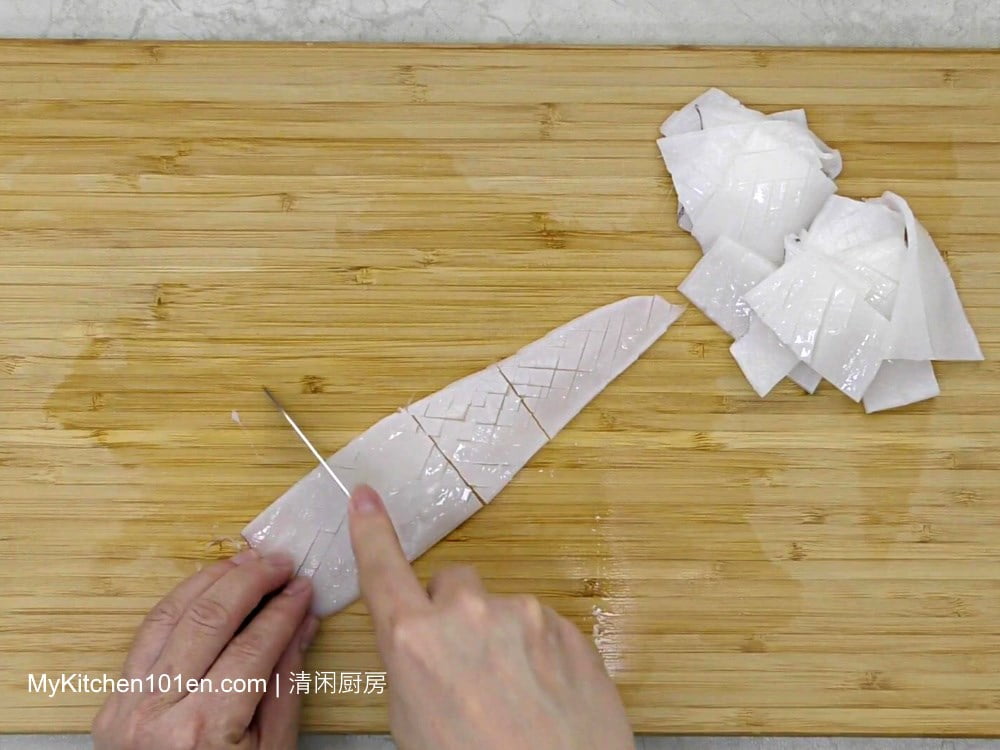 4 Bring a pot of water to boil, add in ½ tsp salt, blanch squid for 1 ½ minutes.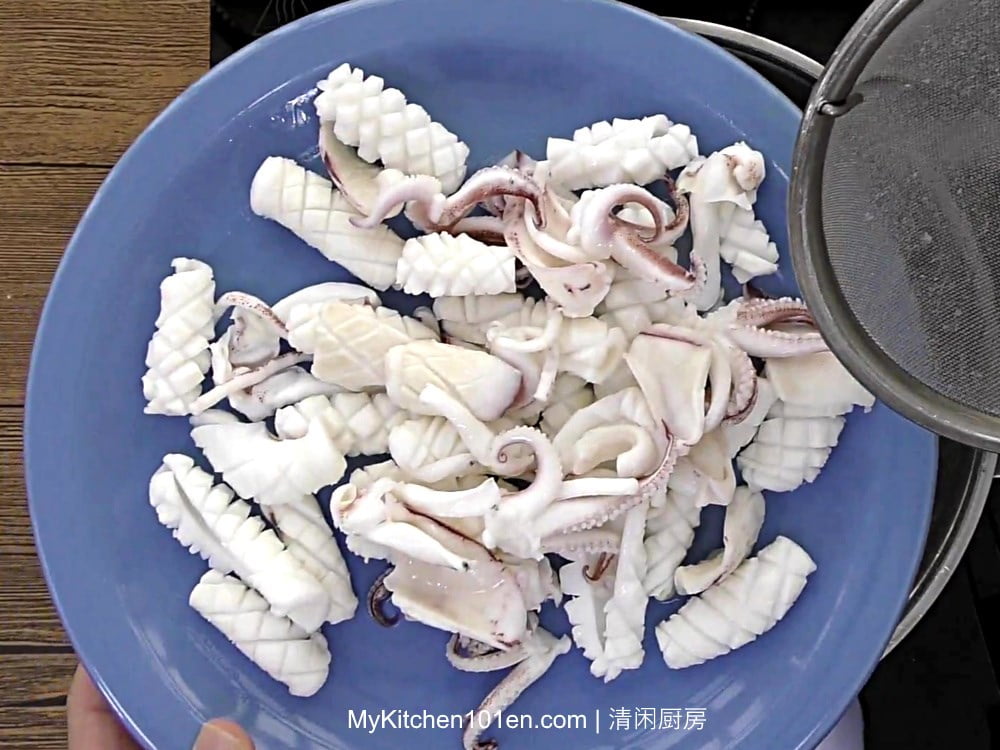 5 Drain and add in ¼ tsp salt and ¼ tsp sugar, set aside to marinate.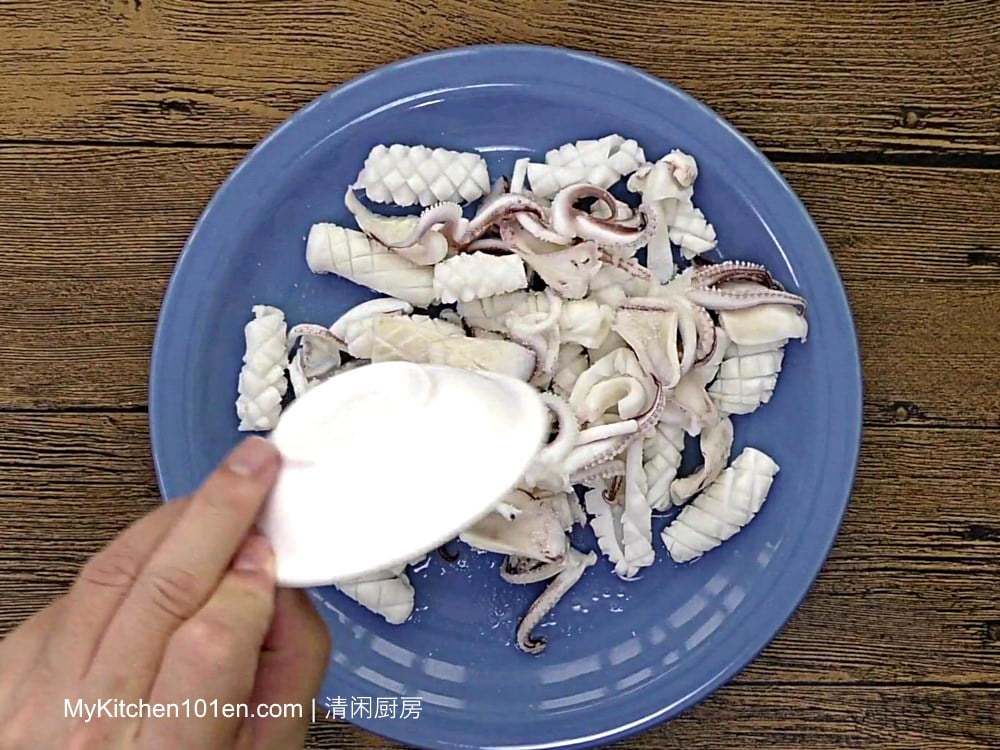 6 Add in 70g fresh chili (de-seed), 30g dried chili (de-seed), 1 onion, 30g shallot, 15g garlic, 15g dried shrimp, 130g-150g cooking oil into food processor. Process until fine, oil helps with the blending process; add just enough to blend all the ingredients. Stir with spatula in between blending when necessary.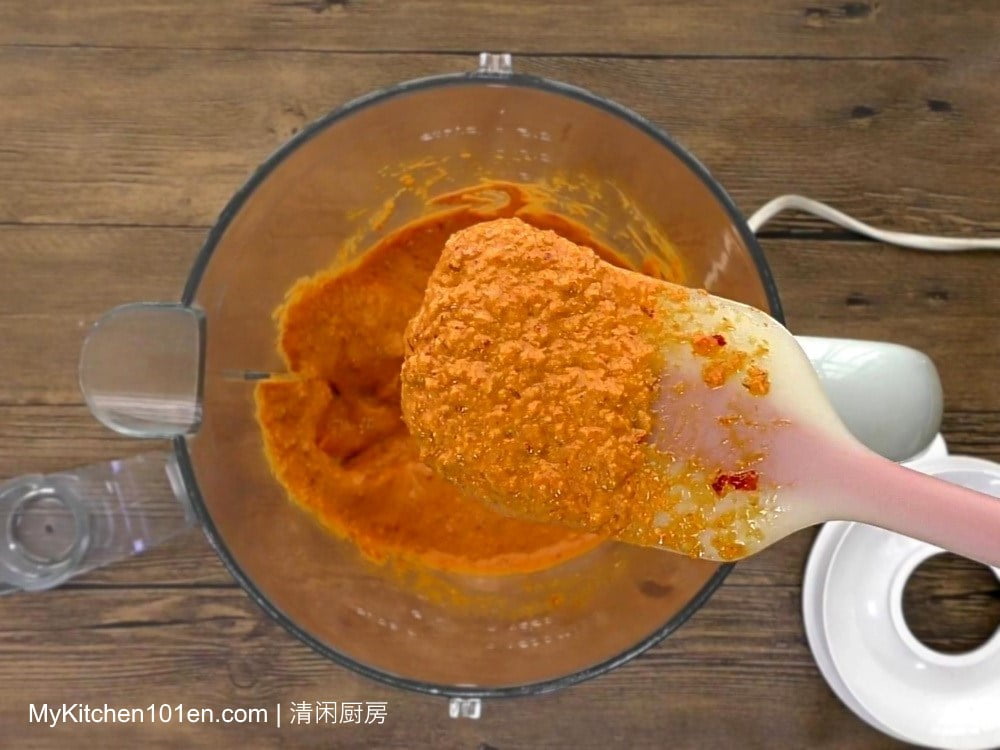 7 Add 1 tsp of oil, pour chili paste into cooking pan, bring to the boil. Reduce to medium heat, cook for 8-10 minutes until fragrant.
8 Add in sliced onion, cook until slightly tender, add in squid, and cook for 2 minutes, season with 2 Tbsp. sugar and 1 ½ tsp salt. You may discard excess chili oil, if you put too much during the blending process, you may end up with more oil that you don't really need.