Nian gao (Chinese: 年糕, means Chinese New Year cake) is a must-have food during Chinese New Year. It is a homonym for "higher year", which means raising oneself higher in the coming year. Traditionally, nian gao is made with glutinous rice and white sugar, the steaming time will take about 12-20 hours. This simple version nian gao is made with glutinous rice flour and caramel syrup, the steaming time is shorter, about 2 hours.
CHINESE VERSION: 简易版焦糖年糕
Nian gao recipes: Taro Sweet Potato Fried Nian Gao, Taro Sweet Potato Nian Gao Spring Rolls, Steamed Nian Gao with Shredded Coconut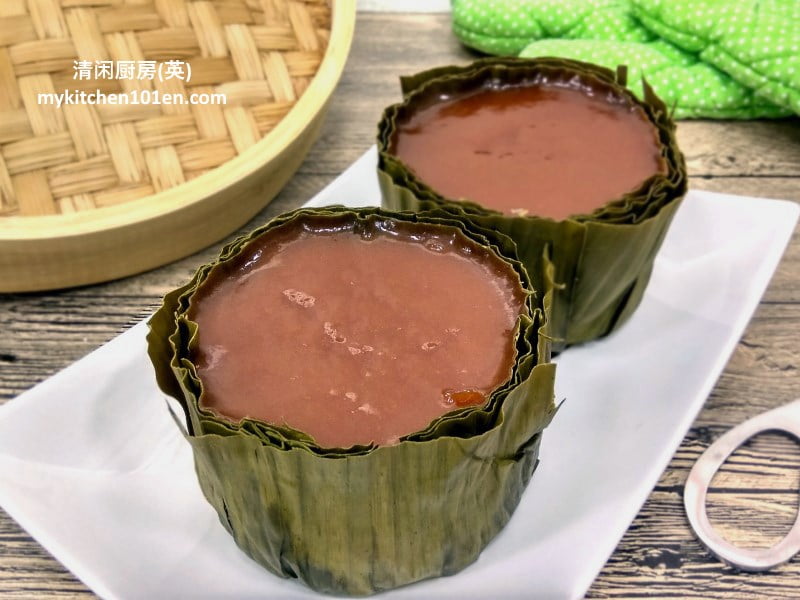 Simple Version Caramel Nian Gao (a.k.a. Kuih Bakul) | MyKitchen101en
Yields: 2
Ingredients:
350 g granulated sugar
430 g hot water
350 g glutinous rice flour
adequate banana leaves (to line moulds)
Preparing the moulds:
1 Blanch banana leaves with hot water to soften them.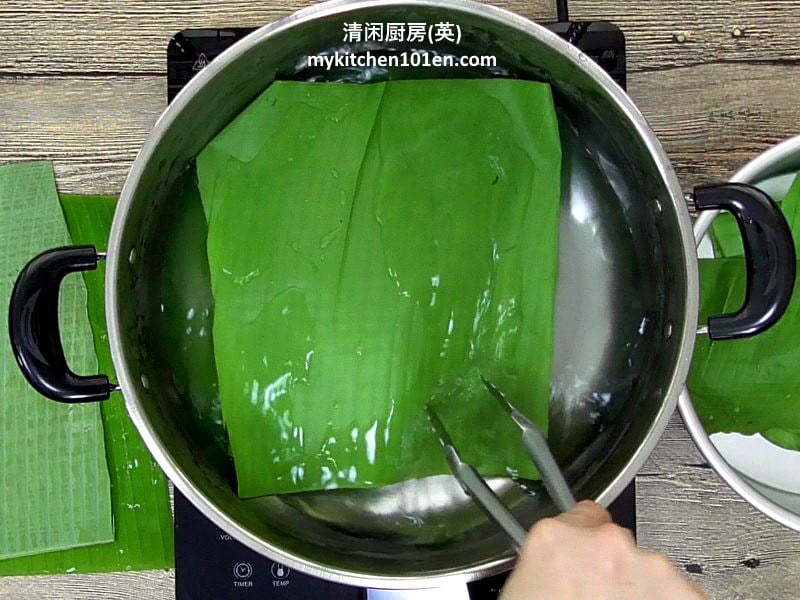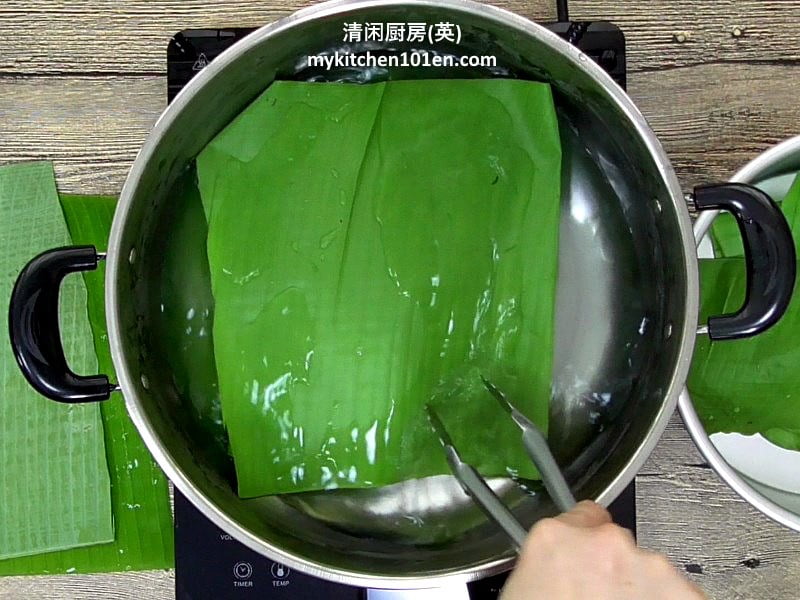 2 Clean the softened leaves gently with dishwasher net.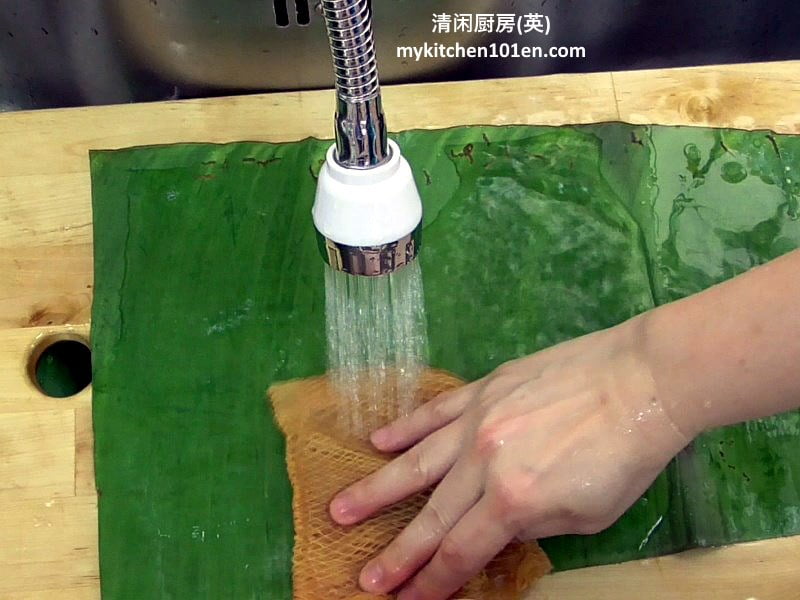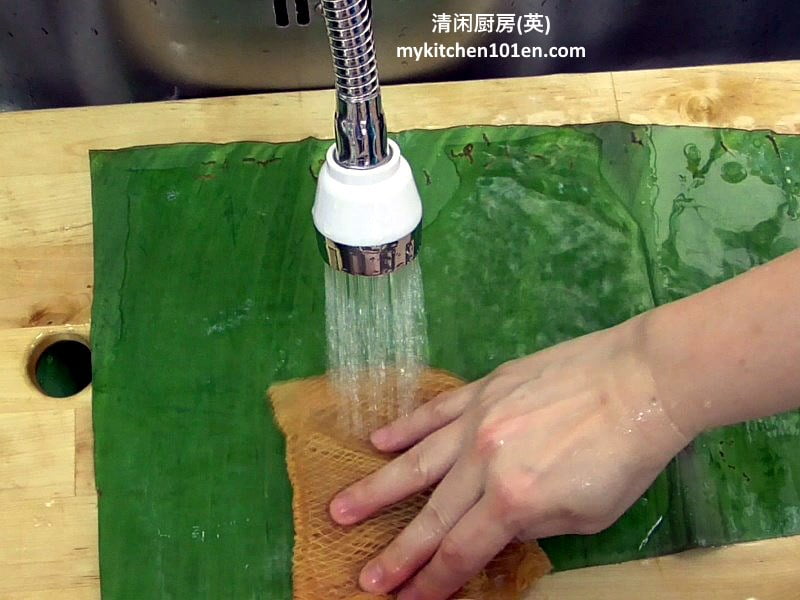 3 Dry the cleaned banana leaves with clean cloth.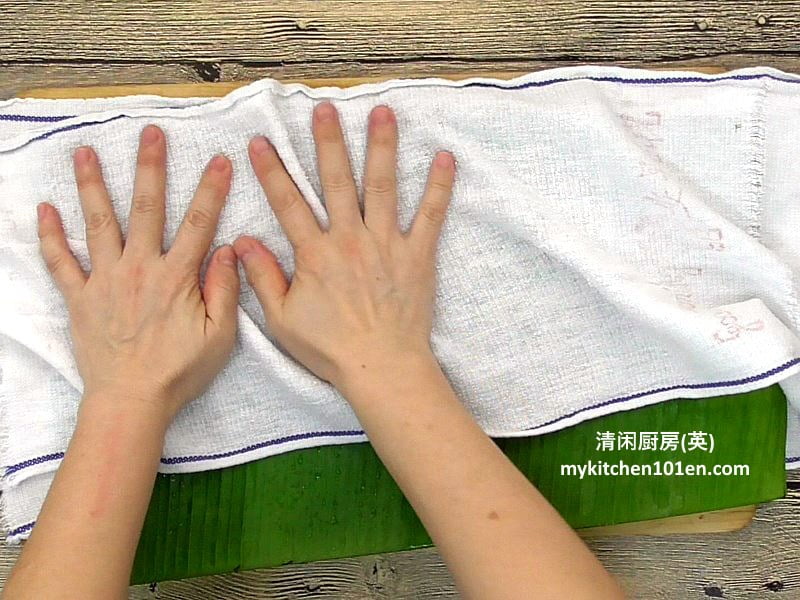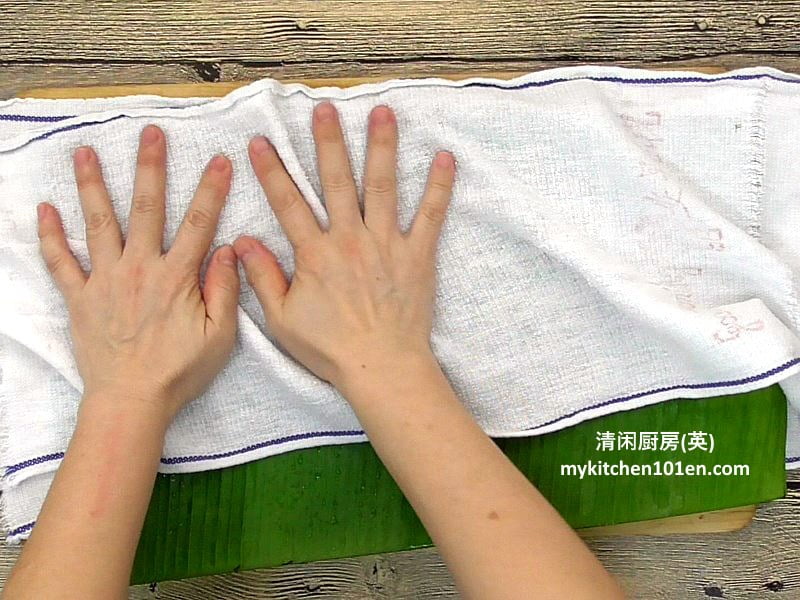 4 Cut out the desired size with scissors, then line the round moulds (size: H = 8 cm, D = 11 cm) with the banana leaves and tie with rubber bands.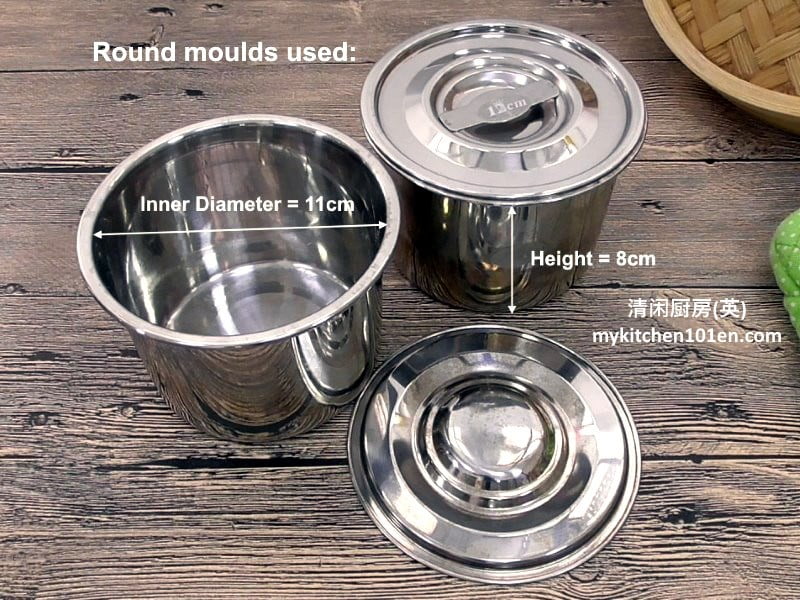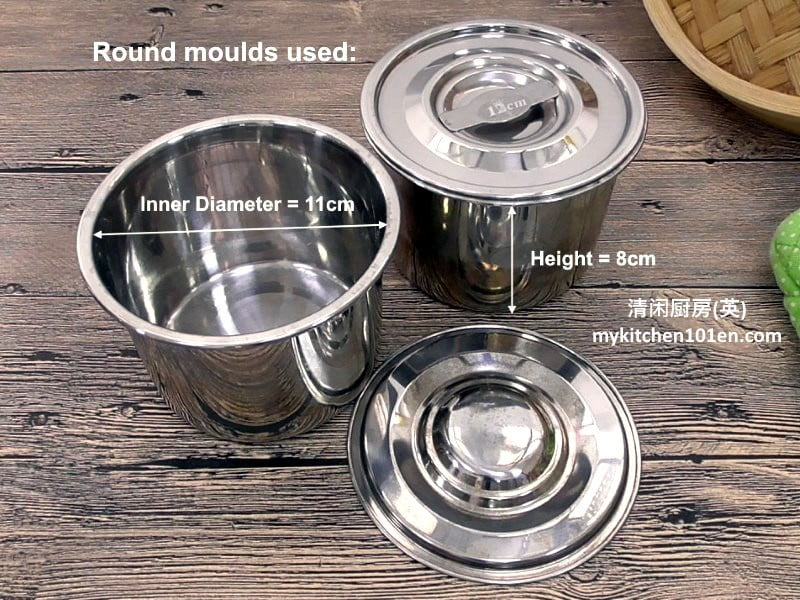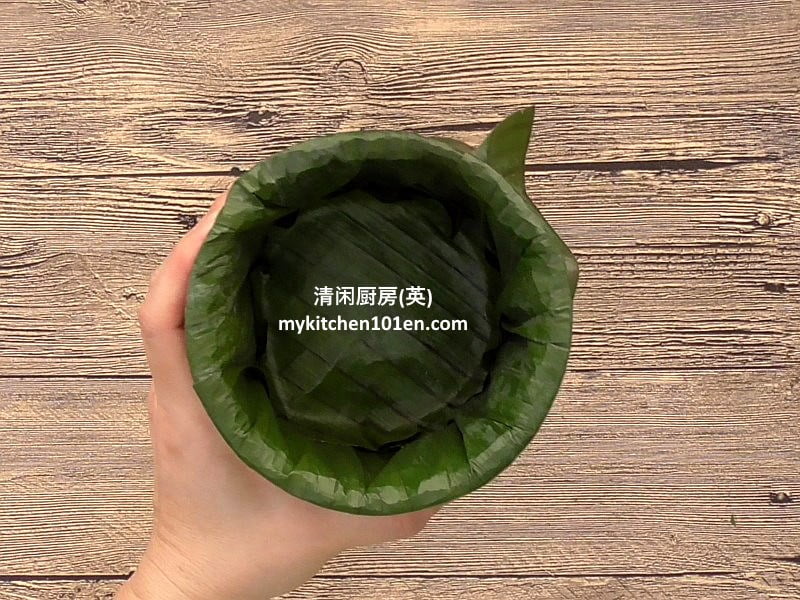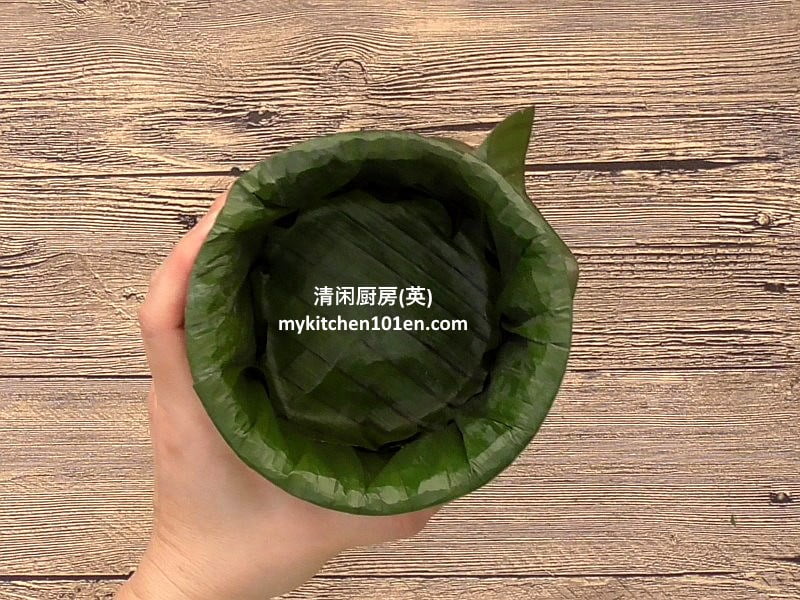 Preparing caramel glutinous rice flour batter:
1 Heat sugar in a pot over medium-low heat until melting, add in 2 tbsps of hot water by the edge of the pot, continue cooking until you have a golden colour caramel, do not over stir (do not cook until brown colour or the nian gao will taste bitter). (Reminder: Use cooking pot with thicker base to cook the caramel will reduce the chance of burning.)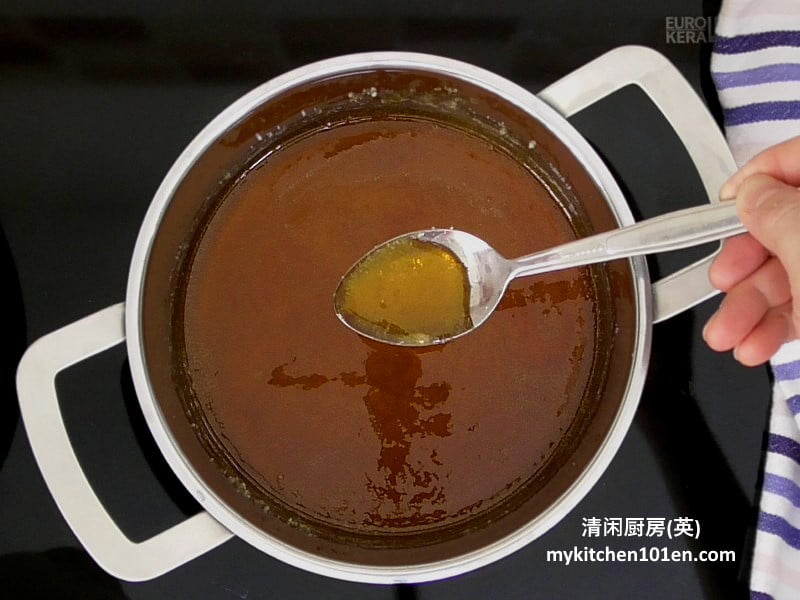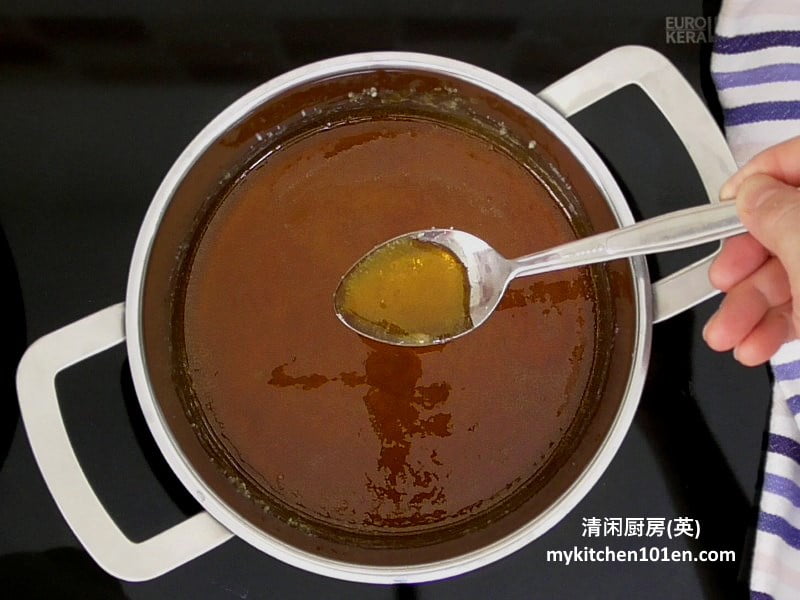 2 Off the heat, add in the remaining hot water by the edge of the pot gradually, then heat up again until all caramel has melted. Set the caramel syrup aside until fully cooled.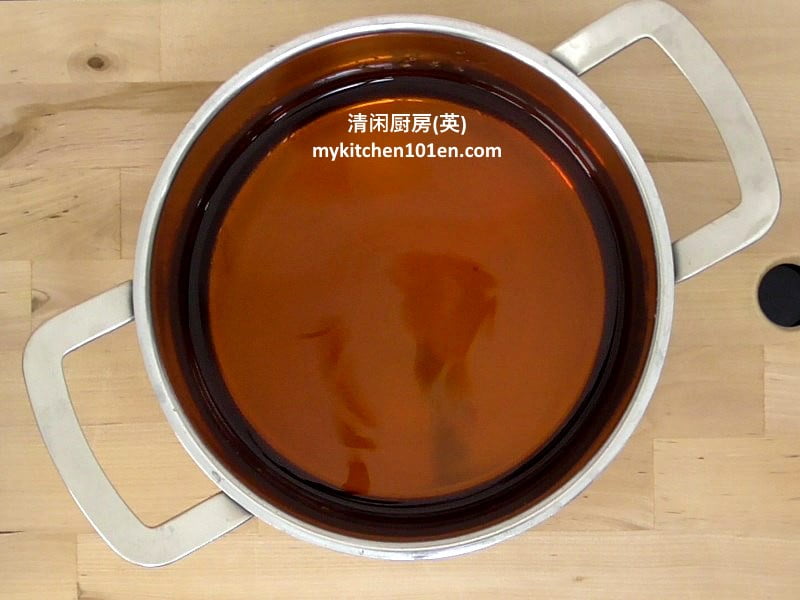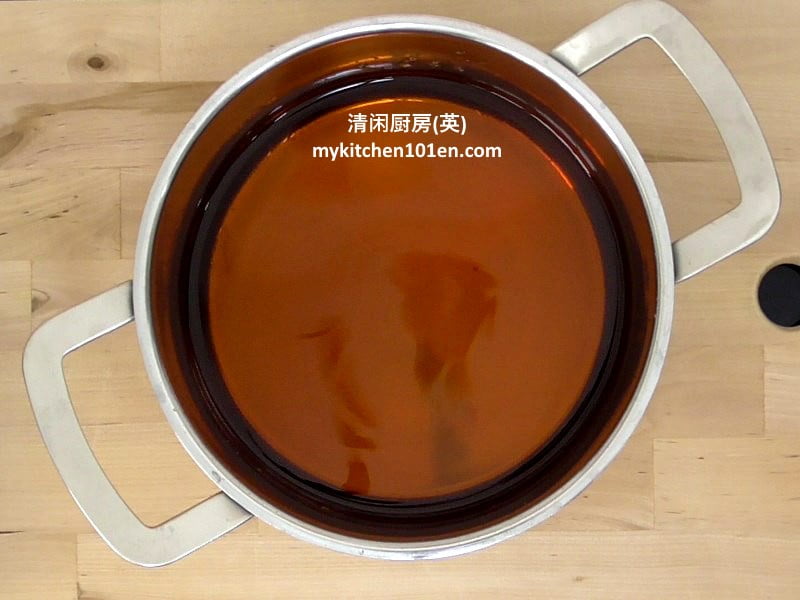 3 When cooled, add the caramel syrup to glutinous rice flour gradually while mixing, until you have a smooth caramel glutinous rice flour batter.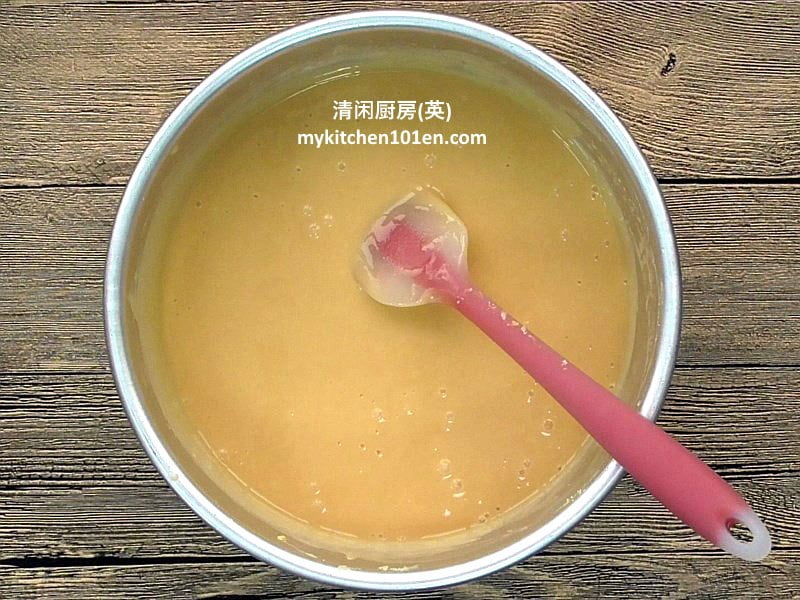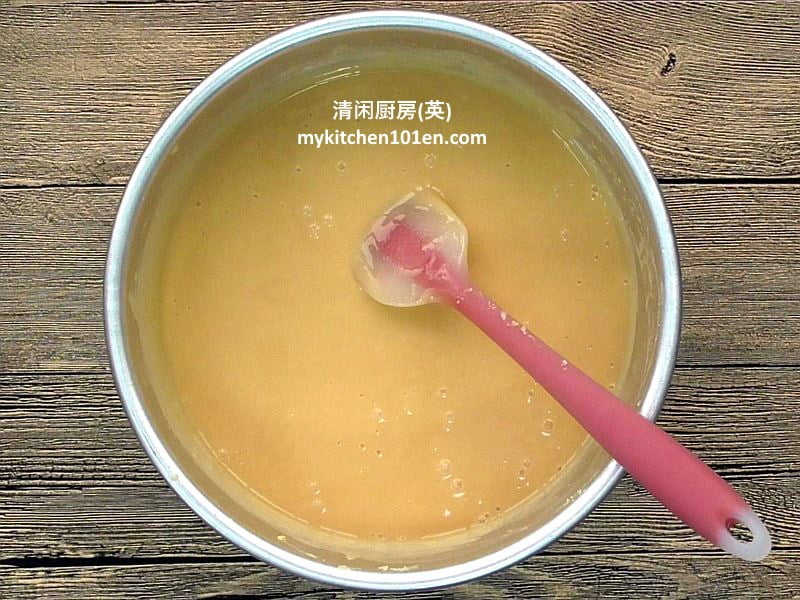 4 Strain the glutinous rice flour batter through a sieve.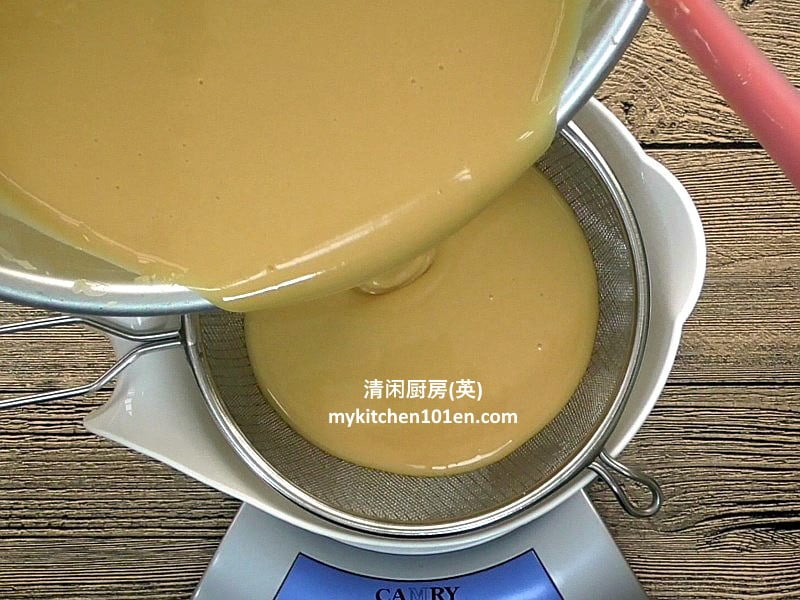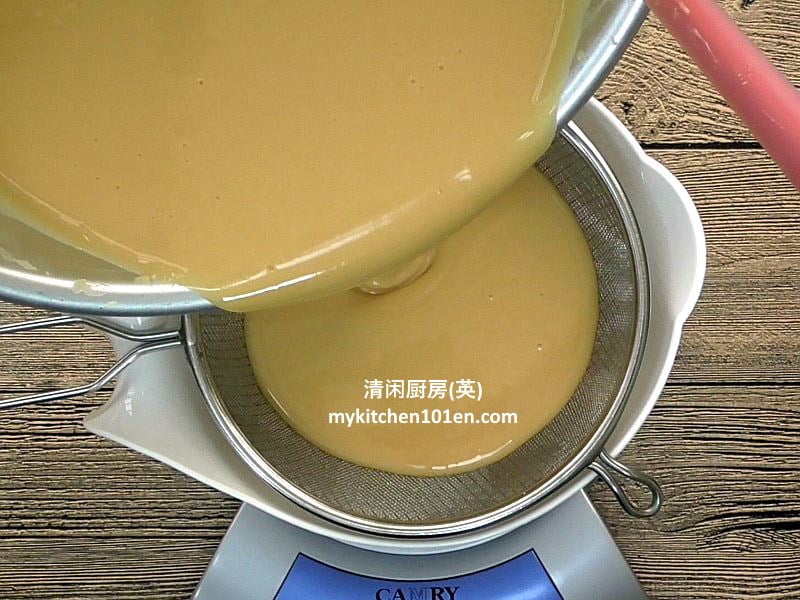 Steaming caramel nian gao:
1 Pour the batter equally into the prepared moulds (each about 480 g).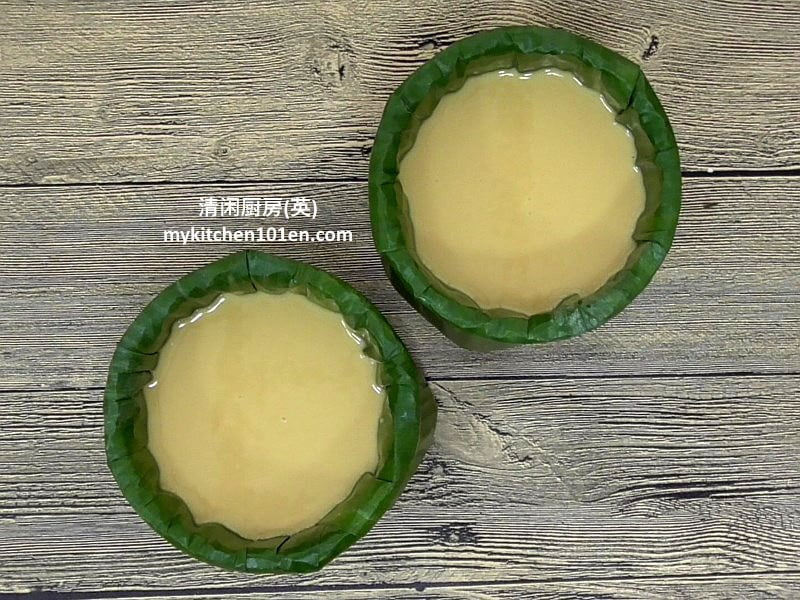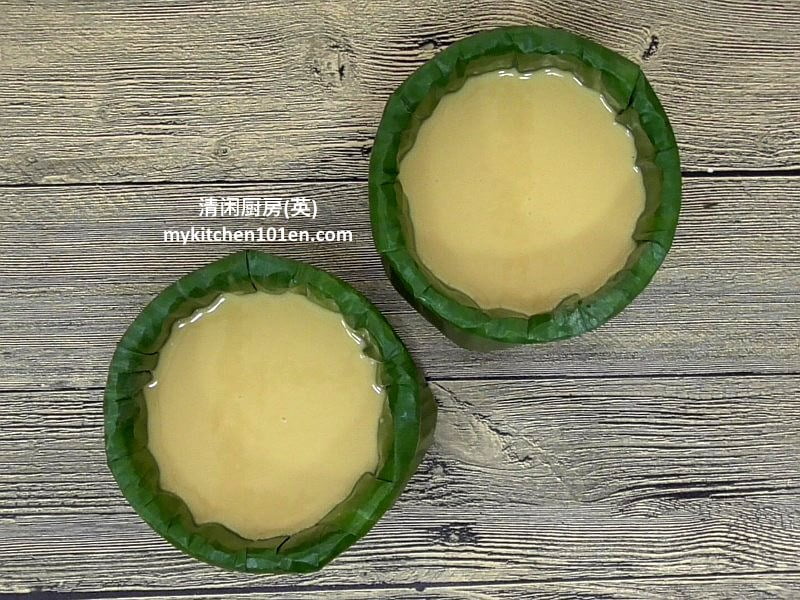 2 Cover the moulds with aluminium foil (to prevent water from condensation from dripping in).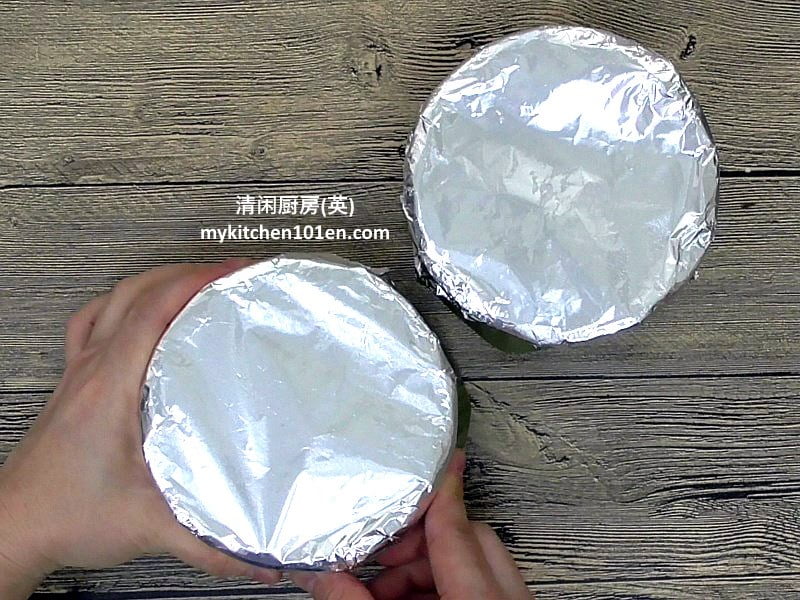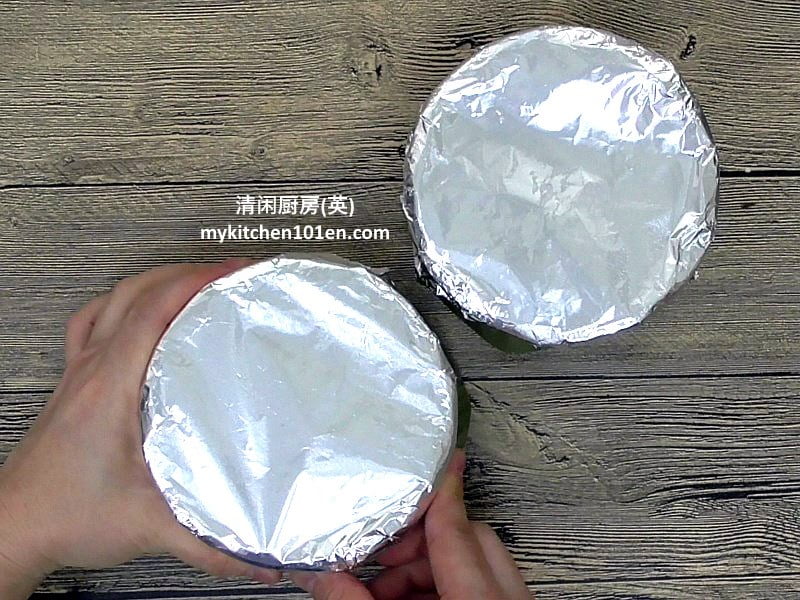 3 Bring water of steamer to rolling boil, steam over high heat for 30 minutes, then reduce to medium heat and steam for 1 hour 30 minutes (refill hot water of steamer when necessary).
(*Update on steaming time: Steam over high heat for 30 minutes, then over medium heat for 1 hour and then medium-low heat for 1 hour, it will yield nian gao with smoother surface.)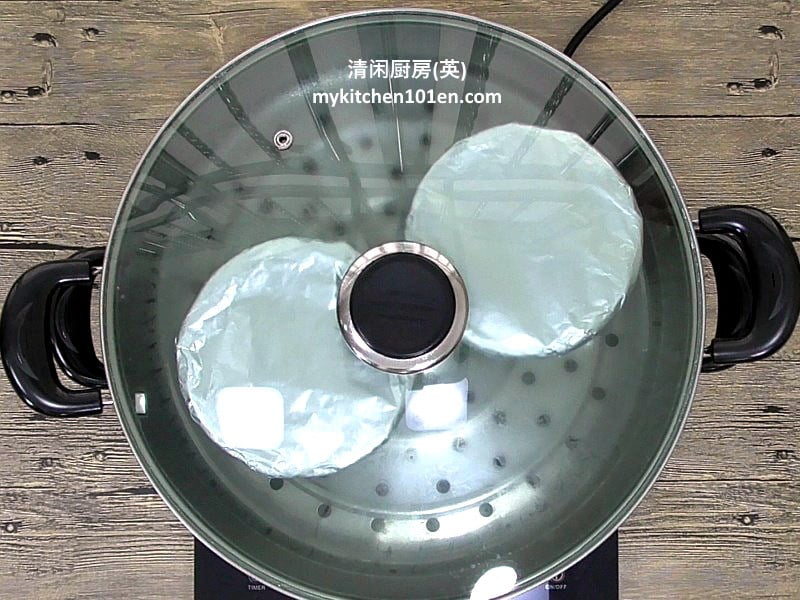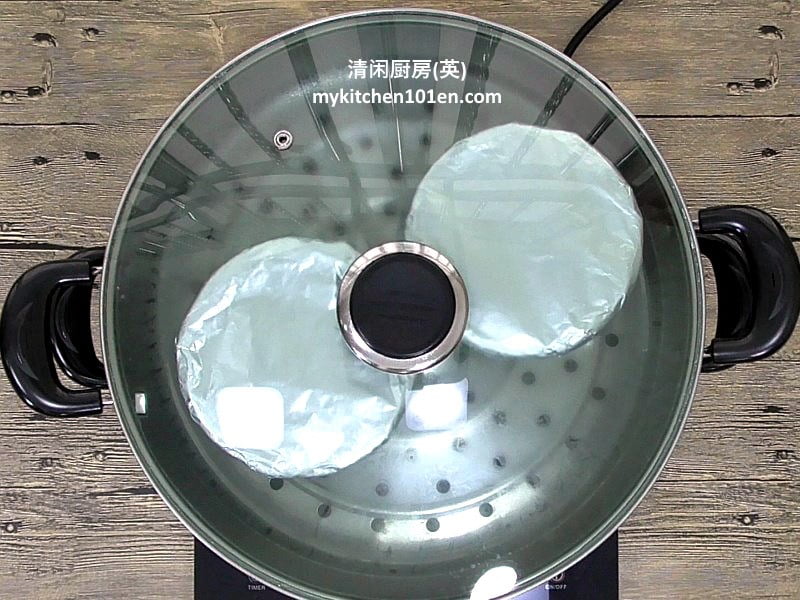 4 Set aside the steamed nian gao until fully cooled before unmoulding (I usually unmould them the next day).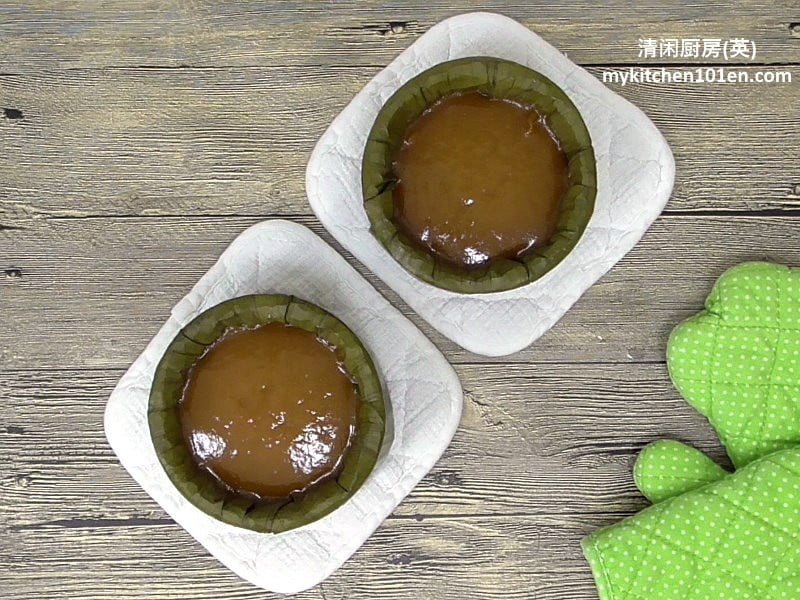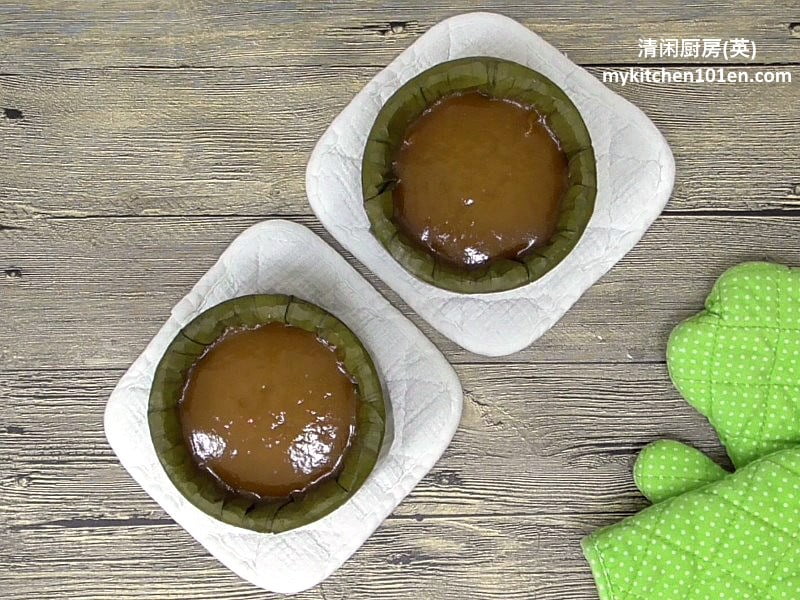 5 The colour of nian gao will become darker when fully cooled.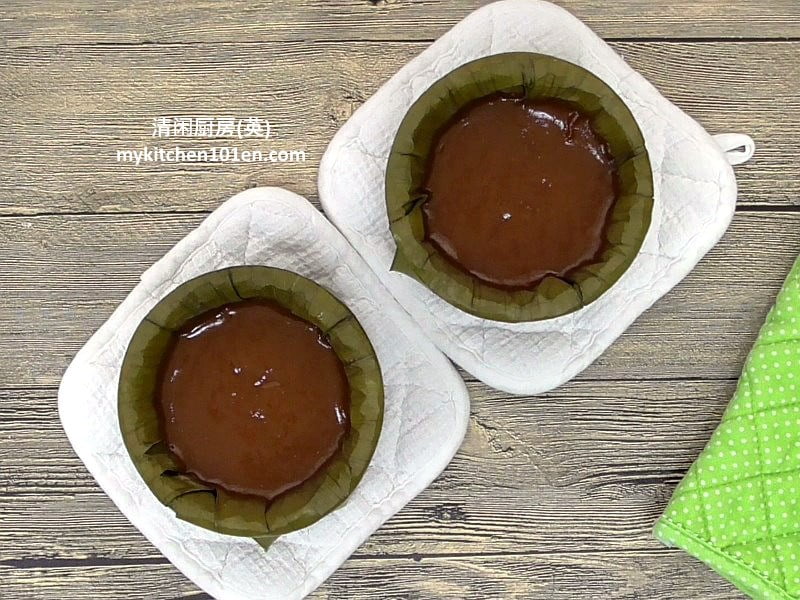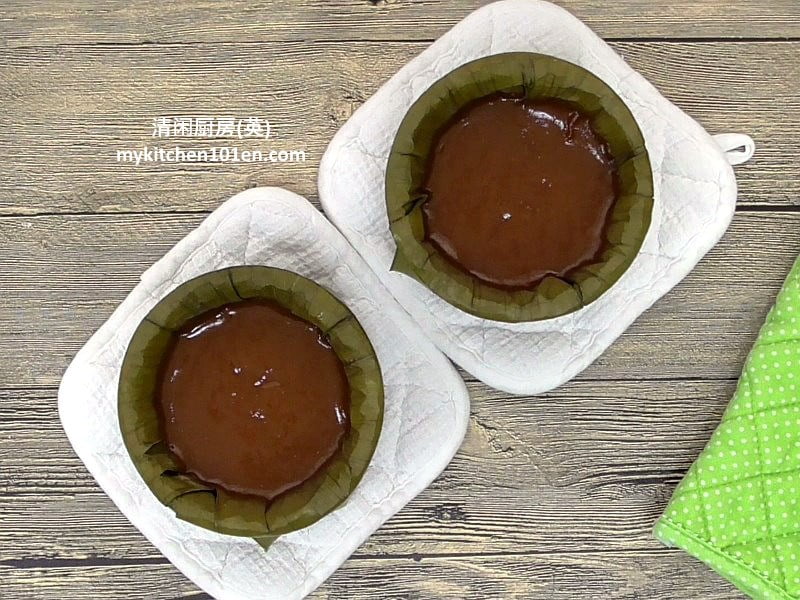 6 Unmould nian gao and trim off excess leaves using scissors.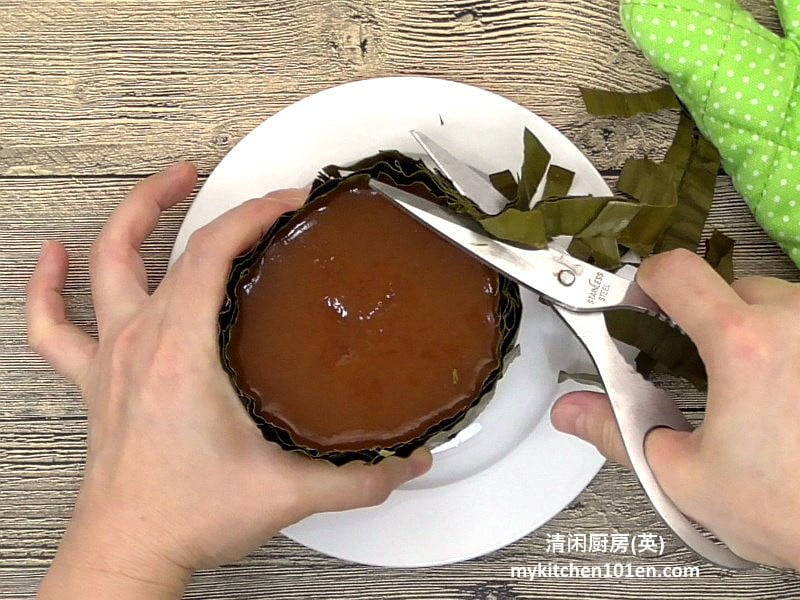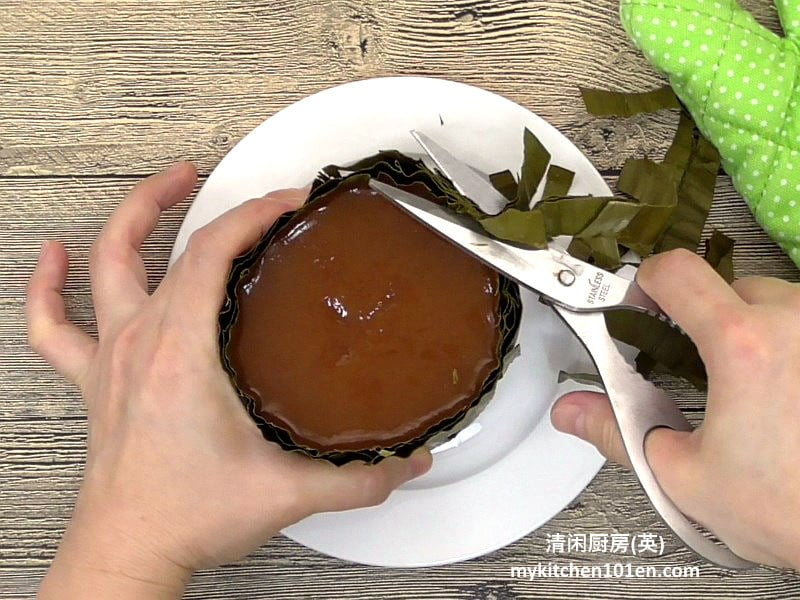 7 Keep nian gao refrigerated for storage. Freshly cooked nian gao is very sticky and difficult to cut, refrigerate it for 2-3 days will make it harder and easy to cut. (Reminder: If storing at room temperature, put nian gao on wire rack and place at well ventilated place for up to 2 weeks. After 2 weeks, transfer nian gao to freezer for continue storage. Thaw frozen nian gao at room temperature before serving.)